Cape Eagle-Owl
There are three subspecies: capensis , mackinderi , and dilloni . The distribution of all three is patchy. The subspecies mackinderi, which is slightly bigger than the others, is sometimes split as Mackinder's Eagle-owl, Bubo mackinderi.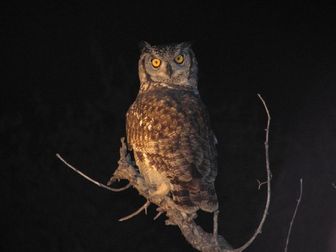 Picture of the Cape Eagle-Owl has been licensed under a Creative Commons
Attribution
.
The Cape Eagle-Owl is classified as Least Concern. Does not qualify for a more at risk category. Widespread and abundant taxa are included in this category.

The Cape Eagle-owl (Bubo capensis) is a species of owl in the Strigidae family. It is found in Eritrea, Ethiopia, Kenya, Lesotho, Malawi, Mozambique, Namibia, South Africa, Swaziland, Tanzania, and Zimbabwe. There are three subspecies: capensis (South Africa and extreme southern Namibia), mackinderi (western Mozambique and Zimbabwe to west-central Kenya), and dilloni (the Ethiopian highlands and southern Eritrea). The distribution of all three is patchy. More
* Cape Eagle-owl, Bubo capensis * Mackinder's Eagle-owl, Bubo (capensis) mackinderi * Spotted Eagle-owl, Bubo africanus * Greyish Eagle-owl, Bubo cinerascens * Fraser's Eagle-owl, Bubo poensis * Usambara Eagle-owl, Bubo vosseleri * Spot-bellied Eagle-owl, Bubo nipalensis * Barred Eagle-owl, Bubo sumatranus * Shelley's Eagle-owl, Bubo shelleyi * More
Cape Eagle-Owl | Bubo capensis = The Cape Eagle-Owl is a Southern African bird that belongs to the Strigidae bird family group which includes birds such as Typical owls. The description for the Cape Eagle-Owl (Latin name Bubo capensis) can be found in the 7th Edition of the Roberts Birds of Southern Africa. The Bubo capensis can be quickly identified by its unique Roberts identification number of 400 and the detailed description of this bird is on page 255. More
Stamps showing Cape Eagle-Owl Bubo capensis Cape Eagle-Owl Bubo capensis Cape Eagle-Owl Bubo capensis Cape Eagle-Owl Bubo capensis Cape Eagle-Owl Bubo capensis Cape Eagle-Owl Bubo capensis Cape Eagle-Owl Bubo capensis Cape Eagle-Owl Bubo capensis Cape Eagle-Owl Bubo capensis Cape Eagle-Owl Bubo capensis Cape Eagle-Owl Bubo capensis Distribution map for Cape Eagle-Owl, range 78.026 Cape Eagle-Owl IOC v2. More
Cape Eagle-Owl (Bubo capensis) The Cape Eagle-Owl is a large, powerful predator capable of taking prey up to the size of a young Dassie or a Common Duiker lamb. It prefers mountainous habitat, and is never found far from rocky ridges. It roosts by day in the shade of a rock or a shrub, usually on the ground. It is very reluctant to fly in daytime, as it is mercilessly mobbed by raptors and crows. It will occasionally prey on other birds, even other owls. More
Cape Eagle-Owl, Bubo capensis Strigidae (OWLS) Cape Eagle-Owl, Bubo capensis This photo was taken in: Kenya This photo was taken with: Nikon Coolpix 995 handheld to a leica APO scope with 32x lens Notes on this photo: Mackinder\'s Eagle-owl in Kenya ( Mackinderi ) The photo was taken by: Steve Bird , Birdseekers Kenya report More
The Cape Eagle-owl (Bubo capensis) is a species of owl in the Strigidae family. pets No cape eagle-owl pets yet! pictures No cape eagle-owl pictures yet! videos No cape eagle-owl videos yet! owners No cape eagle-owl owners yet! blogs No cape eagle-owl blogs yet! This article is licensed under the GNU Free Documentation License. More