Macaroni Penguin
The Macaroni Penguin is a species of penguin found from the Subantarctic to the Antarctic Peninsula. One of six species of crested penguin, it is very closely related to the Royal Penguin, and some authorities consider the two to be a single species. It bears a distinctive yellow crest, and the face and upperparts are black and sharply delineated from the white underparts. Adults weigh on average 5.5 kg and are 70 cm in length. The male and female are similar in appearance although the male is slightly larger with a relatively larger bill. Like all penguins, it is flightless, with a streamlined body and wings stiffened and flattened into flippers for a marine lifestyle.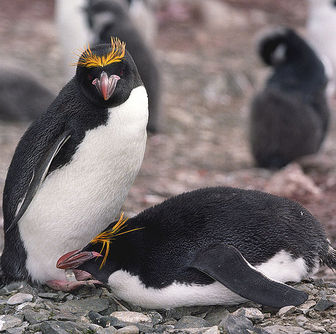 Picture of the Macaroni Penguin has been licensed under a
GFDL
Original source
: Own work
Author
: Jerzy Strzelecki
Permission
: GNU Free Documentation License
The Macaroni Penguin is classified as Vulnerable (VU), considered to be facing a high risk of extinction in the wild.

The Macaroni Penguin (Eudyptes chrysolophus) is a species of penguin found from the Subantarctic to the Antarctic Peninsula. One of six species of crested penguin, it is very closely related to the Royal Penguin, and some authorities consider the two to be a single species. It bears a distinctive yellow crest, and the face and upperparts are black and sharply delineated from the white underparts. Adults weigh on average 5.5 kg (12 lb) and are 70 cm (28 in) in length. More
* The Macaroni penguin was named by early English explorers for its yellow crest feathers which resembled those worn in the hats of young18th century men called 'macaronis'; a label later immortalized in the words of the Revolutionary War song 'Yankee Doodle.' * Macaroni penguins are the largest of the six species of crested penguins. More
the Macaroni Penguin are among the largest and densest of all penguin species. After spending the summer months breeding, penguins disperse into the oceans for six months; a 2009 study found that Macaroni Penguins from Kerguelen travelled over 10,000 km (6,200 mi) in the central Indian Ocean. With about 18 million individuals, the Macaroni Penguin is the most numerous penguin species. However, widespread decline in populations have been recorded since the mid 1970s. These factors result in their conservation status being reclassified as vulnerable. More
Satellite telemetry studies indicate that Macaroni Penguins forage mainly along the polar front regularly travelling up to 400 km to reach a feeding site. Distribution: map The distribution of Macaroni Penguin extends from the sub-Antarctic to the Antarctic Peninsula, but overall they are found further south than the rest of the crested penguins. The range overlaps with that of the southern form of the Rockhopper Penguin. More
There are large breeding colonies of Macaroni penguins on the sub-Antarctic Islands of South Georgia, Crozet, Kerguelen, Heard & McDonald Islands. Colonies are also located on the small islands off the southern tips of South America and Africa. Macaroni Penguins Macaroni Penguin There are an estimated total population of 12 million breeding pairs of Macaroni penguins. They stand about 28 inches (71 cm) tall and weigh 11 to 13 lbs. (5 to 6 kg). More
The Macaroni penguin is the most numerous of all the world's penguins, with an estimated world population of over 9 million breeding pairs. The main breeding sites are found on the islands of South Georgia, Crozet, Kerguelen, Heard, McDonald, Prince Edward and Bouvetoya, with other notable colonies in the South Shetlands, South Orkneys and islands off the coast of Southern Chile. The Falkland Islands has a population of only 50 breeding pairs. More
macaroni penguins have golden-yellow plume-like feathers that arise from a central patch on the forehead, extending back along the crown and drooping down behind the eye (4) (2). The head, chin, throat and upperparts are black; the underparts are white and the flippers are black on the uppersurface but mainly white below (4). The large bill is orange-brown; the eyes are red and there is a patch of bare pink skin from the base of the bill to the eye. More
Macaroni Penguinedit this page = From Penguin Wiki This article is a stub, and could use some help. You can help the Penguin Wiki by expanding it. Macaroni Penguin File:Macaroni. More
There are more Macaroni Penguins out there that are males than females. As a result of this, the females have the ability to be extremely selective during the mating process. Generally the younger females are going to want to mate with the older males. The females generally lay two eggs at a time. The first egg is likely to be very small and so the offspring has a very low chance of survival. The incubation period for the eggs is about 34 days. More
The Macaroni Penguin (Eudyptes chrysolophus) is a species of penguin found from the Subantarctic to the Antarctic Peninsula. It is one of six species of crested penguin, and bears a distinctive yellow crest. An adult averages about 5.5 kg (12 lb) in weight and 70 cm (28 in) in length. The male and female are similar in the otherwise black and white plumage, although the former is slightly larger with a larger bill. More
Macaroni penguins, on the rocky shoreline of Hercules Bay, South Georgia Island. One of the crested penguin species, the macaroni penguin bears a distinctive yellow crest on its head. They grow to be about 12 lb and 28 high. Macaroni penguins eat primarily krill and other crustaceans, small fishes and cephalopods, Eudyptes chrysolophus Purchase A Print Of This ImageHow to request, purchase or license this imageAdd To Light Table Macaroni penguin, on the rocky shoreline of Hercules Bay, South Georgia Island. More
Macaroni Penguin is a featured article; it (or a previous version of it) has been identified as one of the best articles produced by the Wikipedia community. Even so, if you can update or improve it, please do so. More
Macaroni penguin (Eudyptes chrysolophus) pair, The female is lying ... Red Circle Images RM PRICE / INFO Add to Lightbox RM Rights Managed Macaroni penguin (Eudyptes chrysolophus) pair, The female is lying ... Red Circle Images RM PRICE / INFO Add to Lightbox RM Rights Managed Adult macaroni penguin (Eudyptes chrysolophus) incubating on its ... More
Macaroni Penguins are the most numerous species of penguin. They are very similar to royal penguins and the two are often confused. They reach heights up to 71 cms (28 inches) and they weigh between 3.5 and 6.5 kgs (7.75 - 14 lbs). They have a black face, chin and back and they are coloured white on their front. Their beak is red/brown in colour and they have a yellow, orange and black crest on their head. More
Macaroni penguins form large, tightly packed colonies on flat or rough sloping ground. If an intruder gets too close to their patch they can be agressive and the two penguins will peck at each other. The victor of the fight will push its opponent away through the surrounding pairs of nesting penguins. What do they sound like? - 1. More
The macaroni penguin has a circumpolar range (4). It breeds at 50 known sites on sub-Antarctic islands in the South Atlantic and southern Indian Oceans, with one breeding site on the Antarctic Peninsula (2) (4). Main breeding populations are located on the islands of Crozet, Heard, McDonald, Keruguelen and South Georgia (2). More
Adult Macaroni Penguin (Eudyptes chrysolophus) in tussock grass on ... More
The macaroni penguin is a large-sized species of penguin found in the Sub-Antarctic regions. the macaroni penguin is one of six species of crested penguins is so closely related to the royal penguin, that some people class the two as the same species. The macaroni penguin spends most of its time during the colder winter months fishing in the cold oceans where the macaroni penguin is more protected from the bitter conditions of the Antarctic winter on the land. More
DESCRIPTION: The macaroni penguin averages about 20 to 28 inches in length and about 11 pounds in weight. It has black upperparts, white underparts, and distinctive yellow and black plumes on the top of its head. This species closely resembles the royal penguin, but has a black chin rather than a white one. HABITAT: Macaroni penguins live in rocky, water-bound areas, on rocks and cliffs above the ocean. RANGE: Macaroni penguins range from the sub-Antarctic to the Antarctic Peninsula. More
The crest of the Macaroni penguin is orange. There is a thick stripe of orange on the forehead. The crest hangs down the sides, long and drooping. It has red eyes and an orange beak. They are about 28 inches tall and weigh about 10 to 15 pounds. Habitat: Macaroni penguins live in the Sub-Antarctic. They stay at sea half of the year. Then they come together in very big rookeries. More
Macaroni penguins have red eyes. SIZE: 51-61 cm (20-24 in.) WEIGHT: 4.5 kg (10 lb. More
Macaroni Penguin is 10 - 20% shorter than Its Royal Penguin cousin. Description * Black and white. * Golden yellow crest joins across forehead. * Bill is large, reddish-orange brown with bare pink skin at base. * Juveniles covered with dark grey and white down. More
Macaroni Penguin Eudyptes chrysolophus climbing on rocks Image: 54T5249-01 Buy/Enquire/Request Image Add Photo to Lightbox View Larger Photo View your Lightbox Order Print of Photo Macaroni Penguin (Eudyptes chrysolophus) - climbing on rocks. More
southerly record for the macaroni penguin (eudyptes-chrysolophus) on the antarctic peninsula. Auk 98(2):398-9. International Union for Conservation of Nature and Natural Resources. The IUCN Red List of Endangered Species. 25 Feb 2009. . Crawford RJM, Cooper J, Dyer BM, Greyling MD, Klages NTW, Ryan PG, Petersen SL, Underhill LG, Upfold L, Wilkinson W, and others. 2003. Populations of surface-nesting seabirds at marion island, 1994/95-2002/03. African Journal of Marine Science 25:427-40. International Union for Conservation of Nature and Natural Resources. More
macaroni penguin in it when300 x 287 · 17 kB · jpegthesaunderspack.blogspot.comhttp://4.bp.blogspot.com/_DFeABDuZ3V0/Sdwk5bgEY7I/AAAAAAAAA_A/NCZ16wFr8vE/s400/rockhopper-penguin-photo-unknown.jpgAfficher les images similaires Macaroni penguin penguin 6818 x 1000 · 710 kB · jpegwww.coolantarctica.comhttp://www.coolantarctica.com/gallery2/birds_images/macaroni_1000_penguin6.jpgAfficher les images similaires Macaroni Penguin (Eudyptes ...1007 x 1000 · 298 kB · jpegwww.animalpicturesarchive.comhttp://www.animalpicturesarchive.com/ArchOLD-7/1198475192.jpgAfficher les images similaires Macaroni Penguin group ...2118 x 700 · 278 kB · jpegwww.animalpicturesarchive.comhttp://www.animalpicturesarchive.com/ArchOLD-2/1103961456.jpgAfficher les images similaires ... Things » Macaroni Penguin2000 x 2000 · 163 kB · jpegpoosk.comhttp://poosk.com/wp-content/themes/poosk/images/MacaroniPenguin-2000x2000. More
The Macaroni Penguin is a species of penguin closely related to the Rockhopper Penguin. It is the most numerous of all the worlds penguins, with an estimated world population of over 9 million breeding pairs. More
Macaroni penguins are some of the most beautiful and common species of penguin. They are larger than most other species of penguin. Most of them reach an adult height of up to 28 inches. Adult macaroni penguins are very distinctive because they have yellow crests which are located on their heads and around their eyes. They love to eat krill, fish and sometimes squid. More
Macaroni penguins are inhabitants of the Antarctic and sub-Antarctic regions which include South Georgia, Argentina, Kerguelen islands, Heard and McDonald islands, and Isles Crozet. There is an estimated population of 9 million breeding pairs of Macaroni penguins and there are around 216 breeding colonies at 50 locations. Appearance Male Macaroni penguins weigh around 3.3-4 kg while the females weigh around 4-4.5 kg. A female macaroni penguin appears to be smaller than the male. Their average length would be around 70cm. More
The Royals usually have white chins while Macaroni penguins have black chins. Photos of Macaroni penguins return to top of page Sub-species There are no generally recognised sub-species of the Macaroni penguin. return to top of page Height & Weight Macaroni penguins are typically 70 cm tall. Weights vary through the year between 4 and 5.5 kg. Females are usually smaller than males. More