Black-capped Petrel
This long-winged petrel has a grey-brown back and wings, with a white nape and rump. Underparts are mainly white apart from a black cap and some dark underwing makings. It picks food items such as squid from the ocean surface.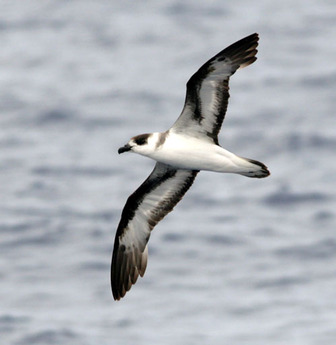 Picture of the Black-capped Petrel has been licensed under a Creative Commons
Attribution-Share Alike
.
Original source
: Photograph taken by Patrick Coin
Author
: Patrick Coin (Patrick Coin)
The Black-capped Petrel is classified as Endangered (EN), considered to be facing a very high risk of extinction in the wild.

The Black-capped Petrel (Pterodroma hasitata) is a small seabird in the gadfly petrel genus, Pterodroma. It is also known as the Diablotín. The extinct Jamaica Petrel (P. caribbaea) was a related dark form, often considered a subspecies of this bird. This long-winged petrel has a grey-brown back and wings, with a white nape and rump. Underparts are mainly white apart from a black cap (that in some individuals extends to cover the eye) and some dark underwing makings. More
The Black-capped Petrel is a small seabird which is currently endangered due to loss of habitat, introduction of predators in its breeding grounds, and human activity. Also called Diablotin, meaning "little devil", this species is nocturnal to avoid predators such as crows, gulls and seahawks. Only three breeding grounds remain for the Black-capped Petrel, all located in the mountain ranges of Hispaniola. The Jamaican Petrel, an extinct species, was a subspecies of this bird. More
Black-capped Petrel's location can be found on Nick Bonomo's Shorebirder blog. Black-capped Petrel Pterodroma hasitata. Initially discovered during attempts to relocate the first Audubon's Shearwater of the day which had been found just seconds earlier by Derek Lovitch. The bird made relatively close pass of the boat before gliding away at speed. More
winds, the Black-capped Petrel is typical of the gadfly petrels. On its breeding grounds in the Caribbean, its haunting nocturnal calls earned it the nickname Diablotin, the "little devil." Once fairly common, the Black-capped Petrel is drifting toward extinction. Observers almost never see it from shore, but find it regularly off North Carolina's Outer Banks. Appearance: A medium-sized seabird, Black-capped Petrels are known for their rolling and agile flight at sea. More
Black-capped Petrel: The Black-capped Petrel is a little-known seabird that is found at sea from northern South America to the southeastern U.S. Currently, the only known breeding colonies are located in the highlands of Hispaniola - on Massif de la Selle and Massif de la Hotte in Haiti and in the nearby Loma del Toro in the Dominican Republic. The total population is small, and a mere handful drift northward along the Gulf Stream in summer and fall, after the breeding season. More
Black-capped Petrel breeds only in the West Indies. Its only significant breeding population is in southeastern Haiti (Massif de la Selle and Massif de la Hotte) but a few pairs breed in the mountains of the Dominican Republic (Sierra de Baoruco) and possibly on Dominica, where it has been seen both off the coast and inland. The sites in Haiti and the Dominican Republic are in national parks. Breeding has been suspected but not confirmed for Cuba. More
Images Black-capped petrel in flight Diablotin (little devil) was the name given to the black-capped petrel by the Caribbean islanders whose nights were commonly punctuated by the eerie calls of this now rare bird. The back and upper surface of the wings of this medium-sized petrel are ... More
Black-capped petrel in flight Black-capped petrel in flightPrint factsheet Facts - Also known as: Chanwan Lasél, Diablotín Kingdom Animalia Phylum Chordata Class Aves Order Procellariiformes Family Procellariidae Genus Pterodroma (1) Size More
The Black-capped Petrels are of the Hook-billed subfamily of petrels. They feed on squid and small fish which they catch by skimming their bills just beneath the water. Accordingly, some of these petrels prefer to hunt at night when their prey are found near the surface. Like their close cousins the Bermuda Petrels, the Blackcaps suffered great slaughter and became a rare species. By late in the nineteenth century, these petrels were so scare that science completely lost track of Blackcap breeding grounds. More
Black-capped Petrel roost and feed in loose groups from time to time, but are generally seen flying solo. The Black-capped Petrel is very similar to the Greater Shearwater, but it has white upper tail coverts and a white collar. This Petrel has a dark gray back that fades into black wingtips and dark black tail. The bird has a distinctive black bill and generally is silent at sea. The Black-capped Petrel is named so, because of the black "cap" on their head. More
For the purposes of our bird news services, Black-capped Petrel is classed as Mega: species which have not yet occurred in the British Isles or are exceedingly rare, or are otherwise highly desirable. More
Black-capped petrel may have bred on Martinique (to France)6. Even during the breeding season it is highly pelagic, with breeding condition birds recorded off the North Carolina coast, USA3,4. Birds disperse over the Caribbean and Atlantic from the north-east USA to north-east Brazil, with four records in European waters8, but the at-sea range has contracted in the north and west. Important Bird Areas Click here to view map showing IBAs where species is recorded and triggers any of the IBA criteria. More
black-capped petrel, or diablotin (P. hasitata), of the West Indies was also thought extinct (because of predation by humans, rats, and mongooses) until in 1961 a substantial population,... More
Link to Black-capped Petrel - BirdLife Species Factsheet at Birdlife Datazone French-language profile assembled by Abdel Abellard Status of and Conservation Priorities for Black-capped Petrels in the West Indies by David S. Lee in Schreiber and Lee 2000, Society of Caribbean Ornithology, Special Publication No. 1 , Christopher C. Rimmer, Juan Klavins, John A. Gerwin, James E. Goetz, and Eladio M. Fernandez (Chap 5. from Simons et al. More
(1964) Discovery of breeding Black-capped Petrels on Hispaniola. Auk 81: p147-159. - Copyright More
Black-capped Petrel- This May was not a good month for seeing Black-capped Petrels off Cape Hatteras. Hopefully, there were larger numbers elsewhere in the Gulf Stream. More
Black-capped Petrel - Obviously, the ocean was quite calm on a few of these trips! We were able to easily spot flocks of birds sitting on the water at quite a distance, and closely approach some of these birds for great views. More