Westland Black Petrel
The Westland Petrel is an all dark bird with a yellowish bill and dark legs. It is a large member of the petrel and shearwater family. It has a highly restricted breeding range, currently confined to a small area of the west coast of New Zealand's South Island in an area protected in Paparoa National Park in dense forested hills. At sea it ranges from Tasmania to Chile taking fish and squid, as well as fishery waste.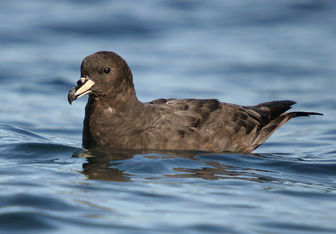 The Westland Black Petrel is classified as Vulnerable (VU), considered to be facing a high risk of extinction in the wild.

bird picture Westland Black Petrel © Duncan Poyser. Westland Black Petrel, bird picture Black-capped Petrel. Black-capped Petrel, ... http://www.surfbirds.com/mb/Pelagic/splist.html surfbirds.com - Southport Pelagics species listing: ...turtur Silver Gull Larus novaehollandiae White-chinned Petrel Procellaria aequinoctialis Gull-billed Tern Sterna nilotica Black Petrel Procellaria parkinsoni ... http://menura.cse.unsw.edu.au:64800/2002/06/msg00031.html Status of Black Petrel in Australia: Status of Black Petrel in Australia. ... As Mike Carter rightly points out Black Petrel is hardly a common species in Australian waters. ... More