White-chinned Petrel
The White-chinned Petrel is a member of the Procellaria genus, and in turn is a member of the Procellariidae family, and the Procellariiformes order. As a member of the Procellariiformes, they share certain identifying features. First, they have nasal passages that attach to the upper bill called naricorns. Although the nostrils on the Prion are on top of the upper bill. The bills of Procellariiformes are also unique in that they are split into between 7 and 9 horny plates. They produce a stomach oil made up of wax esters and triglycerides that is stored in the proventriculus. This is used against predators as well as an energy rich food source for chicks and for the adults during their long flights.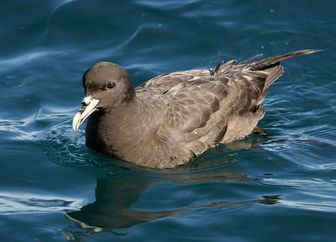 Picture of the White-chinned Petrel has been licensed under a
GFDL
Original source
: Own work
Author
: Mjobling
Permission
: GNU Free Documentation License
The White-chinned Petrel is classified as Vulnerable (VU), considered to be facing a high risk of extinction in the wild.

White-chinned petrels are one of the most numerous, and commonly encountered species in the Southern Ocean. They are large, dark (black to creosote-brown) birds closely related to the albatross. As the name suggests, they have a variably-sized white patch under their "chin". They have a wingspan of 1.3 - 1.4 metres. Males weigh up to 1.4 kg, while females, slightly smaller, weigh up to 1.3 kg. More
White-chinned Petrel breeds on South Georgia, Prince Edward, Auckland, Kerguelen, Campbell, and the Antipodes Islands, in addition to Iles Crozet. They wander widely and disperse north to Peru (to 6 degrees South), northern New Zealand, and in Africa, north as far as the subtropics or 12 degrees South (Albatrosses, Petrels & Shearwaters of the World, Onley and Scofield). Posted at 10:53 PM | Permalink TrackBack TrackBack URL for this entry: http://www.typepad. More
White-chinned petrels undertake some of the longest foraging trips of any seabird. During the breeding season , they travel up to 8,000 km at a time in search of krill and squid (6) White chinned petrels are one of the most common bycatch species in demersal longline fisheries targeting hake, ling, and toothfish in the Southern Ocean (6,7,9). Petrels and other seabirds are attracted to baited longline hooks, and may be hooked or entangled and eventually drown as the gear is deployed. More
The White-chinned Petrel is a member of the Procellaria genus, and in turn is a member of the Procellariidae family, and the Procellariiformes order. As a member of the Procellariiformes, they share certain identifying features. First, they have nasal passages that attach to the upper bill called naricorns. Although the nostrils on the Prion are on top of the upper bill. The bills of Procellariiformes are also unique in that they are split into between 7 and 9 horny plates. More
white-chinned petrel, Procellaria aequinoctialis = Definition: white-chinned petrel, Procellaria aequinoctialis - large black petrel of southern seas having a white mark on the chin Home of Wiki & Reference Answers, the world's leading Q&A siteReference AnswersEnglish▼English▼ Deutsch Español Français Italiano Tagalog * * Search unanswered questions... More
White-chinned petrel in flight White-chinned petrel in flightPrint factsheet Facts - Spanish: Pardela Gorgiblanca Kingdom Animalia Phylum Chordata Class Aves Order Procellariiformes Family Procellariidae Genus Procellaria (1) Size More
The white-chinned petrel is listed on Appendix II of the Convention on Migratory Species, and is subsequently part of the Agreement on the Conservation of Albatrosses and Petrels (ACAP). ACAP aims to stop or reverse population declines in 28 species from the southern hemisphere, by coordinating action between range states to mitigate known threats to albatross and petrel populations. More
White-chinned Petrel Procellaria aequinoctialis - White-chinned Petrel 40Km off Simonstown, South Africa, March 2002 (most individuals off SA have prominent white chin c.f. birds in south Atlantic) © A. R. More
The White-chinned Petrel is a summer resident, but present in Falkland waters throughout the year, most commonly northwest of the Falklands from October to December. Few are seen between June and September. It has a circumpolar distribution but numbers in the Falkland Islands have always been thought to be small, and now probably declining. More
In the New Zealand region, the white-chinned petrel breeds mainly at the Auckland, Antipodes and Macquarie Islands, with a relict population at Campbell Island. During the breeding season from September-May, white-chinned petrels are widely distributed over shelf, slope and oceanic waters from 37ºS to 62ºS. Their numbers start decreasing in March-April and during the non-breeding season from June-August, they virtually vanish from New Zealand waters to South America. The white-chinned and Westland petrel are the largest petrels to nest in underground burrows. More
Closely related to the White-chinned Petrel, this species is appropriately known as the Ringeye by Tristan Islanders by virtue of its striking white facial markings. As a breeder, it is restricted to Inaccessible Island within the Tristan da Cunha group, positioned in the South Atlantic almost midway between South America and Southern Africa. The main reason for full species status are the differences in vocalizations Spectacled Petrels produce a deeper (and apparantly more harmonious) groans and rattles than White-chinned Petrel (Ryan, 1998). More
The bill of White-chinned Petrel is stockier and more yellowish. Identification - Strong flier, with slow, purposeful wing beats interspersed with long glides. In strong winds, soars rather like an albatorss. Photo copyright of Ron Saldino More
white-chinned petrel - large black petrel of southern seas having a white mark on the chinProcellaria aequinoctialispetrel - relatively small long-winged tube-nosed bird that flies far from landgenus Procellaria, Procellaria - type genus of the Procellariidae How to thank TFD for its existence? Tell a friend about us, add a link to this page, add the site to iGoogle, or visit webmaster's page for free fun content. More
South Georgia Giant Petrel and White-chinned Petrel Conservation Programme, SGSI (OTEP SGS201) Start/End dates From 01/08/2005 to 31/03/2007 Project status Completed Summary The project aims to assist the GSGSSI in achieving and maintaining favourable conservation status for Southern Giant Petrels (Vulnerable), Northern Giant Petrels (Near-threatened) and White-chinned Petrels (Vulnerable) as outlined in the Agreement for the Conservation of Albatrosses and Petrels, thereby enabling compliance with the More
The White-chinned Petrel is large shearwater in the family Procellariidae. It ranges around the Southern Ocean as far north as South Australia, Peru and Namibia, and breeds colonially on scattered islands; South Georgia, Prince Edward Islands, Crozet Islands, Kerguelen Islands, Auckland Island, Campbell Island and Antipodes Islands. Their diet is composed mainly of krill (42%) followed by fish. More
The White-chinned Petrel is large shearwater in the family Procellariidae. pets No white-chinned petrel pets yet! pictures No white-chinned petrel pictures yet! videos No white-chinned petrel videos yet! owners No white-chinned petrel owners yet! blogs No white-chinned petrel blogs yet! This article is licensed under the GNU Free Documentation License. More