Band-rumped storm-petrel
The Madeiran Storm-petrel is 19-21 cm in length with a 43-46 cm wingspan, and weighs 44-49g. It is mainly black with an extensive white rump. Similar to Leach's Storm-petrel with the forked tail, long wings, and flight behaviour, but Leach's has a more forked tail and differently shaped white rump.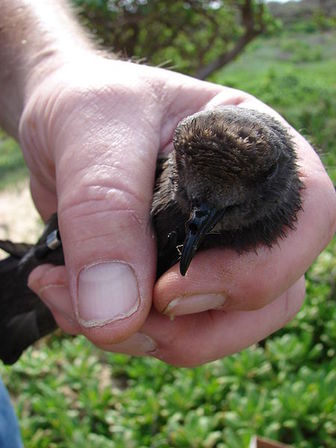 Picture of the Band-rumped storm-petrel has been licensed under a Creative Commons
Attribution
.
Original source
: Plants of Hawaii, Image 080102-1125 from http://www.hear.org/starr/plants/images/image/?q=080102-1125
Author
: Forest & Kim StarrPermission(Reusing this file)http://www.hear.org/starr/imageusepolicy.htm
The Band-rumped storm-petrel is classified as Least Concern. Does not qualify for a more at risk category. Widespread and abundant taxa are included in this category.

Although the Hawaiian population of Band-rumped Storm-petrels was previously recognized as a distinct subspecies, taxonomists today generally combine the various Pacific populations into a single taxon. However, the available information indicates that the Hawaiian population of Band-rumped Storm-petrels is discrete based on geographic isolation from other Band-rumped Storm-petrel populations in Japan, the Galapagos Islands, and the Atlantic Ocean. The Band-rumped is a medium-sized storm-petrel. More
Band-rumped Storm-petrel photographed by Scott Spangenberg on Cape Hatteras pelagic.6/6/04. All photographs remain the property of the photographer. Madeiran Storm-petrel or Band-rumped Storm-petrel Oceanodroma castro Other names Madeiran Storm-petrel is probably a newer name for this bird. Expect boat announcers to call it Band-rumped for some time. Reference Only and Scofield (23) use the name Madeiran Storm-petrel. Distribution "An abundant storm-petrel .... More
The scarce Band-rumped Storm-Petrel is one of 20 storm-petrel species, characterized by small size and dark plumage, nocturnal colony attendance, burrow-nesting, and the habit of seizing prey from the ocean surface. The Band-rumped Storm-Petrel's buoyant, zigzagging flight pattern is similar to that of a tiny shearwater as it flies either alone or in small groups at sea. Appearance: Band-rumped Storm-Petrels average nine inches in length, with a wingspan of 19 inches; they weigh 1.5 ounces. More
The Band-rumped Storm-Petrel is a bird that is native to the South Pacific, including the Hawaiian Islands. Currently, the population of this bird in the Hawaiian Islands remains fairly small, although there are now large populations of the Band-rumped Storm-Petrel in Japan as well as the Galapagos. The greatest danger to this bird at this time is considered to be light attraction. The Band-rumped Storm Petrel currently has a rating of Least Concern due to fairly large populations that exist throughout the world. More
Band-rumped Storm-petrel was caught as an adult 2 m from its natal burrow. Storm-petrels nest either in burrows dug into soil or sand, or in small crevices in rocks and scree. Competition for nesting sites is intense in colonies where storm-petrels compete with other burrowing petrels, with shearwaters having been recorded killing storm-petrels in order to occupy their burrows. More
(1990) First record of the Band-rumped Storm-Petrel in California. Western Birds 21:65-68. Mlodinow, S. G. and O'Brien, M. (1996) America's 100 Most Wanted Birds: Finding the lower 48's rarest species. Falcon Press, Helena and Billings, Montana. Monteiro, L.R. and Furness, R.W. (1998) Speciation through temporal segregation of Madeiran Storm-petrel (Oceanodroma castro) populations in the Azores? Phil. Trans. R. Soc London B 353:945-953. Sangster G. (1999) Cryptic species of storm-petrels in the Azores? Dutch Birding 21: 101-106. More
We can also tell you Band-rumped Storm-petrel is a * Literature Subject If you know more about Band-rumped Storm-petrel, you can add more facts here » Similar topics in Freebase * Masked Booby Masked Booby The Masked Booby, Sula dactylatra, is a large seabird of the gannet family, Sulidae. More
The Band-rumped Storm-Petrel is not considered threatened worldwide, though it is a candidate for listing (U.S. Fish and Wildlife Service 2002) because of its very small population size in the Hawaiian Archipelago. With twice the body mass of the Band-rumped, Tristram's Storm-Petrel is one of the largest of all the storm-petrels. More
Band-rumped Storm-Petrel: Breeds on remote ocean islands in the Pacific and Atlantic oceans, wanders widely in the nonbreeding season. Breeding and Nesting Band-rumped Storm-Petrel: Nests in colonies in rock crevices of cliffs on ocean islands. Lays one white egg that both parents incubate for 39 to 51 days. Foraging and Feeding Band-rumped Storm-Petrel: Patters on ocean surface grabbing small fish and squid. More
Is this a Band-rumped Storm-Petrel? That's what it looks like to me, but I hesitate to call a bird that was missed by 77 of New England's finest. Postscript: I have received numerous comments on these photos, and almost all agree that the bird is a Band-rumped Storm-Petrel. Post Postscript: This bird was accepted as a Band-rumped Storm-Petrel by the Massachusetts Avian Records Committee (first ballot, 9-0). More
paper describes the areas where Band-rumped Storm-Petrels were located and gives a census account for the number of calls heard at those sites. Several locations appear to be nesting populations including Waimea Canyon (east of Waimea Canyon lookout); four sub-populations along the Na Pali Coast (i.e. More
breeding studies of Band-rumped Storm-Petrel: Allan (1962; Ascension I.) and Harris (1969a; Galápagos Is.) Interesting, more recent work on Band-rumped Storm-Petrel discovered that populations breeding at different seasons on one island in the Azores are distinct morphologically and genetically, a possible case of sympatric speciation (Monteiro and Furness 1998). Much more work remains to be done on Tristram's Storm-Petrel, for which there is only one detailed breeding study (Marks and Leasure 1992). More