Black-bellied Storm Petrel
It is found in Antarctica, Argentina, Australia, Bouvet Island, Brazil, Chile, Falkland Islands, French Polynesia, French Southern Territories, Madagascar, Mozambique, New Zealand, Oman, Peru, Saint Helena, São Tomé and Príncipe, Solomon Islands, South Africa, South Georgia and the South Sandwich Islands, Uruguay, and Vanuatu.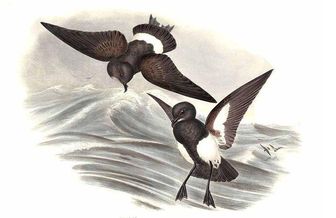 The Black-bellied Storm Petrel is classified as Least Concern. Does not qualify for a more at risk category. Widespread and abundant taxa are included in this category.

In the New Zealand region, the black-bellied storm petrel breeds at the Auckland, Antipodes and Bounty Islands. Stead relates something of the breeding habits of this species in the Auckland Islands: "In a bare earth face, I found two tiny burrows about eighteen inches long, in each of which was a black-bellied storm petrel sitting on an egg, one of which was quite fresh and the other slightly incubated. The nest, which was in a small chamber at the end of the burrow, consisted of a good handful of grass. More
Black-bellied Storm Petrel is one of just two 'fregetta' Storm Petrels that inhabit the southern oceans and is circumpolar in distribution. It is a large storm petrel with sooty brown upper parts appearing black at sea, and a prominent white 'rump' patch formed by the white flanks and upper tail coverts. The upper wing is sooty brown, with an inconspicuous grey brown crescent, formed by the somewhat lighter colouring of the greater secondary upper wing coverts. More
A mega of megas - BLACK-BELLIED STORM PETREL in the Severn Estuary Well my heart-felt condolescences go out to Keith Vinicombe, one of my closest life-long birding friends. Keith was on the phone to me kindly keeping me updated all yesterday morning but despite being on site, frustratingly just could not get himself on to this mega of megas whilst it was in view. More
Black-bellied Storm Petrel or would be better recorded as "Fregetta sp". It seems most likely the former, although whether it will be sufficient for BOURC acceptance we will have to wait and see. More