Little Grebe
The Little Grebe , also known as Dabchick, is 23 to 29 cm in length. It is the smallest European member of the grebe family of water birds and is commonly found in open bodies of water across most of its range.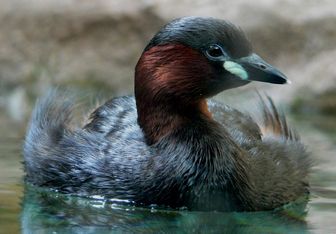 Picture of the Little Grebe has been licensed under a
GFDL
Original source
: English: Little Grebe(Tachybaptus ruficollis).Bân-lâm-gú: 水避仔。tsuí-pī-á.‪中文(繁體)‬: 小鷿鷈Mar2006Photo taken by user de:Benutzer:BS Thurner Hof
Permission
: GNU Free Documentation License
The Little Grebe is classified as Least Concern. Does not qualify for a more at risk category. Widespread and abundant taxa are included in this category.

The Little Grebe (Tachybaptus ruficollis), also known as Dabchick, is 23 to 29 cm in length. It is the smallest European member of the grebe family of water birds and is commonly found in open bodies of water across most of its range. More
Little Grebe - the agreed convention is to cap species' names, and this is an alternative, and widely used species name. The Birdlife database uses several standard categories for vulnerability. More
A Little Grebe in summer plumage A Little Grebe in winter plumage A Little Grebe chick Little Grebe Little Grebe References - * BirdLife International (2004). Tachybaptus ruficollis. 2006 IUCN Red List of Threatened Species. IUCN 2006. Retrieved on 09 May 2006. More
Synonyms: little grebe, Podiceps ruficollis - Wikipedia: Little Grebe - Top Home > Library > Miscellaneous > Wikipedia Little Grebe In breeding plumage Conservation status Least Concern (IUCN 3. More
Images Little grebe incubating eggs on nest The little grebe is also known as the dabchick and is the smallest member of the grebe family. It is a dumpy little bird with a rather blunt-looking rear, a feature often accentuated by the bird's habit of fluffing up its rump feathers. From a ... More
Little grebe incubating eggs on nest Little grebe incubating eggs on nest Print factsheet Facts - Also known as: dabchick French: Grèbe Castagneux Kingdom Animalia Phylum Chordata Class Aves Order Podicipediformes Family Podicipedidae More
Little Grebe is a small water bird with a pointed bill. The adult is unmistakable in summer, predominantly dark above with its rich rufous colour neck, cheeks and flanks, and bright yellow gape. The rufous is replaced by a dirty brownish grey in non-breeding and juvenile birds. Juvenile birds have a yellow bill with a small black tip, and black and white streaks on the cheeks and sides of the neck as seen below. This yellow bill increasingly darkens, eventually turning black. More
The Little Grebe is a small (27 cm) grebe with a chestnut throat and foreneck, a grayish black crown, hindneck, back and breast and brownish sides. The base of the bill and iris are yellow, the bill is black with a white tip and the legs are dark gray. Non-breeding birds are paler, especially in the head and neck, which lack the chestnut. Sexes are similar. More
tideway and heading straight for a little grebe swimming in the main channel. But at the last moment the grebe dived head-first in a jet of spray, leaving a frustrated bird of prey. Smallest of the grebes, the little grebe, or dabchick, is considerably rounder and more dumpy than its congeners. But it is the absence of tail and the habit of fluffing-up feathers at the rear end which provide such a blunt stern. More
Little Grebe (Dabchick) Tachybaptus ruficollis A common species throughout most of the UK (except the north of Scotland). Very much a freshwater species - although sometimes seen in harbours this species is very rarely observed on the open sea. More
Helens Canal, which also produced a little grebe and a pair of tufted ducks. More
Little Grebe Tachybaptus ruficollis = paulcking 119 vidéos S'abonnerModifier l'abonnement Chargement… 437 vues 437 vues paulcking — 20 novembre 2007 — A Little Grebe dives for food at Blacktoft Sands RSPB reserve. paulcking — 20 novembre 2007 — A Little Grebe dives for food at Blacktoft Sands RSPB reserve. More
* Little grebe putting children on her back.子供をおんぶしたカイツブリ2:03 * Ajouter à la file d'attente Ajoutée à la file d'attente Little grebe putting children on her back.子供をおん... More