Western grebe
This is the largest North American grebe 56-74 cm long. It is black-and-white, with a long, slender, swan-like neck and red eyes. It is easily confused with Clark's Grebe, which shares the same features, behavior and habitat, and hybrids are known.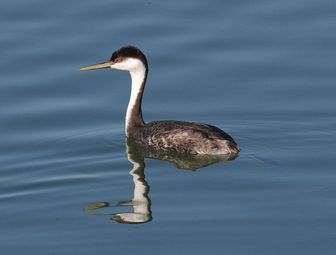 Picture of the Western grebe has been licensed under a Creative Commons
Attribution-Share Alike
.
Original source
: Western Grebe
Author
: dominic sherony
The Western grebe is classified as Least Concern. Does not qualify for a more at risk category. Widespread and abundant taxa are included in this category.

) The bill of the Western Grebe is yellowish to dull olive. back to top Pictures - back to top Habitat - In winter Western Grebes are found mostly on saltwater bays. During the breeding season they are found on freshwater wetlands with a mix of open water and emergent vegetation. More
Western GrebeAechmophorus occidentalis Order PODICIPEDIFORMES – Family PODICIPEDIDAE Issue No. 026a Authors: Storer, R. W., and G. L. Nuechterlein * Articles * Multimedia * References Courtesy Preview This Introductory article that you are viewing is a courtesy preview of the full life history account of this species. The remaining articles (Distribution, Habitat, Behavior, etc. More
of the Western Grebe, which it resembles in size, range, and behavior. Intermediates between the two species are known. Clark's Grebe is black-and-white, with a long, slender, swan-like neck. It ranges in size from 22–29 inches (56–74 cm). Among its distinguishing features is its bill, which is slightly upturned and bright yellow, whereas the Western Grebe's bill is straight and greenish-yellow. It shows white around its eyes, whereas black appears around the eyes of the Western Grebe. More
The Western Grebe, (Aechmophorus occidentalis), is a species in the grebe family of water birds. Folk names include "dabchick", "swan grebe" and "swan-necked grebe". This is the largest North American grebe 56-74 cm (22"-29") long. It is black-and-white, with a long, slender, swan-like neck and red eyes. It is easily confused with Clark's Grebe, which shares the same features, behavior and habitat, and hybrids are known. More
The Western Grebe is the largest North American member of the grebe family. Other names for this species include "swan grebe", "dabchick" and "swan-necked grebe". This species has been known to interbreed with the Clark's Grebe, which looks much like and shares the same habitat as the Western Grebe. Nests are built on large inland lakes and coastal marshes of western North America. During winter months, northern populations will migrate to the western coastal ocean areas. More
A Western grebe rests in the water at Bosque del Apache National Wildlife Refuge A Clark's grebe preens in the water at Bosque del Apache National Wildlife Refuge Western grebe at Baskett Slough National Wildlife Refuge Time Off Due to a shutdown at work in October of 2001, I had a week off and decided to spend as much time as possible at some of the local wildlife refuges. More
Western Grebe - Aechmophorus occidentalis - Clark's Grebe - Aechmophorus clarkii - Western and Clark's Grebe were only split into two distinct species in 1985, as prior to that, they were regarded as one species. The two species are very similar, especially in their winter plumage when their primary differentiating characteristic (facial pattern) becomes nearly identical (much less dark around the eye in winter-plumaged Western Grebes). More
A large black-and-white grebe, the Western Grebe breeds in lakes and ponds across the American West and winters primarily off the Pacific Coast. More
Western Grebes nest in colonies of hundreds on large inland lakes, sometimes using coastal marshes, in western North America. It has a spectacular courtship display; two birds will rear up and patter across the water's surface. Northern birds migrate west to coastal ocean in winter; birds in the southwest and Mexico may be permanent residents. This bird dines by diving for carp, herring, mollusks, crabs, and salamanders. More
Western GrebeThe Western Grebe, (Aechmophorus occidentalis, is a species in the grebe family of water birds. Folk names include dabchick, swan grebe, and swan-necked grebe. A paleosubspecies, Aechmophorus occidentalis lucasi, has been described from the Late Pleistocene of SW North America. As Clark's Grebe was not considered a separate species until the 1990s, it is not completely certain that the fossils are correctly attributed to A. occidentalis vs. A. clarkii. More
Links to Additional Western Grebe Information * All About Birds Species Account (Cornell Lab of Ornithology) Other Links Related to Birds * All Bird Plan * Important Bird Areas * Managing Habitat for Grassland Birds * All About Birds (Cornell Lab of Ornithology) * Wisconsin Colonial Waterbird Survey Last Revised: July 09, 2009 More
Western Grebe Aechmophorus occidentalis = DescriptionThe western grebe are seen on a whale watching boat tour with Eagle Wing Tours in Victoria, British Columbia, Canada on Vancouver Island. - 22-29" (56-74 cm). Is a large slender grebe with a long neck. Blackish above with black of cap extending below eyes; white below and on front of neck. Bill long, slender, and greenish yellow. Long white wing stripe shows in flight. See Clark's Grebe. More
The Western Grebe is one of several grebes that lives in North America. It can sometimes be difficult to distinguish the Western Grebe from other grebes. However, if you do know the identifying characteristics of the Western Grebe, you can differentiate it from other grebes. Here's what you need to know how to identify Western Grebes. Difficulty: ModerateInstructions 1. Step 1 Understand the habitat of Western Grebes. More
The Western Grebe (Aechmophorus occidentalis) is widespread as a breeder over the western United States. It winters along the west coast and at many fresh water reservoirs in the southwest. There are two shots of different Western Grebes shown here, both taken in June, 2001, in Sheridan Co., Montana, with a Canon EOS 3 and EF 600mm F/4 L lens and 1.4X extender on Fuji Sensia. See below for more shots. More
Western Grebe (w/Fish Hook in Left Eye) Location: Playa del Rey (Ballona Creek), CA GPS: 34.0W, -118.4N MAP Date: February 6, 2008 ID: 3069 nature photography SPECIES INFO - The Western Grebe, (Aechmophorus occidentalis), is a species in the grebe family of water birds. Folk names include "dabchick", "swan grebe" and "swan-necked grebe". This is the largest North American grebe 56-74 cm (22"-29") long. More
WESTERN GREBE Aechmophorus occidentalis L25" (64cm) The western grebe is the largest of all North American grebes. Its striking black and white coloration, swan-like neck, and long bill makes it easy to identify. During the breeding season, the western grebe inhabits freshwater lakes that contain emergent vegetation such as cattails and bulrushes. The western grebe has elaborate courtship displays such as the "rushing ceremony". More
Western Grebes are large and slender with long necks and long, thin bills. Plumage is dark gray above and white below, with a clear color division. The top of the face is black, and the bottom white. The black extends below the eye in the Western Grebe. (In the closely related and similar-appearing Clark's Grebe, the black ends above the eye.) The bill of the Western Grebe is yellowish to dull olive. Habitat: In winter Western Grebes are found mostly on saltwater bays. More
The Western Grebe is the largest (22" to 29") of the grebes. It has an extremely long swan-like neck. The general appearance is blackish above and white below, with a straight or slightly upturned, light yellow bill. The top of the head, back of the neck and back are black or very dark brown; cheeks, neck and underparts are white. Spring migration begins in April in Utah. More
Western Grebe - Aechmophorus occidentalisIdentical in size and shape to Clark's Grebe, once considered to be a lighter morph of the Western Grebe. Bill colors are slightly different, and the Clark's Grebe has white both above and below the eye. Note that in winter, facial patterns are nearly identical for both species, making identification much more difficult. They breed across much of the western United States and Canada, as well as in Mexico. More
The Western Grebe is carnivorous, eating mostly insects and fish along with some mollusks and crustaceans. They spear fish with their dagger-shaped bills (Perrins and Middleton, 1985). Reproductive Characteristics Courtship behavior involves complex sequences of elaborate, ritualized postures. The timing of breeding is dependent upon a good food supply more than a specific time or season. There are usually 2-6 white or cream colored eggs. The incubation period is 20-30 days. More
Western Grebe ( Aechmophorus occidentalis ) = Western Grebe | Aechmophorus occidentalis photo Western Grebes, Tule Lake National Wildlife Refuge, California Photograph by Alan And Elaine Wilson. Some rights reserved. Western Grebe | Aechmophorus occidentalis photo Western Grebe, Bolsa Chica Ecological Reserve, Huntington Beach, California Photograph by Alan And Elaine Wilson. Some rights reserved. More
* Western Grebe birds walking on water0:10 * Ajouter à la file d'attente Ajoutée à la file d'attente Western Grebe birds walking on water4482 vuesdizzo95 * Western Grebe0:53 * Ajouter à la file d'attente Ajoutée à la file d'attente Western Grebe5226 vuesMijdog * Great More