Channel-billed Toucan
The subspecies were previously considered separate species, but all interbreed freely wherever they meet. These are the Yellow-ridged Toucan , the Citron-throated Toucan and the Ariel Toucan . However, the subspecies R. v. ariel is closer to R. v. culminatus than to the nominate, and are by some already considered close to distinct species status. As R. v. ariel was described before R. v. culminatus, if separated they would become Ramphastos ariel ariel and R. a. culminatus. There also exists an isolated population in eastern Brazil. It looks very similar to, and has traditionally been considered part of, R. v. ariel, but molecular analysis suggests that it has been isolated for a long time and is a yet-undescribed separate subspecies or possibly even species .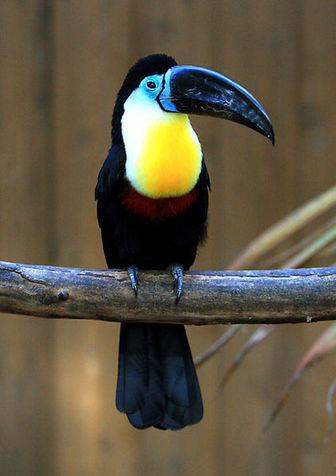 Picture of the Channel-billed Toucan has been licensed under a Creative Commons
Attribution
.
Original source
: originally posted to Flickr as Channel-billed Touca and uploaded to commons at Ramphastos_vitellinus_-Matsue_Vogel_Park-8a.jpg
Author
: Ramphastos_vitellinus_-Matsue_Vogel_Park-8a.jpg: ori2uru
The Channel-billed Toucan is classified as Least Concern. Does not qualify for a more at risk category. Widespread and abundant taxa are included in this category.

A brightly colored Channel-billed Toucan in Trinidad hides among the large tropical leaves. More
The Channel-billed Toucan (Ramphastos vitellinus) is a near-passerine bird which breeds in Trinidad and in tropical South America as far south as southern Brazil and central Bolivia. More
to the related Channel-billed Toucan of the race culminatus, but the latter is smaller and has a proportionally shorter bill with a more strongly keeled culmen. The call is often the best distinction between the species. White-throated has a yelping eeoo, hue hue, whereas Channel-billed has a croaking song. More
Channel-billed Toucan (Ramphastos vitellinus vitellinus) in captivity. Photo taken in Trinidad and Tobago. Source: Flickr (www.flickr.com/photos/guerinjeanmarc/88031017/in/set-72157594234460822/). Date: January 17, 2006. Author: Jean-Marc /Jo BeLo/Jhon-John (www.flickr.com/photos/guerinjeanmarc/). The Channel-billed Toucan (Ramphastos vitellinus) is a near-passerine bird which breeds in Trinidad and in tropical South America as far south as southern Brazil and central Bolivia. Taxonomy The subspecies were previously considered separate species, but all interbreed freely wherever they meet. More
Channel-billed ToucanThe Channel-billed Toucan (Ramphastos vitellinus) which breeds in Trinidad and in tropical South America east of the Andes and as far south as southern Brazil. The western form of this bird, the Yellow-ridged Toucan, was previously considered to be a separate species, Ramphastos culminatus, but the two races readily interbreed. However, the southeastern Amazonian subspecies R. v. ariel is closer to R. v. vitellinus than the nominate, the two former being already close to distinct species status. More
Channel-billed ToucanChannel-billed Toucan Local name: tucano-de-bico-preto Scientific name: Ramphastos vitellinus Family: Ramphastidae Best location(s): Tijuca National Park, Parati and Ubatuba Size: 46.0 - 56. More
A channel-billed toucan awaits a meal at the Discovery Cove aviary.\n\nThis is one of the great things about the Discovery Cove aviary. You don't have to pay for a tour to South America or Asia or Africa and hope you get lucky enough to see a bird like this. And this close, too. And you'll get to feed it. Compare the price of Discovery Cove admission to an exotic tour like that and now it appears to get more affordable. More
The Channel-billed Toucan (Ramphastos vitellinus) is a near-passerine bird which breeds in Trinidad and in tropical South America as far south as southern Brazil and central Bolivia. Taxonomy - The subspecies were previously considered separate species, but all interbreed freely wherever they meet. These are the Yellow-ridged Toucan , the Citron-throated Toucan and the Ariel Toucan . However, the subspecies R. v. ariel is closer to R. v. More
The Channel-billed Toucan breeds in Trinidad and in tropical South America east of the Andes and as far south as southern Brazil. They are Omnivorious and highly opportunistic when it comes to their diet. Food includes various fruits, insects, reptiles and small birds (mainly nestlings). It is submissive to the larger White-throated Toucan and Toco Toucan. Breeding is largely seasonal, but exact timing differs between regions. The 2-4 eggs are placed in a tree cavity. More
Channel-billed Toucan Mousepad Channel-billed Toucan Mousepad Travel New Mexico posters Travel New Mexico Print Colorado Snow Scene magnets Colorado Snow Scene Refrigerator Magnets Posters: bird - , toucan , amazon , jungle , nature , animal , More
Channel-billed Toucan Postage by Earthly_GoodsAdorable! Perfect for any bird lover *Strikethrough security feature will not appear on the actual U.S. postage. Loading High Resolution...Loading High Resolution...Loading High Resolution...Loading High Resolution...Loading High Resolution...Loading High Resolution...Loading High Resolution...Loading High Resolution...Loading High Resolution... More
Channel-billed Toucan Poster by kmwattsToucans eat fruit by snipping off the fruit with the tip of their large bill and then tossing the fruit backward into their throats, gulping it down whole. They prefer the ripest fruits. Because they eat the fruit whole, they are probably important seed dispersers in the rainforest. They can regurgitate or pass the seeds whole. They drink by dipping their bill in water and then raising it up and letting the water flow down into their mouths. More
Channel-billed toucanBirds in Suriname = - channel-billed toucan, drawing by Paul Woei, the famous artist channel-billed toucan, Ramphastos vitellinus, Toucan ariel, Tucano-de-bico-preto, Diosted More