Chestnut-mandibled Toucan
Like other toucans, the Chestnut-mandibled is brightly marked and has a large bill. The male is 56 cm long and weighs 750g . The smaller female is typically 52 cm long and weighs 580g .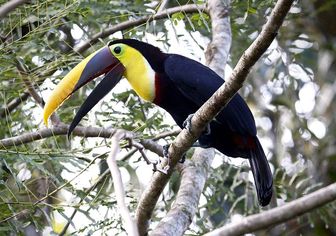 Picture of the Chestnut-mandibled Toucan has been licensed under a Creative Commons
Attribution
.
Original source
: Own work
Author
: Marinezilla
The Chestnut-mandibled Toucan is classified as Least Concern. Does not qualify for a more at risk category. Widespread and abundant taxa are included in this category.

The Chestnut-mandibled Toucan, or Swainson's Toucan (Ramphastos swainsonii) is a near-passerine bird which breeds from eastern Honduras to northern Colombia to western Ecuador. This species is replaced from southern Colombia to eastern Peru by the closely related Black-mandibled Toucan, R. ambiguus, with which it is sometimes considered conspecific. The scientific and alternative English names commemorate the English ornithologist and artist William Swainson. More
The call of the Chestnut-mandibled Toucan is a yelping yo-YIP, a-yip, a-yip, or a Dios te d??, Dios te d??. It is given to maintain contact as the flock travels in "follow-my-leader" style through the trees, but also in chorus at the evening roosts. Behavior Small flocks, usually consisting of 3-12 birds, move through the forest with an undulating flight, rarely travelling more than 100 m at a time. More
Chestnut-mandibled ToucanHabitat This large frugivore lives in the canopy of lowland and highland wet forests. Range The total range for this bird includes the area between eastern Honduras and northern Colombia. In Costa Rica it is most common in the wet forest lowlands of the Caribbean slope up to 1,200 m; on the Pacific side it is common to abundant between the lowlands (up to1,850 m) along the Cordillera de Talamanca up to Carara. More
The Chestnut-mandibled Toucan is a resident breeder in moist lowland forest. The 2-4 white eggs are laid in an unlined cavity high in a decayed section of a living tree, or occasionally in an old woodpecker nest in a dead tree. Both sexes incubate the eggs for at 14-15 days, and the toucan chicks remain in the nest after hatching. More
Use our Chestnut-mandibled Toucan Video Code for MySpace, Friendster, Hi5, Facebook, Blogs & More! Sit back, relax, and watch the Chestnut-mandibled Toucan Video for your entertainment. More
Aspects of the topic chestnut-mandibled toucan are discussed in the following places at Britannica. Assorted References * species of toucan (in toucan (bird family)) ...appearing unwieldy, even heavy, the bill is composed of extremely lightweight bone covered with keratin—the same material as human fingernails. More
The Chestnut-mandibled Toucan is a brightly marked bird with a large bill, which lives from northern Colombia to eastern Honduras. The male is about 55cm long, but the female is only a little smaller. Chestnut-mandibled Toucan Level: Size: 6x9 Photo by: (c) Johan Knelsen Compose puzzles! Hall of fame 1. Mira - 44, 1:23 2. More
Chestnut-mandibled ToucanChestnut-mandibled Toucan (Ramphastos swainsonii) Costa Rica - 2007Photo no. 7265 (Category B) e-CardSend this photo like e-Card PublishBuy/Publish this photo - Another photos: Chestnut-mandibled Toucan Chestnut-mandibled Toucan(Ramphastos swainsonii) Photo no. 7267 Photo no. More
stock photo : Chestnut-mandibled Toucan or Swainsons Toucan - Ramphastos swainsonii (3 years) in front of a white background chestnut mandibled toucan or... stock photo : Chestnut-mandibled Toucan or Swainsons Toucan - Ramphastos swainsonii (3 years) in front of a white background chestnut mandibled toucan or... stock photo : Chestnut mandibled Toucan chestnut mandibled toucan stock photo : beautiful costa rican chestnut mandibled toucan 2 beautiful costa rican chestnut... More
The chestnut-mandibled toucan is the second largest toucan, topped only by Ramphastos toco. Males have a total length of 56 cm and a body weight of 750 g, females measure 52 cm and weigh 580 g. The plumage is mostly black with strong maroon suffusion on crown, hindneck, upper back and breast. Bib deep yellow bordered by a narrow line of white, followed by a broader line of red. Upper tail coverts white, lower tail coverts red. More
The Chestnut-mandibled Toucan, or Swainson More