Brown-headed Barbet
The Brown-headed Barbet is a resident breeder in India and Sri Lanka. It is an arboreal species of gardens and wooded country which eats fruit and insects. It nests in a tree hole, laying 2-4 eggs.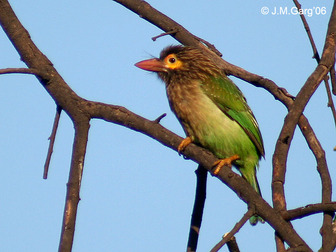 Picture of the Brown-headed Barbet has been licensed under a
GFDL
Original source
: Own work
Author
: J.M.Garg
Permission
: GNU Free Documentation License
The Brown-headed Barbet is classified as Least Concern. Does not qualify for a more at risk category. Widespread and abundant taxa are included in this category.

The Brown-headed Barbet is a resident breeder in India and Sri Lanka. It is an arboreal species of gardens and wooded country which eats fruit and insects. It nests in a tree hole, laying 2-4 eggs. This is a relatively large barbet at 27 cm. It is a plump bird, with a short neck, large head and short tail. The adult has a streaked brown head, neck and breast, with a yellow eye patch. The rest of the plumage is green. More
The Brown-headed Barbet (Megalaima zeylanica) is a barbet. Barbets are near passerine birds with a world-wide tropical distribution. They get their name from the bristles which fringe their heavy bills. Distribution / Range The Brown-headed Barbet is a resident breeder in India and Sri Lanka. It is an arboreal species of gardens and wooded country which eats fruit and insects. More
The Brown-headed Barbet has an orange eye-ring but the calls are very similar and the two species occur together in some of the drier forests to the east of the Western Ghats. Like all other Asian barbets they are mainly frugivorous although they may sometimes eat insects and they use their bills to excavate nest cavities in trees. More
For the purposes of our bird news services, Brown-headed Barbet is classed as ungraded: species which are unlikely to appear as wild birds in Britain or Ireland (Note that rarity levels are currently applied nationally and may not reflect local variations in abundance. More
Brown-headed Barbet (Megalaima zeylanica) is a widespread resident in India. More
Titled - Brown-headed Barbet Join Sign-up New user Sign up► * * * PasswordForgot Password * Hotel Reviews * | * Destination Features * | * Maps & Directions * | * More.. More
Brown-headed Barbet Megalaima zeylanica zeylanica - Adult at nest hole Brown-headed Barbet Photographer : More
Brown-headed Barbet is the largest). It is unmistakeable with its yellow forehead and blue face. It frequents tall trees but descends to lower branches, especially when these are in fruit. It mainly feeds on fruit but is known to occasionally eat insects as well. The breeding season is during February and May with a secondary season form August to September. The nest hole is similar to that of the Brown-headed Barbet but is slightly smaller in size. More
Picture - Brown-Headed Barbet on branch / Megalaima zeylanica = 151707 Juniors Bildarchiv Rights Managed Photograph - Email this image Add to Lightbox View Large Image Related Images Keywords animal, animals, aves, back view, barbet, barbets, bird, birds, bough, boughs, branch, branches, brown-headed, green, lanka, megalaima, nature, outdoor, outdoors, outside, sri, sri lanka, tree, trees, capitonidae, stock image, images, royalty free More