Blue-throated Barbet
This barbet eats fruits and insects.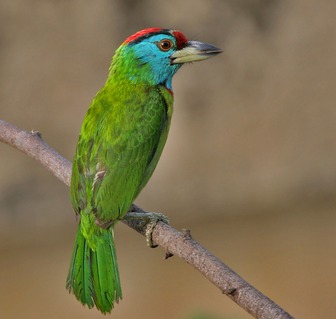 Picture of the Blue-throated Barbet has been licensed under a
GFDL
Original source
: Own work
Author
: J.M.Garg
Permission
: GNU Free Documentation License
The Blue-throated Barbet is classified as Least Concern. Does not qualify for a more at risk category. Widespread and abundant taxa are included in this category.

The Blue-throated Barbet (Megalaima asiatica) is an Asian barbet. Barbets and toucans are a group of near passerine birds with a world-wide tropical distribution. The barbets get their name from the bristles which fringe their heavy bills. It is found in Assam too. This barbet eats fruits and insects. References - * BirdLife International (2004). Megalaima asiatica. 2006. IUCN Red List of Threatened Species. IUCN 2006. www.iucnredlist.org. More
The Blue-throated Barbet (Megalaima asiatica) 28cm, our bird of the month, is found in the Himalayas, NE India and Bangladesh. Its blue face and throat along with a red forehead and black band across the crown are clues to its identification. It prefers open forests, orchards and groves. It is the dominant species around Calcutta. The call is a repeated kutoorrook. More
Blue-throated Barbet (Megalaima asiatica) is a widespread resident in the hills of Himalayas. More
Blue-throated Barbet by Ian Fulton Photographer: Ian Fulton Location: lower Limethang Road, Bhutan Date Taken: 13/Apr/2008 Upload On: 14/Sep/2009 Rating: ****** Photographer: Ian Fulton Blue-throated Barbet by Ian Fulton Location: lower Limethang Road, Bhutan Date Taken: 13/Apr/2008 Upload On: 05/Sep/2009 Rating: ****** Blue-throated Barbet by Ian Fulton Photographer: Ian Fulton More
The Blue-throated Barbet received its name because its throat, chin, and both sides of its head are blue in color. The bird's forehead is crimson colored and the majority of the remainder of its body is a grass green color. The barbet's beak is surrounded by black bristles. The Blue-throated Barbet's body size averages about nine inches in length. Both males and females are the same color and have the same markings. More
The Blue-throated Barbet is found not so much in thick forest as in the more open hill jungles, where villages and cultivation have let in the sun and caused the growth of that rich and varied tree flora which is a great feature of the lower hills. In such places wild fruits of various kinds are extremely common, and on these the Barbet lives, wandering freely from tree to tree without fear of man, even nesting in the middle of the villages. More
Blue-throated Barbet Asian Barred Owlet Elephants on the Ramganga Cheer Pheasant Lesser Fish Eagle Lesser Fish Eagle Pallas' Fish Eagle Blue-throated Barbet Asian Barred Owlet Elephants on the Ramganga Cheer Pheasant First Previous Next Last Close Close Close Close Please email More
Blue-throated Barbet White-tailed (Himalayan) Rubythroat White-tailed (Himalayan) Rubythroat Crimson Sunbird Lineated Barbet Long-tailed Shrike Chestnut-headed Tesia Chestnut-headed Tesia Grey-bellied Tesia Grey-bellied Tesia Tiger pair tigers-grass3. More