Flame-fronted Barbet
Its natural habitats are subtropical or tropical moist lowland forests and subtropical or tropical moist montanes.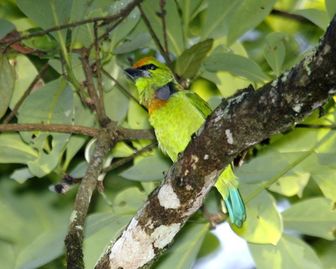 Picture of the Flame-fronted Barbet has been licensed under a Creative Commons
Attribution-Share Alike
.
Original source
: Flame-fronted Barbet (Megalaima armillaris armillaris)
Author
: Lip Kee Yap from Singapore, Republic of SingaporeCamera location
The Flame-fronted Barbet is classified as Least Concern. Does not qualify for a more at risk category. Widespread and abundant taxa are included in this category.

The Flame-fronted Barbet (Megalaima armillaris) is a species of bird in the Ramphastidae family. It is endemic to Indonesia. Its natural habitats are subtropical or tropical moist lowland forests and subtropical or tropical moist montanes. References - * BirdLife International 2004. Megalaima armillaris. 2006 IUCN Red List of Threatened Species. Downloaded on 27 July 2007. Stub icon This Piciformes-related article is a stub. More
Flame-fronted Barbet (Megalaima armillaris armillaris) Flame-fronted Barbet (Megalaima armillaris armillaris) Locations for recordings with GPS coordinates page 1 Flame-fronted Barbet song Megalaima armillaris (1:00) George Wagner XC23067 16-09-2007, Indonesia Flame-fronted Barbet Song Megalaima armillaris (0:24) Allen T. More
Flame-fronted Barbet Megalaima armillaris armillaris Flame-fronted Barbet Photographer : More
* Flame-fronted Barbet, Megalaima armillaris * Golden-naped Barbet, Megalaima pulcherrima * Blue-eared Barbet, Megalaima australis * Bornean Barbet, Megalaima eximia * Crimson-fronted Barbet, Megalaima rubricapilla * Coppersmith Barbet, Megalaima haemacephala More
Flame-fronted Barbet (Megalaima armillaris armillaris) Source Collection Flickr Image Use creative commons This media file is licensed under the Creative Commons Attribution-NonCommercial-NoDerivs License - Version 2.0. Copyright © 2007 Lip Kee Yap About This Page Page copyright © 2008 Page: Tree of Life Megalaima armillaris. Flame-fronted Barbet. More
Flame-fronted Barbet Megalaima armillaris IUCN Red List history Year Category 2009 Least Concern 2008 Least Concern 2004 Least Concern 2000 Lower Risk/Least Concern 1994 Lower Risk/Least Concern 1988 Lower Risk/Least Concern Range Estimate More
Flame-fronted Barbet Megalaima armillaris Javan Kingfisher Halcyon cyanoventris Sunda Coucal Centropus nigrorufus (J) Yellow-throated Hanging-Parrot Loriculus pusillus Volcano Swiftlet Collocalia vulcanorum (J) Javan Scops-Owl More
Flame-fronted Barbet, Megalaima armillaris Golden-naped Barbet, Megalaima pulcherrima Blue-eared Barbet, Megalaima australis Bornean Barbet, Megalaima eximia Crimson-fronted Barbet, Megalaima rubricapilla Coppersmith Barbet, Megalaima haemacephala Genus Calorhamphus Brown Barbet, Calorhamphus fuliginosus Genus Gymnobucco Naked-faced Barbet, Gymnobucco calvus Bristle-nosed Barbet, Gymnobucco peli Sladen's Barbet, Gymnobucco sladeni Grey-throated Barbet, Gymnobucco bonapartei Genus Stactolaema White-eared Barbet, Stactolaema leucotis Anchieta's Barbet, Stactolaema anchietae Whyte's Barbet, Stactolaema whytii Green Barbet, Stactolaema olivacea Genus Pogoniulus , the tinkerbirds Speckled Tinkerbird, Pogoniulus More