Banded Barbet
The Banded Barbet is a species of bird in the Ramphastidae family. It is found in Eritrea and Ethiopia.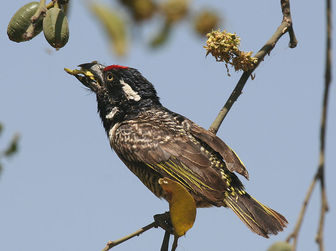 Picture of the Banded Barbet has been licensed under a Creative Commons
Attribution-Share Alike
.
Original source
: KrisMaes
Author
: KrisMaes
The Banded Barbet is classified as Least Concern. Does not qualify for a more at risk category. Widespread and abundant taxa are included in this category.

The Banded Barbet (Lybius undatus) is a species of bird in the Ramphastidae family. It is found in Eritrea and Ethiopia. References - * BirdLife International 2004. Lybius undatus. 2006 IUCN Red List of Threatened Species. Downloaded on 27 July 2007. Stub icon This Piciformes-related article is a stub. You can help Wikipedia by expanding it.v • d • e Retrieved from "http://en.wikipedia. More
Banded Barbet by Ian Fulton Photographer: Ian Fulton Location: Lalibela Date Taken: 29/Jan/2008 Upload On: 15/Sep/2009 Rating: ****** Photographer: Ian Fulton Banded Barbet by Ian Fulton Location: Lalibela Date Taken: 29/Jan/2008 Upload On: 13/Sep/2009 Rating: ****** Banded Barbet by Ian Fulton Photographer: Ian Fulton Location: Lalibela More
The Banded Barbet is endemic to the highlands of Ethiopia and Eritrea being usually found in woodland, forest and adjacent scrub. This bird was photographed in the gardens of the Roha Hotel in Lalibela. The bird is quite agitated as were all the sparrows and weavers - what was causing the panic was a chameleon which was climbing up the tree stem, see http://www.pbase.com/ianfulton/image/94057828 . More