White-spotted Woodpecker
Its natural habitats are subtropical or tropical moist lowland forests, subtropical or tropical moist montane forests, and heavily degraded former forest.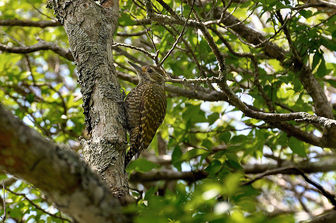 Picture of the White-spotted Woodpecker has been licensed under a Creative Commons
Attribution-Share Alike
.
Original source
: Picapauzinho-verde-carijó (Veniliornis spilogaster) - Macho
Author
: Cláudio Dias Timm from Rio Grande do SulCamera location
The White-spotted Woodpecker is classified as Least Concern. Does not qualify for a more at risk category. Widespread and abundant taxa are included in this category.

The White-spotted Woodpecker (Veniliornis spilogaster) is a species of bird in the Picidae family. It is found in Argentina, Brazil, Paraguay, and Uruguay. Its natural habitats are subtropical or tropical moist lowland forests, subtropical or tropical moist montane forests, and heavily degraded former forest. References - * BirdLife International 2004. Veniliornis spilogaster. 2006 IUCN Red List of Threatened Species. Downloaded on 28 July 2007. More
White-spotted Woodpecker Veniliornis spilogaster = Described by: Wagler (1827) Alternate common name(s): None known by website authors Old scientific name(s): None known by website authors Photographs Santana da Boa Vista, Rio Grande do Sul, Brazil - Aug, 2004 More
This presumed White-spotted Woodpecker was more difficult to identify. Note spotted back and barred front. The White-spotted Woodpecker can be found in the southeast of Brazil and Uruguay etc.More photos... More
White-spotted Woodpecker (Veniliornis spilogaster) by Bob Planqué. More
White-spotted Woodpecker Veniliornis spilogaster = near Iguazu Falls, Argentina - Oct, 2004 More
White-spotted Woodpecker (Veniliornis spilogaster) = French: Pic aspergé German: Perlbauchspecht Spanish: Carpintero Manchado Taxonomy: Picus Spilogaster Wagler, 1827, Brazil and Paraguay. Monotypic. Distribution: SE Brazil (S from Minas Gerais) S to adjacent SE Paraguay, NE Argentina (Misiones, E Corrientes) and Uruguay. More
Original File Name: White-spotted Woodpecker (Veniliornis spilogaster). More
White-spotted Woodpecker Veniliornis spilogaster IUCN Red List history Year Category 2009 Least Concern 2008 Least Concern 2004 Least Concern 2000 Lower Risk/Least Concern 1994 Lower Risk/Least Concern 1988 Lower Risk/Least Concern Range Estimate More
White-spotted Woodpecker (Veniliornis spilogaster): Mangoverde White-throated Woodpecker (Piculus leucolaemus): Mangoverde WoodpeckerWhite Woodpecker (Melanerpes candidus) Yellow-browed Woodpecker (Piculus aurulentus): Mangoverde Yellow-crowned aka Mahratta Woodpeckers (Dendrocopos mahrattensis): The Yellow-crowned Woodpecker is a small woodpecker found in South Asia. ... Related Web Resources: Oiseaux.net ... http://www.kolkatabirds.com (Photo) ... More
* White-spotted Woodpecker, Veniliornis spilogaster * Striped Woodpecker, Veniliornis lignarius * Checkered Woodpecker, Veniliornis mixtus Tribe Malarpicini * Genus Campethera * Fine-spotted Woodpecker, Campethera punctuligera * Nubian Woodpecker, Campethera nubica * Bennett's Woodpecker, Campethera bennettii More
White-spotted Woodpecker Veniliornis spilogaster Checkered Woodpecker Veniliornis mixtus Striped Woodpecker Veniliornis lignarius Blood-colored Woodpecker Veniliornis sanguineus Red-rumped Woodpecker Veniliornis kirkii Red-stained Woodpecker Veniliornis affinis Choco Woodpecker Veniliornis chocoensis Golden-collared Woodpecker Veniliornis cassini Yellow-eared Woodpecker Veniliornis maculifrons Rufous-winged Woodpecker Piculus simplex Stripe-cheeked Woodpecker Piculus callopterus White-throated Woodpecker Piculus leucolaemus Lita Woodpecker Piculus litae Yellow-throated Woodpecker Piculus flavigula Golden-green Woodpecker Piculus chrysochloros More