Laced Woodpecker
It is found in Cambodia, Indonesia, Laos, Malaysia, Myanmar, Singapore, Thailand, Vietnam and perhaps Bangladesh.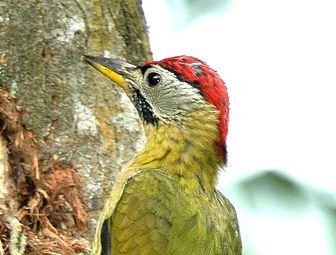 Picture of the Laced Woodpecker has been licensed under a Creative Commons
Attribution
.
Original source
: Flickr here
Author
: Flickr user NatureAtYourBackyard . Photo uploaded to commons by user ltshears
The Laced Woodpecker is classified as Least Concern. Does not qualify for a more at risk category. Widespread and abundant taxa are included in this category.

The Laced Woodpecker (Picus vittatus) is a species of bird in the Picidae family. It is found in Cambodia, Indonesia, Laos, Malaysia, Myanmar, Singapore, Thailand, Vietnam and perhaps Bangladesh. Its natural habitats are subtropical or tropical dry forests, subtropical or tropical moist lowland forests, subtropical or tropical mangrove forests, and subtropical or tropical moist montane forests. More
* Juvenile Laced Woodpecker In August 2009, we posted the Laced Woodpecker (Picus... * Barbet, woodpecker, myna and an empty nesting cavity In the town of Raub, in Pahang, Malaysia, Muhammad Firdaus... * Nesting of Collared Kingfisher On 6th April 2007 Eddy Lee chanced upon a... More
Lineated Barbet – Laced Woodpecker confrontation - Posted by BESG on 22 November 09, Sunday Contributed by Tan Gim Cheong Tan Gim Cheong circulated this account on the confrontation between a Lineated Barbet (Megalaima lineata) and a Laced Woodpecker (Picus vittatus). "This drama played out at Singapore's Jurong Lake on 11th November 2009 morning. A Lineated Barbet was bathing at a tree-hole when a Laced Woodpecker decided to challenge it. More