Checker-throated Woodpecker
Its natural habitats are subtropical or tropical moist lowland forests, subtropical or tropical mangrove forests, and subtropical or tropical moist montanes.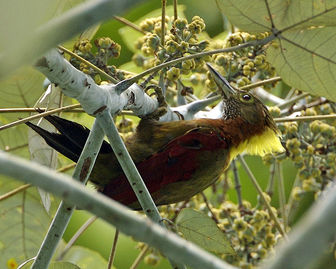 Picture of the Checker-throated Woodpecker has been licensed under a Creative Commons
Attribution-Share Alike
.
Original source
: originally posted to Flickr as Checker-throated Woodpecker (Picus mentalis humii)
Author
: Lip Kee YapPermission(Reusing this file)This image, which was originally posted to Flickr.com, was uploaded to Commons using Flickr upload bot on 17:54, 1 January 2009 (UTC) by Aroche (talk). On that date it was licensed under the license below. This file is licensed under the Creative Commons Attribution-Share Alike 2.0 Generic license.You are free:to share – to copy, distribute and transmit the work
The Checker-throated Woodpecker is classified as Least Concern. Does not qualify for a more at risk category. Widespread and abundant taxa are included in this category.

The Checker-throated Woodpecker (Picus mentalis) is a species of bird in the Picidae family. It is found in Brunei, Indonesia, Malaysia, Myanmar, Singapore, and Thailand. Its natural habitats are subtropical or tropical moist lowland forests, subtropical or tropical mangrove forests, and subtropical or tropical moist montanes. References - * BirdLife International 2004. Picus mentalis. 2006 IUCN Red List of Threatened Species. Downloaded on 27 July 2007. More
A female Checker-Throated Woodpecker foraging in the tree. Posted by madibirder at 1:41 PM Labels: Kemensah, woodpecker 3 comments: hasyimi said... New bird again...congratulation! April 13, 2010 2:35 PM wondersf said... Are these the pair from across the river. More
Checker-throated Woodpecker (Picus mentalis humii) Checker-throated Woodpecker (Picus mentalis humii) Checker-Throated Woodpecker (Picus mentalis) Checker-throated Woodpecker-Picus mentalis Pic gorgeret, Picus mentalis (Checker-throated Woodpecker) Locations for recordings with GPS coordinates page 1 Checker-throated Woodpecker calls Picus mentalis (0:21) David Farrow XC19627 23-07-2003, Thailand Checker-throated Woodpecker call Picus mentalis (0:10) More
Checker-throated Woodpecker Picus mentalis humii Checker-throated Woodpecker Photographer : More
Checker-throated Woodpecker Picus mentalis Checker-throated Woodpecker # 1 Checker-throated Woodpecker # 2 Checker-throated Woodpecker # 3 Checker-throated Woodpecker# 4 Checker-throated Woodpecker # 5 Checker-throated Woodpecker # 6 Checker-throated Woodpecker # 7 More
Checker-throated Woodpecker Picus mentalis = Described by: Temminck (1826) Alternate common name(s): Chequer-throated Woodpecker Old scientific name(s): None known by website authors Photographs Panti Forest Reserve, Johor, Malaysia - 2002 More
Checker-throated Woodpecker (Picus mentalis humii) Location: Kampung Kemensah, Selangor, Malaysia Date taken: Sunday, 10th January 2010 Photographer: John Steed Rate this image 1 2 3 4 5 Back to Top Copyright © John Steed 2010 Fatbirder's Top 1000 Birding Websites Nature Blog Network Thumbnails powered by Thumbshots More