Puerto rican woodpecker
The Puerto Rican Woodpecker has a black body and a bright red throat and breast. It has a white patch that runs across the head from eye to eye. Its flanks and lower body have a light tangerine coloration. As with the majority of birds sexual dimorphism is present in this species. The males' throat and breast are more brightly colored than the females' with females tending to be all-around duller in coloration. There is also a substantial difference in bill length between sexes. Its body length varies between 23 and 27 centimetres.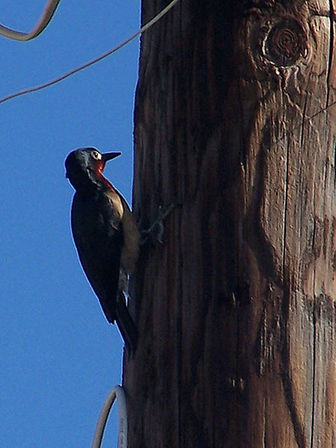 Picture of the Puerto rican woodpecker has been licensed under a Creative Commons
Attribution-Share Alike
.
Original source
: Own work
Author
: Wruiz7
The Puerto rican woodpecker is classified as Least Concern. Does not qualify for a more at risk category. Widespread and abundant taxa are included in this category.

The Puerto Rican Woodpecker (Melanerpes portoricensis) is the only woodpecker endemic to the archipelago of Puerto Rico and is one of the five species of the Melanerpes genus that occur in the Antilles. Furthermore, it is the only resident species of the Picidae family in Puerto Rico. The species is common in the main island of Puerto Rico and rare in the island of Vieques. More
Puerto Rican WoodpeckerPuerto Rican Woodpeckers = Member of the Picidae Family: Woodpeckers ... Sapsuckers ... Flickers Distribution / Habitat The Puerto Rican Woodpecker (Melanerpes portoricensis) is the only woodpecker endemic to the archipelago of Puerto Rico and is one of the five species of Melanerpes sp. that occur in the Antilles. Furthermore, it is the only resident species of the Picidae family in Puerto Rico. More
The Puerto Rican Woodpecker has a black body and a bright red throat and breast. It has a white patch that runs across the head from eye to eye. Its flanks and lower body have a light tangerine coloration. As with the majority of birds sexual dimorphism is present in this species. The males' throat and breast are more brightly colored than the females' with females tending to be all-around duller in coloration. More
While birders are unlikely to find a Puerto Rican Woodpecker in California anytime soon, they are very likely to see one if they get out to Puerto Rico. This is a common and widely distributed resident, occurring in lower mountain forest foothills, coastal mangrove swamps, palm tree groves, parks and gardens and most birding groups will come across it several times on even a short stay. More
The Puerto Rican Woodpecker has a black upper body with bright red throat and breast and a white forehead and rump patch. Lower body is buff (light yellow). Body length is between 9 to 10.5 inches (23 to 27 centimeters) and weight is approximately 2.4 ounces (70 grams). Habits: Like most woodpeckers, M. portoricensis uses its chisel-like bill, long, barbed tongue and sticky saliva to glean food from bark and holes it More
The Puerto Rican Woodpecker is a common and widely distributed species in Puerto Rico, mainly occurring in forests, coffee plantations, mangroves, palm tree groves, parks and gardens. Besides occurring in Puerto Rico it once inhabited the island of St. Croix. This stems from the fact that during the Pleistocene epoch Puerto Rico, Vieques, Culebra, St. Croix and the other Virgin Islands constituted a single landmass. It is believed that at this time the species extended its range to St.Croix and Vieques. More
Puerto Rican Woodpecker Melanerpes portoricensis = Described by: Daudin (1803) Alternate common name(s): None known by website authors Old scientific name(s): None known by website authors Photographs Boqueron Refuge, Puerto Rico - 2003 More
Puerto Rican woodpecker, one of the 11 Endemic Birds of Puerto Rico Puerto Rican woodpeckers endemics Puerto Rican Woodpeckers, endemic birds to Puerto Rico, are nesting here ( April 2008) Birdwatchers Special ! 5 nights lodging $250 total for two people. Two woodpeckers by their nesting hole in a telephone pole. More
puerto rican woodpeckerHow would you and a partner/friend like to win a 5 day 'Endemic Dash' around Puerto Rico with Kevin Loughlin's WildSide Nature Tours? You would? Read on… Kevin (whose photographs of Puerto Rican Woodpecker and Green-throated Carib grace this post) has been organising trips to the Caribbean for many years and is generously offering two places on an Endemic Dash, one of his popular short trips around Puerto Rico on which participants will be taken to see as many of the island's endemics More
Puerto Rican Woodpecker Melanerpes portoricensis = Loiza, Puerto Rico - Dec 19, 2007 More