Lineated Woodpecker
The Lineated Woodpecker is 34 cm long and weighs 200 g. It resembles the closely-related Pileated Woodpecker of North America.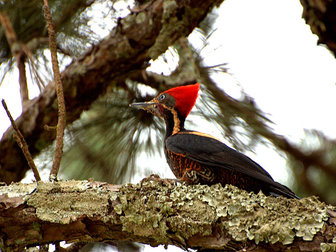 Picture of the Lineated Woodpecker has been licensed under a Creative Commons
Attribution-Share Alike
.
Original source
: originally posted to Flickr as PICA-PAU-DE-BANDA-BRANCA (Dryocopus lineatus)
Author
: Dario SanchesPermission(Reusing this file)This image, which was originally posted to Flickr.com, was uploaded to Commons using Flickr upload bot on 23:31, 26 October 2008 (UTC) by Ltshears (talk). On that date it was licensed under the license below. This file is licensed under the Creative Commons Attribution-Share Alike 2.0 Generic license.You are free:to share – to copy, distribute and transmit the work
The Lineated Woodpecker is classified as Least Concern. Does not qualify for a more at risk category. Widespread and abundant taxa are included in this category.

Ambergris' male lineated woodpecker has a red moustache that adds to his dramatic ana somewhat comical appearance. His large black body is contrasted with white bars thus the name 'lineatus'. (The female has a black moustache stripe.) Belize is home for 25 species of woodpeckers but none have caught my attention like the lineated. Bubba has been hanging around the new Mata Chica Restaurant behind which a pair have taken up residence along the resort's electrical corridor. More
The Lineated Woodpecker (Dryocopus lineatus) is a very large woodpecker which is a resident breeding bird from Mexico south to northern Argentina and on Trinidad. Description - Note narrow face stripe and black bill The Lineated Woodpecker is 34 cm long and weighs 200 g. It resembles the closely-related Pileated Woodpecker (Dryocopus pileatus) of North America. More
resembles the Lineated Woodpecker, but is larger and more robust. The adult is mainly black above with a pale bill, bushy crest, and white lines down the shoulders which almost meet in a V on its back. The throat is black and the rest of the underparts are white, heavily barred with black. The male has a red head and crest; the female is similar, but the crest and throat are black. More
Lineated woodpeckerBirds in Suriname = - Lineated woodpecker, Pic ouentou, Pica-pau-de-banda-branca, Carpintero real barbirrayado Lineated woodpecker, Pic ouentou, Pica-pau-de-banda-branca, Carpintero real barbirrayado Lineated woodpecker, Pic ouentou, Pica-pau-de-banda-branca, Carpintero real barbirrayado A big black and white woodpecker with a red helmet and a streaked throat. It can be found everywhere in Suriname in big trees, from the mangrove trees along the muddy coast to the forest in the interior. More
Related Web Resources: Lineated Woodpecker (Photo & Distribution in Suriname) ... The Internet Connection (Videos) ... Oiseaux.net ... Mangoverde - Photo, Video and/or Article contributions are welcome! Please click here for info The Avianweb strives to maintain accurate and up-to-date information; however, mistakes do happen. If you would like to correct or update any of the information, please send us an e-mail. More
Lineated Woodpecker by Dawn on the Amazon. Female near the nest cavity The scientific name for this woodpecker is Dryocopus Lineatus dawnontheamazon.com/blog www.dawnontheamazon.com www.dawnontheamazon.com/birdwatching.html dawnontheamazon.com/blog/2008/01/15/the-advantages-of-bir... dawnontheamazon.com/blog/2007/02/27/observations-about-ou... To take full advantage of Flickr, you should use a JavaScript-enabled browser and install the latest version of the Macromedia Flash Player. More
Lineated WoodpeckerCOPYRIGHT: (C) Tom Davis 2005 lineated More