Common Flameback
A medium-sized, golden-backed woodpecker with long and solid black moustachial stripes. Both sexes have black eyestripes joined to black rear neck stripe. Male has red, female black crown. Black-scaled white underparts and red rump contrasting with black tail. Rather small bill and only three toes. The Greater Flameback looks quite similar.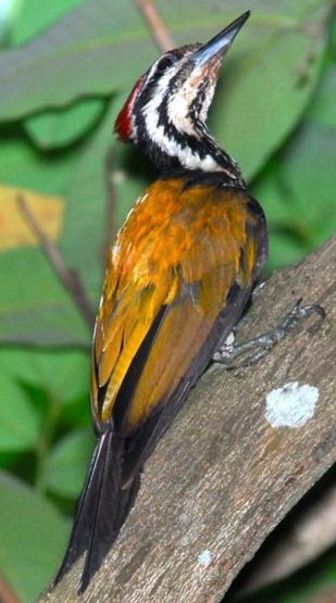 Picture of the Common Flameback has been licensed under a Creative Commons
Attribution
.
Original source
: Flickr here
Author
: Flickr user NatureAtYourBackyard . Photo uploaded to commons by user ltshearsOther versions
The Common Flameback is classified as Least Concern. Does not qualify for a more at risk category. Widespread and abundant taxa are included in this category.

The Common Flameback or Common Goldenback (Dinopium javanense) is a species of bird in the Picidae family. It is found in Bangladesh, Brunei, Cambodia, China, India, Indonesia, Laos, Malaysia, Myanmar, the Philippines, Singapore, Thailand, and Vietnam. Description and ecology - A medium-sized, golden-backed woodpecker with long and solid black moustachial stripes. Both sexes have black eyestripes joined to black rear neck stripe. Male has red, female black crown. More
This male Common Flameback (Dinopium javanense) was photographed by Johnny Wee at the Singapore Botanic Gardens on September 2008. The woodpecker was eating an over-ripe chempedak fruit (Artocarpus integer) for about 15 minutes. Woodpeckers are primarily insectivorous, feeding mainly on insects and their larvae, as well as other arthropods. Many have also been observed to feed on plant products including tree sap. Winkler & Christie (2002) note that frugivory is widespread among woodpeckers. More
* Common Flameback eating chempedak This male Common Flameback (Dinopium javanense) was photographed by... * Common Flameback's strange death KC Tsang was walking along his favourite forest patch... * A woodpecker's hyoid apparatus KC Tsang started it all (again!) when he posted... * Common Flameback foraging Unlike most birdwatchers, Dato' Dr Amar Singh HSS is still... More
Common Flameback - Male Forward | Print | Individual message | Show original | Report this message | Find messages by this author Location :- Abhera Wetland, Kota, Rajasthan Date :- 7 May 2010 Species :- Common Flameback - Male Equipment :- Canon With Regards sunil singhal - You received this message because you are subscribed to the Google Groups "delhibirdpix" group. To post to this group, send email to delhibirdpix@googlegroups.com. More
The Common Flameback (Dinopium javanense) is a species of bird in the Picidae family. It is found in Bangladesh, Brunei, Cambodia, China, India, Indonesia, Laos, Malaysia, Myanmar, the Philippines, Singapore, Thailand, and Vietnam. More
largely black throat & the obvious black rump - Common Flamebacks have a red rump. More
the obvious black rump - Common Flamebacks have a red rump. -vndOn 7 May 2010 09:46, sunil singhal <sunilsin= ghalk...@gmail. More
obvious black rump - Common Flamebacks have a red rump. More
Common Flameback (male)by Carl-Johan Svensson 11 months ago 11 months ago: Wed, Jun 17, 2009 10:18pm EST (Eastern Standard Time) More More See all Show meCarl-Johan Svensson's videos * Carl-Johan Svensson's videos * Staff Picks 22. Yellow-vented Flowerpecker by Carl-Johan Svensson11 months ago 21. Common Flameback (female) by Carl-Johan Svensson11 months ago 20. Common Flameback (male) by Carl-Johan Svensson11 months ago 19. Eye-browed Thrush by Carl-Johan Svensson11 months ago 18. More
Public Home > Common Flameback > Common Flameback female Common Flameback = Common Flameback = ¶èÒ·ÕèÀÙà¢ÕÂÇ ˹éҷÕè·ӡÒà * Thumbnails * Album Comments * Widgets rss Common Flameback female More
For the purposes of our bird news services, Common Flameback is classed as Ungraded: species which are unlikely to appear as wild birds in Britain or Ireland hide section Most recent photos of Common Flameback (1) Thodupuzha, Kerala, India Thodupuzha, Kerala, India02/01/2009 Thodupuzha, Kerala, India 02/01/2009 View all pictures of Common Flameback View all pictures of Common Flameback show section External Links (0) We currently have no external links for this species. More