Sunda Woodpecker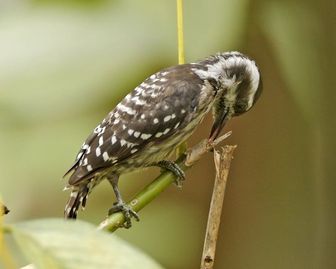 Picture of the Sunda Woodpecker has been licensed under a Creative Commons
Attribution-Share Alike
.
Original source
: Sunda pygmy woodpecker (Dendrocopos moluccensis) feeding
Author
: Lip Kee Yap from Singapore, Republic of SingaporePermission(Reusing this file) This file is licensed under the Creative Commons Attribution-Share Alike 2.0 Generic license.You are free:to share – to copy, distribute and transmit the work
The Sunda Woodpecker is classified as Least Concern. Does not qualify for a more at risk category. Widespread and abundant taxa are included in this category.

The Sunda Woodpecker (Dendrocopos moluccensis) is a species of bird in the Picidae family. It is found in Brunei, Indonesia, Malaysia, and Singapore. Its natural habitats are subtropical or tropical moist lowland forests, subtropical or tropical mangrove forests, and subtropical or tropical moist montanes. Singapore, Oct 1994Play video References - * BirdLife International 2004. Dendrocopos moluccensis. 2006 IUCN Red List of Threatened Species. Downloaded on 27 July 2007. More
Sunda Woodpecker (Dendrocopos moluccensis ) Sunda Woodpecker Common Name Sunda Woodpecker Scientific Name Dendrocopos moluccensis Order Piciformes Family Picidae Genus Dendrocopos Species D. More
Sunda Woodpecker feeding chicks in nest 2009 setstats More
Sunda Woodpeckers seen in the morning along Sungei Sembawang … Sunda Woodpecker (28 Oct 2009) Sunda Woodpecker (18 Oct 2009) Leave a Reply Click here to cancel reply. Name (required) E-mail (required) Website Notify me of follow-up comments via email. More
Sunda Woodpecker ( Dendrocopos moluccensis ) 300mm f/2.8L + EF 2x II at focal length 600mm, handheld without flash Passion; Patient and Practises is what we needs to become a better photographer. More
Sunda Woodpecker A pair of Sunda Woodpecker were nesting on...My Views on life Sunda Woodpecker A pair of Sunda Woodpecker were nesting on a dry branch outside of my office. My colleague Daniel noticed them and inform me. I packed my photographic equipment and ... of the lens was disabled. I got to use manual focusing. Hope the viewers here could understand all these handicaps. Sunda Woodpecker is one of the common woodpecker resident in Singapore. But this is the first time I ... More
* Sunda Woodpecker, Dendrocopos moluccensis * Grey-capped Woodpecker, Dendrocopos canicapillus * Pygmy Woodpecker, Dendrocopos kizuki * Brown-fronted Woodpecker, Dendrocopos auriceps * Fulvous-breasted Woodpecker, Dendrocopos macei * Stripe-breasted Woodpecker, Dendrocopos atratus * Yellow-crowned Woodpecker, Dendrocopos mahrattensis More
Sunda Woodpecker - Dendrocopos moluccensis Pic nain = Pic nain Gallery : © John Gould Site web : www.oiseaux.net Order : Piciformes Family : Picidae Species : Sunda Woodpecker Reference: jogo46043 Other pictures Copy forbidden without prior authorization. Who are we ? The association | Legal mentions | Sources | Contact Updated on 2009/09/25 05:14:58 - © 1996-2010 Oiseaux. More
Sunda Woodpecker Dendrocopos moluccensis Grey-capped Woodpecker Dendrocopos canicapillus Fulvous-breasted Woodpecker Dendrocopos macei Rufous Woodpecker Celeus brachyurus White-bellied Woodpecker Dryocopus javensis Banded Woodpecker Picus mineaceus Crimson-winged Woodpecker More
A pair of Sunda Woodpecker were nesting on a dry branch outside of my office. My colleague Daniel noticed them and inform me. I packed my photographic equipment and set up the shot. The results are partially displayed here. As I do not have pro lenses, I used 2 tele converters with a 70-300mm zoom to take some of these shots. Therefore, they were not pin sharp. Worst of all, with the tele converters, the auto focus function of the lens was disabled. More
The Sunda Woodpecker (Dendrocopos moluccensis) is a species of bird in the Picidae family. Sunda Thrush * Sunda Thrush - * The Sunda Thrush (Zoothera andromedae) is a species of bird in the Turdidae family. More
Sunda Woodpecker Dendrocopos moluccensis IUCN Red List history Year Category 2009 Least Concern 2008 Least Concern 2004 Least Concern 2000 Lower Risk/Least Concern 1994 Lower Risk/Least Concern 1988 Lower Risk/Least Concern Range Estimate More