Great Spotted Woodpecker
The Great Spotted Woodpecker , Dendrocopos major, is a bird species of the woodpecker family . It is distributed throughout Europe and northern Asia, and usually resident year-round except in the colder parts of its range. It is not considered a threatened species by the IUCN, being widely distributed and quite common.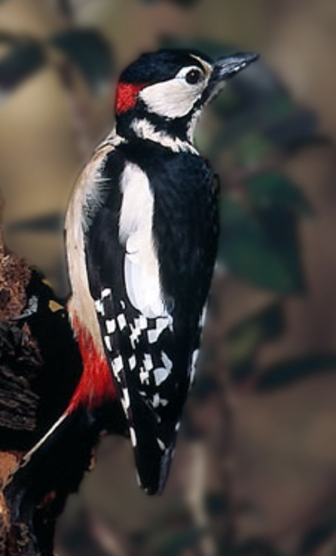 Picture of the Great Spotted Woodpecker has been licensed under a
GFDL
Original source
: Deutsch: Bearbeitete Version von Image:Buntspecht_Dendrocopos_major.jpg durch Jonathan HaasSteffen Hannert – "aufgenommen mit einer Nikon F5 und einem 4.0/500 P Objektiv Fuji Sensia 100; Blitz"Vogelruf.de, BirdGallery, http://www.vogelruf.de/galerie/ first upload in de wikipedia on 21:34, 19. May 2004 by Franz Xaver
Author
: Steffen Hannert
Permission
: GNU Free Documentation License
The Great Spotted Woodpecker is classified as Least Concern. Does not qualify for a more at risk category. Widespread and abundant taxa are included in this category.

The Great Spotted Woodpecker is 23–26 cm long, with a 38–44 cm wingspan. The upperparts are glossy black, with white on the sides of the face and neck. A black line zigzags from the shoulder halfway across the breast (in some subspecies nearly meeting in the center), then back to the nape; a black stripe, extending from the bill, runs below the eye to meet this latter part of the zigzag line. More
The RSPBJuvenile great spotted woodpeckerWood of CreeGreat spotted woodpecker male bird, perched on a branch in garden * A * B * C * D * E * F * G * H * I * J * K More
When searching for food a great spotted woodpecker usually alights on the trunk then works upwards and often from side to side. During the ascent it smartly taps the bark, prising off fragments and frequently extracting food from crevices with the tip of its sticky tongue. Actions are jerky and the bird hops rather than climbs even when beneath a branch. It will work round to the further side of the trunk, often apparently to avoid observation. The great spotted has a varied diet changing with the seasons. More
Female great spotted woodpecker on tree stump Great spotted woodpeckers are the most widespread and numerous woodpecker in the UK. They have a large range covering almost the entire Palearctic from Britain in the west to Japan in the east and reaching North Africa and the Canary Islands in the south-west. They are not found in Ireland or the far north of Scotland. What do they sound like? - 1. More
The Great Spotted Woodpecker is a pied woodpecker: black with a large white shoulder patch and scarlet underneath the tail. It is much larger than the other British pied woodpecker, Lesser Spotted Woodpecker. The Great Spotted Woodpecker is about the size of a Starling, while the Lesser Spotted Woodpecker is more sparrow-sized. More
Great Spotted WoodpeckerThe Great Spotted Woodpecker is a member of the woodpecker family, Picidae. Distribution / Habitat: As a species the Great Spotted Woodpecker (Dendrocopos major) is distributed throughout Europe and northern Asia. It is largely resident except in the colder regions of its range. It is an inhabitant of woodlands and parks, depending for food and nesting sites upon old trees. More
The Great Spotted Woodpecker of the Old World = Identification, Diet, Nesting, and Status of a Common Cavity Nester - Share Article | Jul 3, 2009 Rosemary Drisdelle The Great Spotted Woodpecker lives in much of the northern hemisphere, except in North America, and still thrives despite human activities throughout its range. More
Great Skua | Great Spotted Woodpecker | Great Tit | Great White Egret | Greater Scaup | Green Sandpiper | Green Woodpecker | Greenland White-fronted Goose | Greenshank | Grey Heron | Grey Phalarope | Grey Wagtail | Greylag Goose | Gulls gallery | Hooded Merganser | House Sparrow | Jay | Kittiwake | Knot | Lapwing | Lesser Scaup | Lesser Yellowlegs | Linnet | Little Grebe | Little Ringed Plover | Long-tailed Duck | Long-tailed Tit | Magpie | Mallard | Manx Shearwater | Meadow More
The Great Spotted Woodpecker climbs around tree trunks, looking for food. It is black and white with a red patch under its tail. It has a black stripe like a moustache, at the edge of its beak. Males also have a red strip across the back of their heads. Where each wing joins the body, there is a white patch of feathers. It likes to fly in long curves from tree to tree. More
The Great Spotted Woodpecker (Dendrocopos major) is a member of the woodpecker family, Picidae. More
* Great Spotted Woodpecker on the Irish News * ► February (6) * Black Woodpecker Tail Feather * Tawny Owl in Black Woodpecker Hole * Woodpecker Photographers: Peter Csonka * Lesser Spotted Woodpecker: record age for UK More
This water colour depicts the Great Spotted Woodpecker, common to Europe and Asia. On another note I have had to cut back on the number of drops with EC due to repeatedly running out of bandwidth. Over the years I have managed to get through each month with 3 gigs of bandwidth. Since starting with EC my usage has averaged 15 Gigs a month, at a converted rate of about 11$ per gig it is starting to get costly. More
sound of great spotted woodpecker - Audio - Mouse over the speaker at the bottom of the screen to hear the sound of "great spotted woodpecker" other translations of great spotted woodpecker - Other Translations Contents - * 1 English * 1.1 Pronunciation * 1.2 Noun * 1. More
Aspects of the topic great spotted woodpecker are discussed in the following places at Britannica. Assorted References * characteristics (in woodpecker (bird)) ...of Dendrocopos include the downy woodpecker (D. pubescens), only about 15 cm (6 inches) long and inhabiting the woodlands and gardens of temperate North America; the great spotted woodpecker (D. More
We have the Green woodpecker and the Great spotted woodpecker in the lane where i work, in 4 years of trying i never managed to get one decent pic In the end i gave up :'( Rob Logged www.rnkendall. More
The great spotted woodpecker is the most common and widespread of the British woodpeckers. It has black and white plumage, a prominent oval-shaped white patch on each wing, a red patch under the tail; males also have a red patch on the rear of the ... More
Great Spotted Woodpecker at Potteric Carr Nature Reserve, Doncaster. Taken by Debbie. Our blog - Snowbabies To take full advantage of Flickr, you should use a JavaScript-enabled browser and install the latest version of the Macromedia Flash Player. Comments view profile maggiejay Pro User says: nice capture. Posted 26 months ago. ( permalink ) view profile Jacqui J. More