Fulvous-breasted Woodpecker
A medium-sized, pied woodpecker. Upperparts black, heavily barred white. Undertail red, breast und belly buffwith light flank barring and slight side streaking. Withish cheeks partly bordered by black line. Crown red in male with orange forehead, black in female.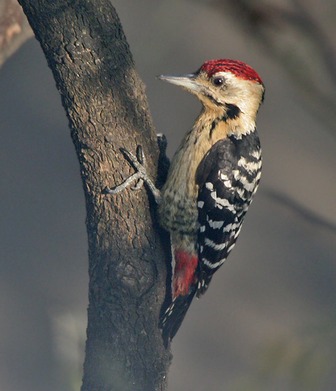 Picture of the Fulvous-breasted Woodpecker has been licensed under a
GFDL
Original source
: J.M.Garg
Author
: J.M.Garg
Permission
: GNU Free Documentation License
The Fulvous-breasted Woodpecker is classified as Least Concern. Does not qualify for a more at risk category. Widespread and abundant taxa are included in this category.

The Fulvous-breasted Woodpecker (Dendrocopos macei) is a species of bird in the Picidae family. It is found in Bangladesh, Bhutan, Cambodia, Indonesia, Laos, Myanmar, Nepal, Pakistan, Republic of India, Thailand, and Vietnam. Description - A medium-sized, pied woodpecker. Upperparts black, heavily barred white. Undertail red, breast und belly buffwith light flank barring and slight side streaking. Withish cheeks partly bordered by black line. Crown red in male with orange forehead, black in female. More
Fulvous-breasted Woodpecker on 21/2/2010 at Jorhat, Assam, India. DSC_0966.jpg 254K Download Forward You must Sign in before you can post messages.To post a message you must first join this group.Please update your nickname on the subscription settings page before posting.You do not have the permission required to post. More
Fulvous-breasted Woodpecker Dendrocopos macei andamanensis - Female Fulvous-breasted Woodpecker Photographer : More
The Fulvous-breasted Woodpecker (Dendrocopos macei) is a species of bird in the Picidae family. It is found in Bangladesh, Bhutan, Cambodia, India, Indonesia, Laos, Myanmar, Nepal, Pakistan, Thailand, and Vietnam. Its natural habitats are subtropical or tropical dry forests, subtropical or tropical moist lowland forests, and subtropical or tropical moist montanes. http://en.wikipedia.org/wiki/Fulvous-breasted_Woodpecker The text in this page is based on the copyrighted Wikipedia article shown in above URL. It is used under the GNU Free Documentation License. More
Fulvous-breasted Woodpecker on 21/2/2010 at Jorhat, Assam, India. DSC_0966.jpg 254 K Descargar Reenviar Debes registrarte antes de enviar mensajes.Para enviar una entrada, antes deberás formar parte del grupo.Antes de enviar entradas, actualiza tu alias en la configuración de la suscripción.No dispones del permiso necesario para enviar entradas. More