White-whiskered Puffbird
This puffbird is found in forests, shady plantations, especially of Theobroma cacao, and old second growth in lowlands and foothills up to 1200m. It nests in a 15-55 cm long, 6 cm diameter burrow in, usually, gently sloping ground. The wider nesting chamber is lined with dried leaves. The female lays 2, rarely 3, glossy white eggs; both sexes incubate the eggs and feed the young.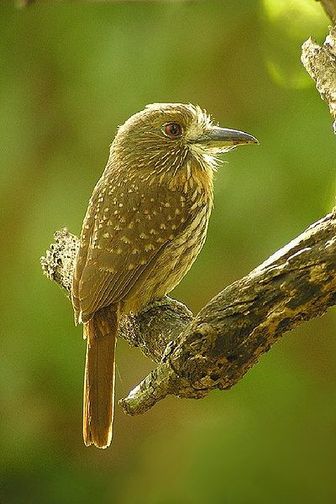 Picture of the White-whiskered Puffbird has been licensed under a Creative Commons
Attribution
.
Original source
: http://www.flickr.com/photos/lenblumin/2094072460/
Author
: Len BluminPermission(Reusing this file)Creative Commons Attribution 2.0
The White-whiskered Puffbird is classified as Least Concern. Does not qualify for a more at risk category. Widespread and abundant taxa are included in this category.

* White-whiskered Puffbird, Malacoptila panamensis * Moustached Puffbird, Malacoptila mystacalis * Genus: Micromonacha * Lanceolated Monklet, Micromonacha lanceolata * Genus: Nonnula - the nunlets * Fulvous-chinned Nunlet, Nonnula sclateri * Rusty-breasted Nunlet, Nonnula rubecula * Brown Nunlet, Nonnula brunnea More
The White-whiskered Puffbird (Malacoptila panamensis) is a bird which is a resident breeding species from southeastern Mexico to central Ecuador. It is sometimes known as White-whiskered Softwing. This puffbird is found in forests, shady plantations, especially of Theobroma cacao, and old second growth in lowlands and foothills up to 1200m. It nests in a 15-55 cm long, 6 cm diameter burrow in, usually, gently sloping ground. The wider nesting chamber is lined with dried leaves. More
Aspects of the topic white-whiskered puffbird are discussed in the following places at Britannica. Assorted References * description (in puffbird (bird)) The six or seven species of the genus Malacoptila are medium-sized brownish puffbirds, many with conspicuous patches of white on the face. The white-whiskered puffbird (M. More
White-whiskered Puffbird videos on the Internet Bird Collection White-whiskered Puffbird photo gallery VIREO Didn't find what you were looking for. Need more information for your travel research or homework? Ask your questions at the forum about Birds of Colombia or help others to find answers. This article is licensed under the GNU Free Documentation License. More
The White-whiskered Puffbird is a stout, large-headed, 18 cm long bird which weighs 42 g on average. It has bristles around the base of the large bill, and white More
XC8081 :: White-whiskered Puffbird (Malacoptila panamensis poliopis) = Recording data Recordist Nick Athanas Date 19-07-2002 Time 11:00 Country Ecuador Location Finca Cuatro Rios, San Miguel de Los Bancos, Pichincha Longitude W78.58'54" Latitude N0. More
The White-whiskered Puffbird (Malacoptila panamensis) is a bird which is a resident breeding species from southeastern Mexico to central Ecuador. It is sometimes known as White-whiskered Softwing. More
The White-whiskered Puffbird has a thin whistled tseeeeeeeep call. Like other puffbirds, this species hunts by a watch-and-wait technique, sitting motionless before darting to catch large insects, spiders, small frogs or lizards. These are taken back to the perch and beaten against it prior to consumption. Despite its size, this species is easily overlooked as it sits motionless in the foliage. More