Bank Cormorant
The Bank Cormorant is a heavy-bodied bird, roughly 75 cm in length. It is generally black in appearance with a bronze sheen, though the wings are a dark brown rather than a true black. Adults have a small crest on their heads, and normally have a white rump.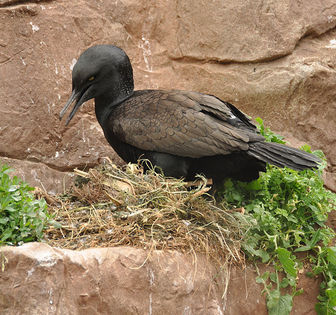 Picture of the Bank Cormorant has been licensed under a
GFDL
Original source
: NilfanionCamera location
Author
: NilfanionCamera location
Permission
: GNU Free Documentation License
The Bank Cormorant is classified as Endangered (EN), considered to be facing a very high risk of extinction in the wild.

The Bank Cormorant is endemic to southern Africa, breeding from Hollamsbird Island, Namibia to Quoin Rock, South Africa. The non-breeding range extends further north from Hoanibmond in northern Namibia to Die Walle in the Western Cape, South Africa. They seldom range farther than 10 km offshore; their distribution roughly matches that of kelp Ecklonia maxima beds. Band recoveries show that fledglings disperse up to 459 km and adults up to 150 km from their breeding colonies. More
The Bank Cormorant is a heavy-bodied bird, roughly 75 cm in length. It is generally black in appearance with a bronze sheen, though the wings are a dark brown rather than a true black. Adults have a small crest on their heads, and normally have a white rump. More
The bank cormorant is a marine bird that prefers inshore waters, rarely venturing further than 10 km from land, and is generally found over kelp beds where they forage. Their preferred breeding habitats are exposed rocky outcrops, islets, stacks and offshore islands, but they occasionally also breed on human constructions such as breakwaters. Most breeding sites are near the high tide level and exposed to sea spray (2). More
One of the bank cormorant's main food sources, the pelagic goby, is not targeted by the commercial fishery, but following a severe Benguela Niño event in 1994, stocks in central Namibia collapsed and have not sufficiently recovered since (8). The bank cormorant is also threatened by predation by kelp gulls and great white pelicans, which has been exacerbated by the presence of humans. More
neglectus: The Bank Cormorant is a medium-sized cormorant that is endemic to Namibia and the western seaboard of South Africa, living in and around coastal waters; it is rarely recorded more than 15Km offshore. The Bank Cormorant is a heavy-bodied bird, roughly 75cm in length. More
Distribution of Bank cormorant in southern Africa, based on statistical smoothing of the records from first SA Bird Atlas Project (© Animal Demography unit, University of Cape Town; smoothing by Birgit Erni and Francesca Little). Colours range from dark blue (most common) through to yellow (least common). See here for the latest distribution from the SABAP2. More
Photos of a Bank cormorant (Phalacrocorax neglectus) on a rock on Dyer island, South Africa. = Bank Cormorants (Phalacrocorax neglectus)are endemic on the Atlantic side of the southern Cape province. They are a bit smaller than Cape Cormorants and live on the islands off the coast. They build their nests on top of large boulders on the islands. Bank Cormorants dive in the shallow water and feed on fish, gobies, invertebrates and small lobsters. More
Bank Cormorants are strictly marine and can be found in and around the cold water of the Benguela current, near kelp beds. They are rarely found further than 10km from land. They breed on coastal islands and inshore rocks. Diet Their feeding distribution closely matches the kelp beds. Bank Cormorants feeds on crustaceans such as the Cape Rock Lobster, crabs, octopus and cuttlefish. They also like mollusks. The fish they feed on include Klipfish and gobies, Cape Anchovy More
This Bank Cormorant was photographed near Cape Point recently by Otto Schmidt. It is partially leucistic, showing paleness on some of the body instead of the normal darker colour. More