Black-faced Cormorant
The Black-faced-Cormorant feeds largely on small coastal fish, diving in depths up to 12 m. Fish of lengths up to 50 cm have been observed to be taken. The birds sometimes forage in flocks, apparently in an organised way.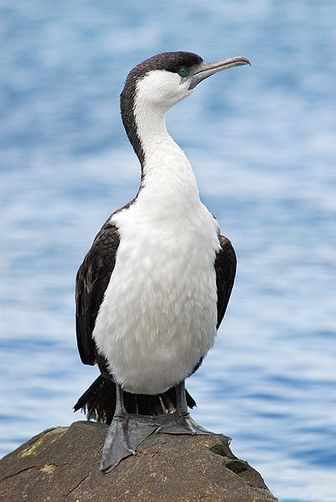 Picture of the Black-faced Cormorant has been licensed under a Creative Commons
Attribution-Share Alike
.
Original source
: Own work
Author
: Flying Freddy
The Black-faced Cormorant is classified as Least Concern. Does not qualify for a more at risk category. Widespread and abundant taxa are included in this category.

The Black-faced Cormorant is Australia's only fully marine cormorant (often called a shag). Facts and figures Research Species: No Minimum size: 60 cm Maximum size: 70 cm Average size: 65 cm Breeding season: September to January. Clutch size: Up to five, usually three. Calls Silent except when courting, when the male has a loud gutteral grunt and the female a soft hissing sound. More
Roosting, Bruny Island Black-faced Cormorant in Kettering, Tasmania. The Black-faced Cormorant (Phalacrocorax fuscescens), also known as the Black-faced Shag, is a medium-sized member of the cormorant family. Upperparts, including facial skin and bill, are black, with white underparts. It is endemic to coastal regions of southern Australia. More
The following is a photograph of nesting Black-faced Cormorants at Esperance in September 2002. More
Black-faced Cormorant (Phalacrocorax fuscescens) Filmed at Port Fairy, Victoria November 2000 using Canon EX1 Hi8 video-camera with Sigma 400mm lens. Black-faced Cormorant (Phalacrocorax fuscescens) Filmed at Port Fairy, Victoria November 2000 using Canon EX1 Hi8 video-camera with Sigma 4...all » Black-faced Cormorant (Phalacrocorax fuscescens) Filmed at Port Fairy, Victoria November 2000 using Canon EX1 Hi8 video-camera with Sigma 400mm lens.« Download video - iPod/PSPDownload is starting. Save file to your computer. More
The Black-faced Cormorant is Australia's only fully marine cormorant (often called a shag). Identification The Black-faced Cormorant is a large pied (black and white) cormorant with a naked black face. The upper parts are also black, the underparts are white, with a black mark on each thigh. The bill is dark grey, and the eyes are blue-green. The legs and feet are black. This species is also called the Black-faced Shag (shags are strictly marine cormorants). More
habitat of the Black-faced Cormorant is exclusively coastal and marine. Ecology The Black-faced-Cormorant feeds largely on small coastal fish, diving in depths up to 12 m. Fish of lengths up to 50cm have been observed to be taken. The birds sometimes forage in flocks, apparently in an organised way. References * BirdLife International (2006) Species factsheet: Phalacrocorax fuscescens. Downloaded from http://www.birdlife. More
fledgeling black-faced cormorants Leucocarbo fuscescens were studied and the results were compared with previously reported data on several other sea-birds. 2. The mean erythrocyte count of the cormorant is similar to that of penguins but lower than that of flying, non-diving sea-birds. The cormorant's red cell mean cell volume (MCV) is lower than that of penguins but higher than that of non-diving sea-birds. 3. Leucocyte numbers are within expected limits for avian species. 4. More
The Black-faced Cormorant is a large cormorant with black upper parts, a bare black face, and white under parts. The legs and feet are black and there is a black mark on the thigh. The bill is dark grey, and the eyes are blue-green. After diving they sit with wings outstretched to dry their feathers. More
The pied and black-faced cormorants are common birds in their normal ranges, where they often form large flocks and can cause a nuisance. While the pied cormorant is found over most areas of Australia where there are large bodies of water, the black-faced cormorant is a true sea bird and is found only in the southern parts of Australia between about Fremantle and Eden. More