Neotropic Cormorant
The Neotropic Cormorant or Olivaceous Cormorant is a medium-sized cormorant found throughout the American tropics and subtropics, from the middle Rio Grande and the Gulf and Californian coasts of the USA south through Mexico and Central America to southern South America. It also breeds on the Bahamas, Cuba and Trinidad. It can be found both at coasts and on inland waters. There are at least two subspecies: P. b. mexicanus from Nicaragua northwards and P. b. brasilianus further south.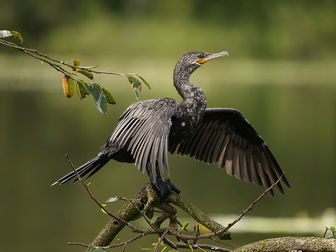 Picture of the Neotropic Cormorant has been licensed under a Creative Commons
Attribution-Share Alike
.
Original source
: Own work
Author
: Hans HillewaertPermission(Reusing this file)I, the copyright holder of this work, hereby publish it under the following license: This file is licensed under the Creative Commons Attribution-Share Alike 3.0 Unported license.You are free:to share – to copy, distribute and transmit the work
The Neotropic Cormorant is classified as Least Concern. Does not qualify for a more at risk category. Widespread and abundant taxa are included in this category.

STATUS OF NEOTROPIC CORMORANT IN ARIZONA WITH NOTES ON IDENTIFICATION AND AGEING - KURT RADAMAKER, 16313 E. Crystal Point Dr., Fountain Hills, AZ 85268 TROY CORMAN, 3918 E. Laurel Lane, Phoenix, AZ 85028 STATUS AND DISTRIBUTION The Neotropic Cormorant (Phalacrocorax brasilianus) is suitably named given it is the only cormorant ranging over the entire neotropics. Although it is widespread throughout most of the western hemisphere, in the U.S. More
Distribution of the Neotropic Cormorant in North America. Juvenile Neotropic Cormorant; Texas, November. The Neotropic Cormorant, known until recently as the Olivaceous Cormorant, has also been called the Mexican Cormorant and Brazilian Cormorant (Banks 1988). These former names are misleading and unduly restrictive since this bird is essentially dark purplish as an adult and ranges over much of the western hemisphere. More
Neotropic Cormorants in New Mexico Its diet consists mainly of small fish, but will also eat tadpoles, frogs, and aquatic insects. Information about its prey is sparse, but inland birds seem to feed on small, abundant fish in ponds and sheltered inlets, less than 10 cm in length, with an individual weight of a gram or two, such as Poecilia spp. especially the sailfin molly Poecilia latipinna. This cormorant forages for food by diving underwater, propelling itself by its feet. More
Neotropic Cormorant: Fairly common in U.S. range. Found primarily in Louisiana, Texas, and along the Rio Grande valley into New Mexico. Inhabits saltwater bays and inlets, and freshwater lakes and ponds. Listen to Call Voice Text "r'rauh", "ruuh'aah" Interesting Facts * Unlike other cormorants, the Neotropic Cormorant can often be seen perching on wires. More
Neotropic Cormorant reaches the upper limits of its range in Texas and occasionally, the Great Plains. Although it superficially resembles North America's other freshwater cormorant, the Double-crested Cormorant, the Neotropic Cormorant stands apart in various aspects of behavior, as well as range. More
Neotropic Cormorants are monogamous and breed in colonies. The nest is a platform of sticks with a depression in the center circled with twigs and grass. It is built a few metres above the ground or water in bushes or trees. Up to five chalky, bluish-white eggs are laid. Most pairs lay 3 eggs, but the mean number hatched is less than 2. The eggs soon become nest-stained. Both sexes incubate for about 25–30 days, and both parents feed the young until around the 11th week. More
Neotropic Cormorants at rest. Photo Jeff Wells This is the only cormorant that occurs on Aruba. Compared to most North American cormorants, this species is smaller and slimmer, with a proportionately longer tail. Look for its long, hooked bill and yellowish throat pouch outlined in white. Common at Bubali, where they may be sitting in trees with their wings outstretched for drying in the warm, tropical breeze. More
Neotropic Cormorants are monogamous and breed in colonies. The nest is a platform of sticks with a depression in the center circled with twigs and grass. Up to five chalky, bluish-white eggs are laid. The eggs soon become nest-stained. Both sexes incubate for about 25–30 days, and both parents feed the young until around the 11th week. By week 12, they are independent. One brood is raised per year. CoryReferences: * BirdLife International (2004). Phalacrocorax brasilianus. More
The Neotropic Cormorant (Phalacrocorax brasilianus) is a species of South and Central America which barely enters the United States, mainly in south Texas. The species sometimes wanders great distances and there are records in many states outside of Texas. I will post some more images here soon. It is proportionally longer-tailed but smaller overall than the Double-crested Cormorant, with which it is sometimes confused. More
The Neotropic Cormorant, Phalacrocorax brasilianus, is a cormorant found throughout the American tropics and subtropics, from the middle Rio Grande and the Gulf and Californian coasts of the USA south through Mexico and Central America to southern South America. It also breeds on the Bahamas, Cuba and Trinidad. The northern populations, from Nicaragua northwards, are often called Mexican or Olivaceous Cormorants, and many authors treat these as a separate species P. olivaceus. More
The Neotropic Cormorant has a broad distribution extending from southern parts of South America to a northern breeding limit in central New Mexico and north-central Oklahoma. This species was recorded in New Mexico as early as 1854 (Hubbard 1978) with breeding first documented in 1972 (Hundertmark 1974). At times, the species has been relatively common in wetland and open water habitat in the southern parts of the Rio Grande Valley. More
Neotropic cormorants at Winchester Park in the Salt Lake Valley in April, 2009. I mentioned being a photographer with a keen interest in photographing birds; but I lack skills in identifying birds. I reported the sighting and photography of these birds and asked: if anyone would be interested in helping identify my birds, it would be appreciated. James McIntyre and Eric Huish came to the forefront. More
The Neotropic Cormorant (Phalacrocorax brasilianus) definitely is not a bird one would encounter in our surroundings in Alberta, although we do get its relative the Double-crested Cormorant. The Neotropic species is smaller than the Double-crested, which is one way to identify it if the two are seen mixed as they sometimes are. The Neotropic also has a white, sharp edge to the yellow throat patch, which itself is less yellow than with the Double-crested. The Neotropic also has white feathers on the neck in breeding plumage. More
Neotropic Cormorants in Utah = eastregulater 31 vidéos S'abonnerModifier l'abonnement Chargement… 122 vues 122 vues eastregulater — 20 juillet 2009 — Adult and Juvenile Neotropic Cormorants at Lee Kay Ponds in Salt Lake County in Northern Utah. Definitely a surp... eastregulater — 20 juillet 2009 — Adult and Juvenile Neotropic Cormorants at Lee Kay Ponds in Salt Lake County in Northern Utah. Definitely a surprise this far north. More