Imperial Shag
The taxonomy is very complex and species-limits within this group remain unresolved. The following are usually considered part of this group: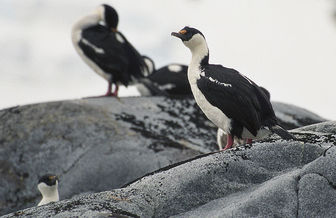 Picture of the Imperial Shag has been licensed under a
GFDL
Original source
: Own work
Author
: Jerzy Strzelecki
Permission
: GNU Free Documentation License
The Imperial Shag is classified as Least Concern. Does not qualify for a more at risk category. Widespread and abundant taxa are included in this category.

The Imperial Shag, Leucocarbo atriceps, is a black and white cormorant native to many subantarctic islands, the Antarctic Peninsula and southern South America, primarily in rocky coastal regions, but locally also at large inland lakes. It is also known as the Blue-eyed Shag, Blue-eyed Cormorant and by many other names, and is one of a larger group of cormorants called blue-eyed shags. The taxonomy is very complex, and several subspecies are often considered separate species instead. More
Imperial shag or blue-eyed shag, in tussock grass. The Imperial Shag is about 30 long and 4-8 lbs, with males averaging larger than females. It can dive as deep as 80' while foraging for small benthic fish, crustaceans, polychaetes, gastropods and octopuses, Phalacrocorax atriceps, Leucocarbo atriceps, New Island Purchase A Print Of This ImageHow to request, purchase or license this imageAdd To Light Table Imperial shag or blue-eyed shag, in tussock grass. The Imperial Shag is about 30 long and 4-8 lbs, with males averaging larger than females. More
Where found: The Imperial Shag is widespread in the southern part of South America, the Falkland Islands, Prince Edward Islands, Iles Crozet, Head and Macquarie islands. Wingspan: 124 cm Length: 75 cm Weight: not known Mating/Breeding: The colonies are usually relatively small, but some consist of hundreds of pairs and are often shared with other seabirds such as Rock Shags, Southern Rockhopper Penguins and Black-browed Albatrosses. More
Imperial ShagsThe Imperial Shag, Phalacrocorax atriceps, is a cormorant native to many islands of the Southern Hemisphere. It is sometimes separated in the genus Leucocarbo. It is also known as the Blue-eyed Shag and by many other names (11 just for the South American race), and is one of a larger group of cormorants called blue-eyed shags. Several subspecies were formerly split as species, but are lumped with Imperial by HANZAB. More
The Imperial Shag has a total length of 70-78 cm (28-31 in) and weighs 1.8-3.5 kg (4-8 lbs), with males averaging larger than females. It is endowed with glossy black feathers covering most of its body, with a white belly and neck. It possesses a distinctive ring of blue skin around its eyes, an orange-yellow nasal knob, pinkish legs and feet, and an erectile black crest. More
The Imperial Shag is endowed with glossy black feathers covering most of its body, with a white belly and neck. It possesses a distinctive ring of blue skin around its eyes, a bright orange nasal crest and pinkish legs and feet. More
The Imperial Shag (Phalacrocorax atriceps) is considered a member of the "Blue-eyed Shag" complex, formerly considered all one species. The "blue eye" is actually skin surrounding the dark iris and is most evident in the breeding season. This species breeds commonly on both coasts of southern South America and on the Falklands. The taxonomy of these birds is complex and several more species may be involved. More
ANT1937-16Pair of Imperial Shags, or Blue eyed Shags nesting on Tussock Grass. Godthul. South Geirgia. Sub Antarctica ANT1937-17 More