Spot-billed Pelican
The Spot-billed Pelican is a relatively small pelican but still a large bird. It is 125–152 cm long and a weight of 4.1–6 kg . It is mainly white, with a grey crest, hindneck and a brownish tail. The feathers on the hind neck are curly and form a greyish nape crest. The pouch is pink to purplish and has pale large spots that are also present on the sides of the upper culmen. The tip of the bill is yellow to orange. In breeding plumage, the skin at the base of the beak is dark and the orbital patch is pink. In flight they look not unlike the Dalmatian Pelican but the tertials and inner secondaries are darker and a pale band runs along the greater coverts. The tail is rounder.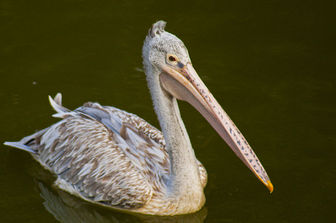 Picture of the Spot-billed Pelican has been licensed under a Creative Commons
Attribution-Share Alike
.
Original source
: Own work
Author
: Ezhuttukari
The Spot-billed Pelican is classified as Near Threatened (NT), is close to qualifying for or is likely to qualify for a threatened category in the near future.

The Spot-billed Pelican or Grey Pelican (Pelecanus philippensis) is a member of the pelican family. It breeds in southern Asia from southern Pakistan across India east to Indonesia. It is a bird of large inland and coastal waters, especially large lakes. At a distance they are difficult to differentiate from other pelicans in the region although it is smaller but at close range the spots on the upper mandible, the lack of bright colours and the greyer plumage are distinctive. More
A Spot-billed Pelican has white feathers, dark feet, weighs from 4.1 to 6 kilos and has a flying range that reaches up to Southern China. The bird More
Spot-billed pelican in flight, view from above Spot-billed pelican in flight, view from abovePrint factsheet Facts - Also known as: grey pelican Kingdom Animalia Phylum Chordata Class Aves Order Pelecaniformes Family Pelecanidae Genus Pelecanus (1) More
Videos and images previous Spot-billed pelican videoARKive requires Flash to show its video content; click here to install the plugin next Spot-billed pelican videoSpot-billed pelicans feeding in groups Species related by - * Family group * Habitat * Conservation status * * Link to this video * Email to a friend * More
Spot-billed Pelican (Pelecanus philippensis)- Adult with Immatures at nest Grey Pelican or Gray PelicanThe Spot-billed Pelican or Grey Pelican (Pelecanus philippensis) is a member of the pelican family. Distribution / Range It breeds in southern Asia from southern Pakistan across India east to Indonesia. It is a bird of large inland and coastal waters, especially large lakes. More
Spot-billed Pelican Pelecanus philippensis 2009 IUCN Red List Category (as evaluated by BirdLife International - the official Red List Authority for birds for IUCN): Near Threatened Justification This species has declined at a moderately rapid rate owing to a number of threats. For this reason the species is classified as Near Threatened. Family/Sub-family Pelecanidae Species name author Gmelin, 1789 Taxonomic source(s) Sibley and Monroe (1990, 1993) Identification 127-140 cm. More
Otto Pfister Spot-billed Pelicans nest in trees adjacent to wetlands Zoom In Pelicans bounce back = 14-07-2006 A decade ago, things looked bleak for the Spot-billed Pelican Pelecanus philippensis in South India. Excellent community-based conservation work by NGOs in the region, coupled with improved protection of breeding sites, has turned the pelican More
the Spot-billed Pelican is found in India and Sri-Lanka and is not likely to turn up in these parts. He also said the Dalmatian pelican is a rare bird "and if we could reconfirm it, this would be the very first time it has been sighted in the Philippines," said Fisher, who was in Mt. Kitanglad, Cagayan de Oro, heading a team of birders at the time of the phone interview. More
Spot-Billed Pelican To take full advantage of Flickr, you should use a JavaScript-enabled browser and install the latest version of the Macromedia Flash Player. Comments view profile Blue.Magpie says: Amazing shot! what a capture!!! Award winning! Posted 30 months ago. ( permalink ) view profile hcjonesphotography Pro User says: Very nice capture. More
The Spot-billed Pelican is a small pelican, at 125-152 cm (49-60 in) long and a weight of 4.1-6 kg (9-13.2 lbs). It is mainly white, with a grey crest, hindneck and tail. In breeding plumage, there is a pink tone to the rump and underwings. Non-breeders are off-white in these areas, and immature birds are more extensively brown. As the species' name implies, there are grey spots on the pink bill in the breeding season. More
Spot-billed pelican Pelecanus philippensis Australian pelican Pelecanus conspicillatus Dalmatian pelican Pelecanus crispus The dalmatian pelican and the spot-billed pelican are the rarest species, with the population of the former estimated at between 10,000 and 20,000 (BL 2006) and that of the latter at 13,000 to 18,000 (BL 2004). The most common is believed to be the Australian pelican (though some estimates have placed the white pelican at a higher population). More
spot-billed pelican Pelecanus phillippensis are vulnerable. Fun facts More
The Spot-billed Pelican (Pelecanus philippensis) is a member of the pelican family. It breeds in southern Asia from India to Indonesia. It is a bird of large inland and coastal waters, especially shallow lakes. The nest is a heap of vegetation in a tree. Three to four eggs is the usual clutch size. More