White Pelican
This is a large pelican, at a mass of 10 kg , 160 cm long and with a 280 cm wingspan. It differs from the Dalmatian Pelican, the only larger species of pelican, by its pure white, rather than greyish-white, plumage, a bare pink facial patch around the eye and pinkish legs. Males are larger than females, and have a long beak that grows in a downwards arc, as opposed to the shorter, straighter beak of the female. Immature birds are grey and have dark flight feathers. In flight, it is an elegant soaring bird, with the head held close to and aligned with the body by a downward bend in the neck. In breeding condition the male has pinkish skin on is face and the female has orangery skin.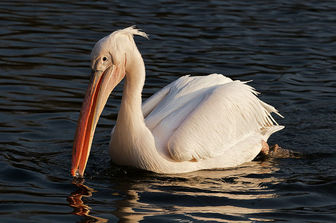 Picture of the White Pelican has been licensed under a
GFDL
Original source
: Own work
Author
: DakomanOther versionsOriginal: File:Whitepelican.jpg, first edit: File:Whitepelican edit.jpg
Permission
: GNU Free Documentation License
The White Pelican is classified as Least Concern. Does not qualify for a more at risk category. Widespread and abundant taxa are included in this category.

The American White Pelican (Pelecanus erythrorhynchos) is a large aquatic bird from the order Pelecaniformes. It breeds in interior North America, moving south and to the coasts, as far as Central America, in winter. The scientific name means "red-billed pelican", from the Latin term for a pelican, Pelecanus, and erythrorhynchos, derived from the Ancient Greek words erythros (ἐρυθρός, "red") + rhynchos (ῥύγχος, "bill"). More
Eastern White Pelican or White Pelican is a bird in the pelican family. It breeds from southeastern Europe through Asia and in Africa in swamps and shallow lakes. The tree nest is a crude heap of vegetation. More
* American White Pelican, On Water * Pelicans Species of Concern Global Rank: G4 State Rank: S3B Agency Status USFWS: none USFS: none BLM: none FWP Conservation Tier: 3 PIF: 3 General DescriptionThe American White Pelican is a large, white bird (length: 127 to 165 More
species in 1987, the American white pelican is still considered endangered in Alberta. The population here is increasing (from 548 nesting pairs in 1980 to over 1,000 today) but fewer than half of the 20 known historic nesting islands are still in use. Habitat: White pelicans arrive in Alberta in late April. The birds are very social and group their nests together in colonies. They leave before freeze-up in late September and migrate to the coasts of Florida and Mexico for the winter. More
the only white pelicans in North America. Pelicans have a vertebra in their neck, which prohibits them from ever raising their face. The white pelican is 60 in. in length and 107 in. in width, one of the largest of the 8 true species of pelicans. They have a yellowish pouch connected to the lower mandible of the beak that stretches up to six inches. More
West, the American White Pelican is one of the largest birds in North America. It winters along the coasts, but breeds only inland. More
English: Rough-billed pelican, white pelican; French: Pélican à bec rouge; German: Nashornpelikan; Spanish: Pelícano Nortamericano. PHYSICAL CHARACTERISTICS 47–70 in (120–178 cm); 8–17 lb (3.6–7.7 kg). White with yellowish gray crest and black wingtips. During breeding season, they develop a knob on the top of the orange bill. DISTRIBUTION Summers in western North America and southeast Texas, USA. Winters in California, Arizona, southeastern USA, and Mexico. HABITAT Rivers, lakes, estuaries, and seacoasts. More
More than 50% of White Pelicans breed in the Danube Delta in Romania. This pelican migrates short distances, wintering in northeast Africa. This species is often kept in captivity, or in semi-wild colonies such as that in St. James's Park, London. Their ancestors were originally given to Charles II by the Russian Ambassador in 1664 which initiated the tradition of ambassadors donating the birds. More
Great white pelican chick at 6 days old© Vladimír Motycka Great white pelicans in nesting colony© Mike Potts / naturepl.com Great white pelican feeding chick© www.osfimages.com Great white pelican chick feeding from adult© Hellio & Van Ingen / www.nhpa.co.uk Great white pelican adults with chick© Klaus Nigge Great white pelican portrait© Bruce Davidson / naturepl.com Great white pelican with eyes closed© Bruce Davidson / naturepl. More
been described as occurring on the bills of the White Pelicans of the old Continent. When, somewhat more than thirty years ago, I first removed to Kentucky, Pelicans of this species were frequently seen by me on the sand-bars of the Ohio, and on the rock-bound waters of the rapids of that majestic river, situated, as you well know, between Louisville and Shippingport. More
You may see American White Pelicans at Lathrop State Park on the Spanish Peaks Trail of the Colorado Birding Trail, but a Brown Pelican actually spent the summer there, once. There are only a handful of records of the Brown Pelican in Colorado. ©2010. The Colorado Birding Trail. All Rights Reserved. More
American White Pelican/Rough-billed PelicanAmerican White Pelican / Rough-billed Pelican = (Pelecanus erythrohynchos) As one of the largest birds in North America, the pelican is easy to spot and to identify. Its distinct, long orange bill, long neck and bright white feathers are hard to miss. These pelicans feed and spend time in shallow lakes, ponds, rivers, bays and estuaries. Range: North America to Central America. More
The American White Pelican is a large, web-footed bird with an enormous throat pouch. It eats mostly fish, and it catches them by scooping them up in this pouch as it swims. They also eat frogs and salamanders. Although pelicans are awkward-looking birds, they are very graceful in flight. They fly in flocks in long lines, with their elongated necks bent back over their bodies. They flap their wings slowly, and often glide. More
to five American white pelicans will swim side by side, gliding quietly in a semicircle facing the shore. Then, with much wing flapping and water splashing, they will drive fish ahead of them toward the shore. Once the fish are in shallow water, it is easy for the pelicans to scoop them up in their bills! Pink-backed pelican Pelecanus rufescens and spot-billed pelican Pelecanus philippensis More
endangered species, the American white pelican is impressive and interesting in its own right. In early April, as whooping cranes wing their way north to their Canadian breeding grounds, white pelicans begin arriving in South Dakota, sometimes before the ice on their large breeding lakes has thawed. This species is colonial in almost all facets of life. Birds arrive unpaired, but soon engage in courtship flights in a group that may number several dozen. More
The American White Pelican is one of the world's largest birds, one of the largest of the 8 true species of pelicans. It weighs 10 to 17 pounds and is about 5 feet long with a wing span of 8 to 9.5 feet,. These white birds have black flight feathers, yellow beak, short legs and slightly pink feet. More