Mayotte White-eye
The subspecies semiflava formerly occurred on Marianne and perhaps other islands in the Seychelles but is now extinct. It may be better classified as a separate species.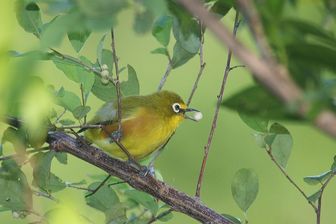 Picture of the Mayotte White-eye has been licensed under a
GFDL
Original source
: Cécile Pheulpin
Author
: Cécile Pheulpin
Permission
: GNU Free Documentation License
The Mayotte White-eye is classified as Least Concern. Does not qualify for a more at risk category. Widespread and abundant taxa are included in this category.

Mayotte White-eye Zosterops mayottensis IUCN Red List history Year Category 2009 Least Concern 2008 Least Concern 2004 Least Concern 2000 Lower Risk/Least Concern 1994 Lower Risk/Least Concern 1988 Lower Risk/Least Concern Range Estimate More
Mayotte White-eye Zosterops mayottensis 2009 IUCN Red List Category (as evaluated by BirdLife International - the official Red List Authority for birds for IUCN): Least Concern Justification Although this species may have a restricted range, it is not believed to approach the thresholds for Vulnerable under the range size criterion (Extent of Occurrence 30% decline over ten years or three generations). More
Stamps showing Mayotte White-eye Zosterops mayottensis Mayotte White-eye Zosterops mayottensis Mayotte White-eye Zosterops mayottensis Bargain of the day! Mayotte White-eye Links will open countrypage in new window - Mayotte 23.09.2002 Birds of Mayotte - Mayotte 20.01. More
Mayotte White-eye Zosterops mayottensis Seychelles White-eye Zosterops modestus Karthala White-eye Zosterops mouroniensis Reunion Olive White-eye Zosterops olivaceus Mauritius Olive White-eye Zosterops chloronothos Pemba White-eye Zosterops vaughani Olive-colored White-eye Zosterops oleagineus Togian White-eye Zosterops somadikartai Bare-eyed White-eye Woodfordia superciliosa Sanford's White-eye Woodfordia lacertosa Teardrop White-eye Rukia ruki Long-billed White-eye Rukia longirostra Golden White-eye Cleptornis marchei Bonin White-eye Apalopteron familiare More