Fire-eyed Diucon
The Fire-eyed Diucon is a passerine bird of South America belonging to the tyrant flycatcher family Tyrannidae. It is usually placed with the monjitas in the genus Xolmis but was sometimes placed in its own genus Pyrope in the past.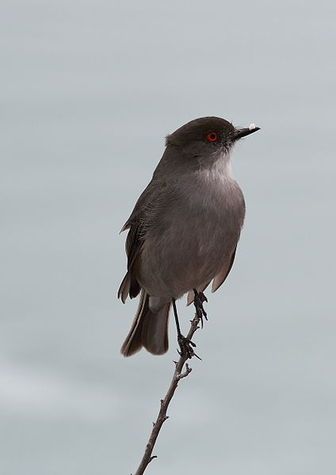 Picture of the Fire-eyed Diucon has been licensed under a
GFDL
Original source
: Calyponte
Author
: Calyponte
Permission
: GNU Free Documentation License
The Fire-eyed Diucon is classified as Least Concern. Does not qualify for a more at risk category. Widespread and abundant taxa are included in this category.

Fire-eyed Diucon (Xolmis pyrope) (Kittlitz, 1830) summary taxon grid map Wikipedia NatureServe Google: Web|Scholar ITIS Birdlife Google|Flickr Xeno-Canto - photo: Rolfo Z Photo powered by flickr.com. More
The Fire-eyed Diucon (Xolmis pyrope) is a passerine bird of South America belonging to the tyrant flycatcher family Tyrannidae. It is usually placed with the monjitas in the genus Xolmis but was sometimes placed in its own genus Pyrope in the past. It is 19-21 cm long. The upperparts are mainly plain grey. The underparts are pale grey with white throat and undertail-coverts. The eyes are bright coral-red, for which the bird is named. More
Fire-eyed Diucon (Xolmis pyrope) = French: Pépoaza oeil-de-feu German: Feueraugen-Nonnentyrann Spanish: Diucón Taxonomy: Muscicapa Pyrope Kittlitz, 1830, Tomé, Bahía de Concepción, Chile. Formerly placed in a monotypic genus, Pyrope, on basis of primary structure of male. Two subspecies recognized. More
Fire-eyed Diucon Xolmis pyrope = Described by: Kittlitz (1830) Alternate common name(s): None known by website authors Old scientific name(s): Pyrope pyrope Photographs Torres del Paine National Park, Chile - Dec, 2005 More
Fire-eyed diucon (Xolmis pyrope) = Species information - * Facts & Status * Description * Range & Habitat * Biology * Threats & Conservation * Find out more * Glossary & References * All * More
Fire-eyed Diucon (Xolmis pyrope) previous gallery next Fire-eyed Diucon (Xolmis pyrope) More
Rezultati za: fire-eyed diuconPrijevodi 1 - 30 of 280 Engleski Engleski Finski Finski fire-eyed diucon tulisilmämonhiitta, Xolmis pyrope red-eyed punasilmäinen pie-eyed kännissä one-eyed yksisilmäinen, silmäpuoli red-eyed vireo punasilmävireo, Vireo olivaceus eagle-eyed tarkkakatseinen grey-eyed harmaasilmäinen dewy-eyed suurisilmäinen More
Diucón, Fire-eyed Diucon, Xolmis pyrope. Camino a Cudico Alto. Región de la Araucanía, Chile. To take full advantage of Flickr, you should use a JavaScript-enabled browser and install the latest version of the Macromedia Flash Player. Comments view profile carolinitah Pro User says: Que buena esta foto de este diucón encorvado y barbudo...Muy buena la luz y la nitidéz.... Posted 9 months ago. More
Fire-eyed Diucon Xolmis pyrope = Argentina - Nov, 2003 More
* Fire-eyed Diucon (Xolmis rubetra)0:26 * Ajouter à la file d'attente Ajoutée à la file d'attente Fire-eyed Diucon (Xolmis rubetra)110 vuesredshouldervids * cria diuca0:18 * Ajouter à la file d'attente Ajoutée à la file d'attente cria diuca595 vuesfelipin2604 * SQP Dalmata More