White Monjita
This is a bright white bird, with dark eyes, black legs, and a medium to short pointed bill. It has deep black borders on the outer wing, and a short notched tail.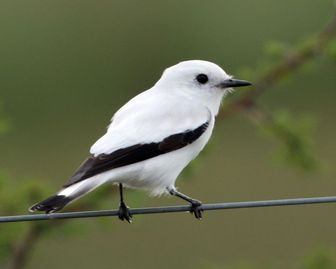 Picture of the White Monjita has been licensed under a Creative Commons
Attribution-Share Alike
.
Original source
: originally posted to Flickr as White Monjita (Xolmis irupero)
Author
: Lip Kee YapPermission(Reusing this file)This image, which was originally posted to Flickr.com, was uploaded to Commons using Flickr upload bot on 12:07, 31 October 2008 (UTC) by Snowmanradio (talk). On that date it was licensed under the license below. This file is licensed under the Creative Commons Attribution-Share Alike 2.0 Generic license.You are free:to share – to copy, distribute and transmit the work
The White Monjita is classified as Least Concern. Does not qualify for a more at risk category. Widespread and abundant taxa are included in this category.

The White Monjita (Xolmis irupero) is a species of bird in the Tyrannidae family, the tyrant flycatchers. It is found in central and northeast Argentina; also the caatinga, and pantanal regions of Brazil, then Paraguay, Bolivia, and Uruguay. Its natural habitats are subtropical or tropical dry shrubland and heavily degraded former forest. This is a bright white bird, with dark eyes, black legs, and a medium to short pointed bill. More
same genus, the White Monjita ( Xolmis irupero ), which is almost totally white, apart from the black wings and tail, and the Grey Monjita ( Xolmis cinerea ), which has the head and upper parts in darker grey. Thus the White-rumped Monjita presents a kind of intermediate color pattern between these two species. Typical of open fields, this bird spends most of its time perched on isolated trees, light posts and fences. More
Stamps showing White Monjita Xolmis irupero White Monjita Xolmis irupero 117.015 White Monjita IOC v2.4: 5194 Links will open countrypage in new window - Paraguay 18.04. More
White Monjita (Xolmis irupero) (Vieillot, 1823) summary taxon grid map Wikipedia NatureServe Google: Web|Scholar ITIS Birdlife Google|Flickr Xeno-Canto - photo: Paulo Albuquerque Filho - Pantaneiro Mesmo Photo powered by flickr.com. More
Black & White Monjita ( Xolmis dominicana) Howard and Moore 2nd edition (incl. ? suppl): Black & White Monjita ( Heteroxolmis dominicana) Howard and Moore 3rd edition (as published): Black-and-white Monjita ( Heteroxolmis dominicana) Howard and Moore 3rd edition (incl. corrigenda 1.2): Black-and-white Monjita ( Heteroxolmis dominicana) Howard and Moore 3rd edition (incl. corrigenda 2.1): Black-and-white Monjita ( Heteroxolmis dominicana) Howard and Moore 3rd edition (incl. corrigenda 3. More
White Monjita Xolmis irupero is smaller, with black-tipped white tail and much less black on wings. Voice Mostly silent. Occasionally delivers soft calls. More
White Monjita (Xolmis irupero) = French: Pépoaza irupéro German: Weißnonnentyrann Spanish: Monjita Blanca Taxonomy: T irupero Vieillot, 1823, Río Plata, Paraguay. Two subspecies recognized. Subspecies and Distribution: * irupero (Vieillot, 1823) - E Bolivia, NE & C Argentina (S to Mendoza, San Luis and Río Negro), Paraguay, S & SE Brazil (Mato Grosso do Sul, Rio Grande do Sul) and Uruguay. More
White Monjita - Xolmis irupero White Monjita Xolmis irupero irupero San Jose de las Salinas, C More
The White Monjita is the easiest species of all to identify, looking like a little white blob perched on top of a bush - you can see them a mile away!! He feeds mainly by dropping down to the ground onto an unfortunate insect, returning to the same perch to finish his meal. Monjitas reach their greatest diversity in the southern cone of South America and five species occur in Paraguay. FIGURE 1 - Adult lateral view, Bah More
White Monjita - Xolmis irupero Pépoaza irupéro = Pépoaza irupéro Le guide ornitho : Les 848 espèces d'Europe en 4000 dessins Gallery : © Philippe Wolfer Site web : Oiseaux d'Argentine Order : Passériformes Family : Tyrannidae Species : White Monjita Reference: phvo63709 Other pictures Date taken : 2008 Mar Geographic data Country : Argentina (ar) More
White Monjita Xolmis irupero = * Home Expand Log in Menu item Register Menu item Log out Menu item Change login details Menu item Why register? Expand UK & Ireland Menu item Birding sites More