Giant Kingbird
The Giant Kingbird is found in tall lowland forest. In particular it favours pine forests and the wooded borders of waterways. It is also found in mixed pine barrens, open woodlands, swamps and savanna. It has also been seen in cloud forest.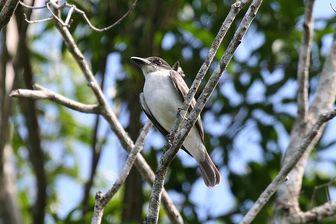 Picture of the Giant Kingbird has been licensed under a Creative Commons
Attribution-Share Alike
.
Original source
: originally posted to Flickr as Giant Kingbird
Author
: dominic sheronyPermission(Reusing this file)This image, which was originally posted to Flickr.com, was uploaded to Commons using Flickr upload bot on 22:48, 30 May 2008 (UTC) by Dysmorodrepanis (talk). On that date it was licensed under the license below. This file is licensed under the Creative Commons Attribution-Share Alike 2.0 Generic license.You are free:to share – to copy, distribute and transmit the work
The Giant Kingbird is classified as Endangered (EN), considered to be facing a very high risk of extinction in the wild.

The Giant Kingbird (Tyrannus cubensis) is a species of bird in the tyrant flycatcher family Tyrannidae.It is the largest kingbird and a very large flycatcher(7-14 inches long).It eats invertabrates,frogs,lizards,mice,fish,fruit and other birds. It is endemic to Cuba, although there are historical records of itd, on other islands. The species is probably mostly closely related to the Loggerhead Kingbird which also occurs in Cuba as well as several other nearby Caribbean islands. More
Watch video of a Giant Kingbird on a perch. Watch video of Giant Kingbird vocalizing. February 14-16-Parakeets, parrots, and highland birds On February 14 Tim, Greg, and I went back to look for the parakeets and parrots. Greg and Tim made good recordings, including footage of a Gundlach?s Hawk coming out of the forest, trying to catch some of the Cuban Parakeets. The parakeets were very fast, and they all got away. More
* Giant Kingbird, Tyrannus cubensis * Scissor-tailed Flycatcher, Tyrannus forficatus * Fork-tailed Flycatcher, Tyrannus savana Retrieved from "http://en.wikipedia. More
Giant Kingbird Tyrannus cubensis 2009 IUCN Red List Category (as evaluated by BirdLife International - the official Red List Authority for birds for IUCN): Endangered Justification This species has declined rapidly for largely unknown reasons, and is extinct on two of the three island groups that it formerly occupied. It is classified as Endangered because it now has a very small and severely fragmented range and population, which continues to decline significantly. More
Stamps showing Giant Kingbird Tyrannus cubensis Giant Kingbird Tyrannus cubensis 117.026 Giant Kingbird IOC v2.4: 5263 Links will open countrypage in new window - Cuba 27.09. More
Giant Kingbird, Tyrannus cubensis Tyrannidae (TYRANT FLYCATCHERS) Giant Kingbird, Tyrannus cubensis This photo was taken in: Cuba This photo was taken with: Nikon 4500 through Swaravski 80HD scope The photo was taken by: Steve and Feli Cook , Cuba reports Reports from birdtours.co.uk Birdtours.co. More
possibly a Giant Kingbird, a species not yet confirmed for the ABA Area (ABA Chekclist, Seventh Edition). Posted at 08:23 AM | Permalink TrackBack TrackBack URL for this entry: http://www.typepad.com/services/trackback/6a00e5505da117883401156f1f1153970c Listed below are links to weblogs that reference Loggerhead Kingbird, Florida: Comments Feed You can follow this conversation by subscribing to the comment feed for this post. More
* Giant Kingbird, Tyrannus cubensis * Scissor-tailed Flycatcher, Tyrannus forficatus * Fork-tailed Flycatcher, Tyrannus savana Copyright: Wikipedia. This article is licensed under the GNU Free Documentation License. It uses material from Wikipedia.org - Photo, Video and/or Article contributions are welcome! Please click here for info The Avianweb strives to maintain accurate and up-to-date information; however, mistakes do happen. More
a Giant Kingbird, one of the area's specialities. The word usage examples above have been gathered from various sources to reflect current and historical usage. They do not represent the opinions of YourDictionary.com. Browse dictionary definitions near kingbird 1. king-sized 2. King, Mervyn 3. King's Bench 4. king's blue 5. King's Counsel 6. More
Giant Kingbird (in litt., cited from Stevenson and Anderson 1994). Smith et.al. (2000) reviewed the records of the Loggerhead Kingbird from Florida, and he determined that none of the records were conclusive to species. The Florida State Records Committee removed Loggerhead Kingbird from their official list in 2003 as did the AOU Checklist Committee in 2002 and the ABA's CLC in 2002. More