Loggerhead kingbird
The Loggerhead Kingbird is a species of bird in the Tyrannidae family. It is found in the Bahamas, Cayman Islands, Cuba, the Dominican Republic, Haiti, Jamaica, Puerto Rico, and, very rarely, in the United States. Its natural habitats are subtropical or tropical moist lowland forests and subtropical or tropical moist montane forests.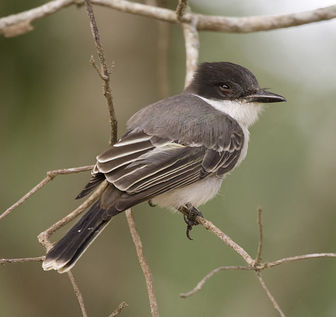 Picture of the Loggerhead kingbird has been licensed under a Creative Commons
Attribution-Share Alike
.
Original source
: BI110214-017 - Loggerhead KingbirdUploaded by Snowmanradio
Author
: Laura Gooch
The Loggerhead kingbird is classified as Least Concern. Does not qualify for a more at risk category. Widespread and abundant taxa are included in this category.

The Loggerhead Kingbird (Tyrannus caudifasciatus) is a species of bird in the Tyrannidae family. It is found in the Bahamas, Cayman Islands, Cuba, the Dominican Republic, Haiti, Jamaica, Puerto Rico, and, very rarely, in the United States. Its natural habitats are subtropical or tropical moist lowland forests and subtropical or tropical moist montane forests. References - * BirdLife International 2004. Tyrannus caudifasciatus. 2006 IUCN Red List of Threatened Species. More
The Loggerhead Kingbird has a large range, estimated globally at 210,000 square kilometers. Native to the United States, Bahamas, Cuba, Cayman Islands, Haiti, Dominican Republic, Puerto Rico, Jamaica, and Turks and Caicos Islands, this bird prefers wetland and forest ecosystems. The global population of this has not been precisely quantified but does not show signs of decline that would necessitate inclusion on the IUCN Red List. For this reason, the current evaluation status of the Loggerhead Kingbird is Least Concern. More
Loggerhead Kingbird: Resident in northern Bahama Islands and Greater Antilles; rare vagrant to southern Florida. Inhabits open woodlands. Breeding and Nesting Loggerhead Kingbird: Three to five creamy buff or pink eggs with brown and purple blotches are laid in a cup nest made of twigs, grass, stems, bark, and plant fibers, lined with plant down, moss, horsehair, and other plant materials, and built on a horizontal branch 8 to 25 feet above the ground. More
Loggerhead Kingbird made big news in 2007 with an individual from Fort Zachary Taylor, Key West, Monroe Co., Florida, 8-26 March. The Key West bird was officially added to the Florida State Bird List later in 2007. Another Loggerhead Kingbird has been reported at the National Park Service's Fort Jefferson, part of Dry Tortugas National Park, located on Garden Key. The bird was first found and photographed, but was left unidentified by visiting Canadians, Gordon and Laure Neish on Friday, 14 March. More
The Loggerhead Kingbird can be found across the Carribean islands, including the Bahamas, Cayman Islands, Cuba and Puerto Rico, and very rarely in the United States. It lives in subtropical or tropical forests. More
Loggerhead Kingbird in the ABA Area, a bird well-photograped in March 2007. The photograph of the 2007 Loggerhead Kingbird below is courtesy of Jeff Bouton. LOKI_Bouton_Mar07 Loggerhead Kingbird was deleted from the ABA Checklist prior to 2007 when two photographs of previous "Loggerhead Kingbirds" from Florida proved to be a look-alike species, Eastern Kingbird, and the other, possibly a Giant Kingbird, a species not yet confirmed for the ABA Area (ABA Chekclist, Seventh Edition). More
PONY'S Pix » Loggerhead Kingbird Page 74 of 167 (167 items) « First ... ... More
The Loggerhead Kingbird are part of the Tyrannidae family (also known as tyrant flycatchers). They are found all over North and South America, though they are more concentrated in tropical areas of these continents. The tyrant flycatchers are the largest family of birds on earth today and they include a total of 400 species. More
version of Loggerhead Kingbird, which can be found on the Carribean islands, including the Bahamas, Cayman Islands, Cuba and Puerto Rico, and sometimes in the United States. Loading High Resolution...Loading High Resolution...Loading High Resolution...Loading High Resolution...Loading High Resolution...Loading High Resolution...Loading High Resolution...Loading High Resolution...Loading High Resolution... More
Zazzle Customizable Loggerhead Kingbird Basic American Apparel T-Shirt Basic American Apparel T-Shirt @ $35.95 Zazzle Customizable Loggerhead Kingbird Basic T-Shirt Basic T-Shirt @ $21.80 Zazzle Customizable Loggerhead Kingbird edun LIVE Ladies T-Shirt edun LIVE Ladies T-Shirt @ $32.15 Zazzle Customizable Loggerhead Kingbird Girl\'s Ringer T-Shirt Girl\'s Ringer T-Shirt @ $26.95 Zazzle Customizable Loggerhead Kingbird edun LIVE Ladies T-Shirt edun LIVE Ladies T-Shirt @ $32. More
Home » The Magazine » From the Editor » A Loggerhead Kingbird at Fort Zachary Taylor and a Yellow-billed Loon at West Fairview Boat Launch From the Editor E-mail Article to a Friend Print Article Bookmark and Share A Loggerhead Kingbird at Fort Zachary Taylor and a Yellow-billed Loon at West Fairview Boat Launch = From the Editor - August 2007By Chuck Hagner Published: June 22, 2007 How can you tell whether a new feature More
* Loggerhead kingbirds were common and we also had a distant view of a Giant Kingbird, one of the area's specialities. * Protected areas Once counted, measured and weighed, loggerhead hatchlings are released to the sea. The word usage examples above have been gathered from various sources to reflect current and historical usage. They do not represent the opinions of YourDictionary.com. More