Forest Elaenia
This species is found in forests and the edges of mangrove swamps. The nest is a shallow cup of roots, bark and grass built in a tree. The typical clutch is two cream-coloured eggs marked with rufous and lavender.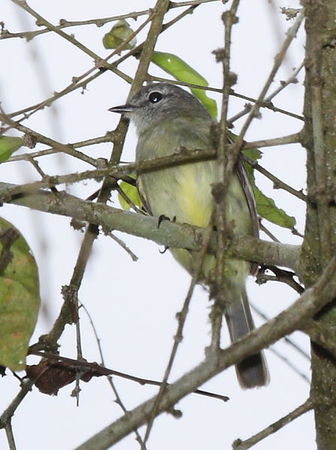 Picture of the Forest Elaenia has been licensed under a Creative Commons
Attribution-Share Alike
.
Original source
: originally posted to Flickr as Forest Elaenia
Author
: Dominic SheronyPermission(Reusing this file)This image, which was originally posted to Flickr.com, was uploaded to Commons using Flickr upload bot on 21:14, 21 April 2010 (UTC) by Howcheng (talk). On that date it was licensed under the license below. This file is licensed under the Creative Commons Attribution-Share Alike 2.0 Generic license.You are free:to share – to copy, distribute and transmit the work
The Forest Elaenia is classified as Least Concern. Does not qualify for a more at risk category. Widespread and abundant taxa are included in this category.

The Forest Elaenia, Myiopagis gaimardii, is a small passerine bird in the tyrant flycatcher family. It breeds from Panama through Colombia, Venezuela and the Guianas to Bolivia and Brazil. It also occurs on Trinidad. This species is found in forests and the edges of mangrove swamps. The nest is a shallow cup of roots, bark and grass built in a tree. The typical clutch is two cream-coloured eggs marked with rufous and lavender. More
Your source to the birds of Suriname: Forest Elaenia (Myiopagis gaimardii) ****JavaScript based drop down DHTML menu generated by NavStudio. (OpenCube Inc. - http://www.opencube. More
The adult Forest Elaenia is 12.7cm long and weighs 12.2g. The head has a blackish crown with a partly concealed white or pale yellow central stripe, a weak whitish supercilium (line above eye) and white eyering. The upperparts are olive-green, and the brown wings have yellow feather edging and two yellow wing bars. The throat is whitish and the breast is greenish-yellow shading to yellow on the belly. The long narrow bill is black above and pink-based below. Sexes are similar. More
Forest Elaenia - Myiopagis gaimardii Forest Elaenia Myiopagis gaimardii macilvainii Parque Metropolitano, Panama City, Panama. A silly name as there are plenty of elaenias that live in forest. (S2f) Foothill Elaenia - Myiopagis olallai Foothill Elaenia Myiopagis olallai Rio Bombuscaro, Podocarpus NP, Zamora-Chinchipe province, Ecuador. This bird was tiny in the frame and has been blown up a lot here. More
Forest ElaeniaBirds in Suriname = - Forest Elaenia Forest Elaenia Photos of a Forest Elaenia, made by Carl Beel at Babunhol in Suriname in December 2009. It is a common bird in Suriname, mostly found at the borders of forests. A sound of the Forest Elaenia was taped by Otte Ottema. More
Forest Elaenia (Myiopagis gaimardii) - 2 photos 1 Old Gamboa Road, Panama. November 2007. 2 Old Gamboa Road, Panama. November 2007. More
Forest Elaenia (Myiopagis gaimardii) (Orbigny, 1840) summary taxon grid map Wikipedia NatureServe Google: Web|Scholar ITIS Birdlife Google|Flickr Xeno-Canto - photo: Aves Internacionales Photo powered by flickr.com. More
Forest Elaenia (Myiopagis gaimardii) by Glauco Alves Pereira. More
this recording of Forest Elaenia seems to be way out of range. Is it correctly ID'd? Olivier Claessens Posts: 20 Recordings: 134 posted on 13-01-2010, at 1:57 it sounds like Myiopagis gaimardii indeed. If I heard it in French Guiana I would have no hesitation in naming it. © 2005-2010 Xeno-canto Foundation. More
Forest Elaenia - Myiopagis gaimardii Élénie de Gaimard = Élénie de Gaimard Le guide ornitho : Les 848 espèces d'Europe en 4000 dessins Gallery : © Thierry Nogaro Site web : GEPOG Order : Passériformes Family : Tyrannidae Species : Forest Elaenia Reference: thno56201 Other pictures Date taken : NC Geographic data Country : French Guiana (fg) More
Forest Elaenia Myiopagis gaimardii = La Selva Lodge, Ecuador - Jan, 2007 More
Forest Elaenia - Myiopagis gaimardii Élénie de Gaimard = Élénie de Gaimard Le guide ornitho : Les 848 espèces d'Europe en 4000 dessins Gallery : © Hervé Michel Site web : oiseaux-nature. More
Forest Elaenia Myiopagis gaimardii = Described by: d'Orbigny (1840) Alternate common name(s): None known by website authors Old scientific name(s): Serpophaga berliozi, Elainopsis gaimardii Photographs La Selva Lodge, Ecuador - Jan, 2007 More
Foothill Elaenia or Forest Elaenia, Amazon Iquitos, Peru = All photographs, copyright Paul Gale Flycatchers Birds of Peru GalleryOfBirds Home More