La sagra's flycatcher
It breeds on Cuba, the Bahamas and Grand Cayman in the West Indies. It is normally a year round resident, however has been known as an occasional vagrant to southern Florida.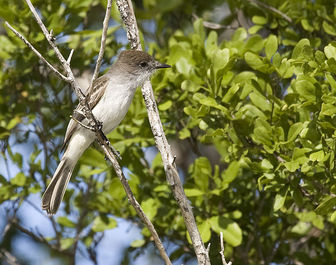 Picture of the La sagra's flycatcher has been licensed under a Creative Commons
Attribution-Share Alike
.
Original source
: BI110216-581 - La Sagras FlycatcherUploaded by Snowmanradio
Author
: Laura Gooch
The La sagra's flycatcher is classified as Least Concern. Does not qualify for a more at risk category. Widespread and abundant taxa are included in this category.

he had a La Sagra's Flycatcher Myiarchus sagrae but the photo of the bird as seen from the back wasn't conclusive. On 22 February the bird was relocated and identified. One of 22 species in the very difficult to identify Myiarchus genus, La Sagra's Flycatcher was first reported in the ABA Area in 1963 in Orrville, central Alabama, thought to be of the Cuban race, M.s. sagrae. More
La Sagra's Flycatcher has been considered at times to be conspecific with Stolid Flycatcher (M. stolidus), but vocal differences were used to separate the two taxa into separate species, although the dawn song of the nominate subspecies of Stolid Flycatcher is similar to dawn songs of both subspecies of La Sagra's Flycatcher (HBW, Vol. 9). La Sagra's Flycatcher is often identified by its diagnostic forward-leaning posture and flat-headed appearance. More
La Sagra's Flycatcher, Myiarchus sagrae, is a passerine bird in the tyrant flycatcher family. It breeds on Cuba, the Bahamas and Grand Cayman in the West Indies. It is normally a year round resident, however has been known as an occasional vagrant to southern Florida. Its natural habitats are subtropical or tropical moist lowland forests, subtropical or tropical mangrove forests, subtropical or tropical moist montanes, and heavily degraded former forest. More
The La Sagra's Flycatcher is currently rated as Least Concern. This bird species is native to the United States, Turks and Caicos Islands, Cuba, the Cayman Islands and the Bahamas. The range of this bird species is about 100,000 square kilometers. The population of La Sara's Flycatcher has not been quantified, but the bird is considered to be frequent within its native range. As a result, there are not any threats known to be present at this time that would endanger this bird species. More
La Sagra's Flycatcher: Caribbean native; casual to accidental in Florida, accidental in Alabama. Inhabits woodlands and forests where trees are large enough for nesting holes. Breeding and Nesting La Sagra's Flycatcher: Three to five white eggs marked with red brown, purple and black are laid in a natural cavity or abandoned woodpecker hole lined with grass, weeds, hair, feathers, and twigs. Incubation ranges from 12 to 14 days and is carried out by the female. More
For the purposes of our bird news services, La Sagra's Flycatcher is classed as Ungraded: species that are unlikely to appear as wild birds in Britain or Ireland hide section Most recent photos of La Sagra's Flycatcher (4) delphi Club Rolling Harbour Abaco, Abacos, Bahamas delphi Club Rolling Harbour Abaco, Abacos, Bahamas15/03/2010 delphi Club Rolling Harbour Abaco, Abacos, Bahamas 15/03/2010 Cayo Coco, Ciego de Ávila, Cuba Cayo Coco, Ciego de Ávila, Cuba04/02/2010 Cayo Coco, Ciego de Ávila, Cuba More
off the rails, but I'm pretty sure I had a La Sagra's Flycatcher in Lakes County Park this afternoon. If you know anybody who might be willing to look for it, feel free to pass on this email or info. The bird was in a loop trail that runs through a woodland on the northwestern side of the park. There's a short spur leading into the woodland, and then the trail forks around a declivity. More