Boat-billed Flycatcher
The Boat-billed Flycatcher, Megarynchus pitangua, is a passerine bird. It is a large tyrant flycatcher, the only member, monotypic, of the genus Megarynchus.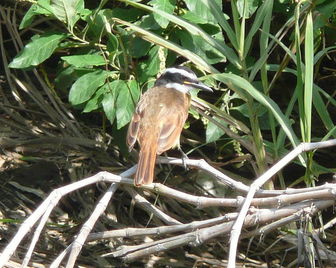 Picture of the Boat-billed Flycatcher has been licensed under a Creative Commons
Attribution
.
Original source
: Cristóbal Alvarado Minic
Author
: Cristóbal Alvarado Minic
The Boat-billed Flycatcher is classified as Least Concern. Does not qualify for a more at risk category. Widespread and abundant taxa are included in this category.

Boat-billed Flycatcher is a stout bird about nine inches in length. Its color pattern is bold and striking, in keeping with its robust appearance. Its upper plumage is olive. The black of the crown is bordered below by broad, white, superciliary stripes which nearly meet on the back of the head. A wide, black band covers each cheek. The throat is white and the rest of the under plumage is clear yellow. There is a concealed patch of yellow or rufous-tawny on the crown. More
The Boat-billed Flycatcher, Megarynchus pitangua, is a passerine bird. It is a large tyrant flycatcher, the only member, monotypic, of the genus Megarynchus. It breeds in open woodland with some tall trees from Mexico south to Bolivia and Argentina, and on Trinidad. The nest, built by the female, is an open saucer of sticks. The typical clutch is two or three whitish eggs heavily blotched with brown. More
nest of the Boat-billed Flycatcher is quite different. This species ranges from Mexico to Argentina with five or six subspecies recognized. This is the widespread M. p. mexicanus which ranges from East Mexico to NW Columbia, South America. It is said to have a brighter, more green back compared to other races. More
Boat-billed Flycatchers wait on a concealed perch high in a tree and sally out to catch insects in flight. They will also take invertebrates (= animals without internal skeleton, such as insects, larvae, earthworms, millipedes, snails, spiders) off the foliage and eat some berries. Copyright: Wikipedia. This article is licensed under the GNU Free Documentation License. It uses material from the Wikipedia.org. More
Boat-billed Flycatcher determination Similar species Tyrannidae Amazonian Royal Flycatcher | Bearded Tachuri | Black-capped Becard | Black-chested Tyrant | Black-crowned Tityra | Black-tailed Tityra | Boat-billed Flycatcher | Boat-billed Tody-Tyrant | Bran-coloured Flycatcher | Brown-crested Flycatcher | Cinereous Becard | Cinereous Mourner | Cinnamon Attila | Cinnamon-crested Spadebill | Cliff Flycatcher | Common Tody-Flycatcher | Double-banded Pygmy-tyrant | Drab Water-Tyrant More
The common call-note of the Boat-billed Flycatcher is a loud, rather high-pitched monosyllable, rapidly repeated while the bird perches or flies "cho/p choip choip choip." When singing the Boat-billed is usually seen at a high exposed perch in a tree-top, at the edge of the forest or in a clearing. This resident of Trinidad is found at forest edges and semi-open areas with large trees. They perch high on the interior branches of large open trees. More
Boat-billed Flycatchers wait on a concealed perch high in a tree and sally out to catch insects in flight. They will also take invertebrates off the foliage and eat some berries. Um texto, em português, do site Aves do Pantanal: www.avespantanal.com.br/paginas/219.htm A primeira impressão é de que trata-se do conhecido bem-te-vi, por ter as mesmas cores, com a característica máscara negra, listra branca superciliar e alto da cabeça negra. More
* The Boat-billed Flycatcher, Megarynchus pitangua, is a passerine bird. It is a large tyrant flycatcher, the only member of the genus Megarynchus. Soundex: B314 ( B3 B43 F423 ) Reference * View this topic on Wikipedia * Search on Google Identiflyer - Forest Edge - only $10. More
Boat-billed flycatcher in SurinameBirds in Suriname = - Boat-billed flycatcher in Suriname, Tyran pitangua, Nei-nei, Bem-te-vi-de-bico-chato, Atrapamoscas pic More