Cattle Tyrant
It is found in Argentina, Bolivia, Brazil, Colombia, Ecuador, Panama, Paraguay, Uruguay, and Venezuela. Its natural habitats are pastureland and heavily degraded former forest. Due to deforestation, the species has recently colonized areas where it was previously absent, such as northeast Ecuador.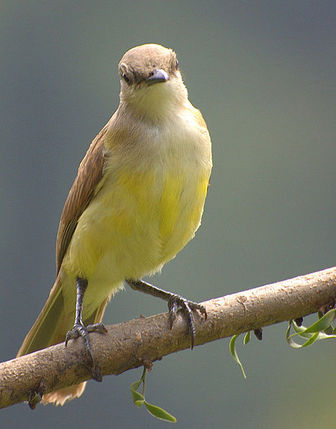 Picture of the Cattle Tyrant has been licensed under a Creative Commons
Attribution-Share Alike
.
Original source
: SUIRIRI-CAVALEIRO (Machetornis rixosa)
Author
: Dario Sanches from SÃO PAULO, BRASIL
The Cattle Tyrant is classified as Least Concern. Does not qualify for a more at risk category. Widespread and abundant taxa are included in this category.

Cattle Tyrant (Machetornis rixosa) (Vieillot, 1819) summary taxon grid map Wikipedia NatureServe Google: Web|Scholar ITIS Birdlife Google|Flickr Xeno-Canto - photo: Cláudio D. Timm Photo powered by flickr.com. More
male Cattle Tyrant (Machetornis rixosus) was netted. The bird had an ab- normal extra leg attached to the tibio-tarsus of the right leg (Fig. 1). Fhe abnormality measured 11 mm and the distal extreinity showed 2 deformed toes with claws. Two contour-like and several down-like feathers were attached to the leg. More
The Cattle Tyrant (Machetornis rixosa) is a species of bird in the Tyrannidae family. It is the only member of the genus Machetornis. It is found in Argentina, Bolivia, Brazil, Colombia, Ecuador, Panama, Paraguay, Uruguay, and Venezuela. Its natural habitats are pastureland and heavily degraded former forest. Due to deforestation, the species has recently colonized areas where it was previously absent, such as northeast Ecuador. Cattle Tyrants feed on parasitic arthropods on mammals, an example of mutualism. More
Cattle Tyrant (Machetornis rixosa) * Least Concern * * Length: 0:13 minutes (205.55 KB) * Format: MP3 Mono 44kHz 128Kbps (CBR) More material of this species * 4.4A bird foragin...Bolivia, Sep 2005 Josep del Hoyo * 4.3A bird perched...Bolivia, Sep 2005 Josep del Hoyo * 4.3A bird perched... More
Cattle Tyrant Machetornis rixosus = Described by: Vieillot (1819) Alternate common name(s): None known by website authors Old scientific name(s): Machetornis rixosa Photographs Costanero Sur, Argentina - Sep, 2003 More
14 March 2010 22:25 Cattle Tyrant - Machetornis rixosa Photo copyright: monacoeye • Do not copy • Images: Lagoa do Peixe November 2009 Bird name: Cattle Tyrant Latin: Machetornis rixosa Other: Suiriri-cavaleiro (Br) • Matadura (Es), Picabuey Family: Tyrannidae • Tyrant Flycatchers The Cattle Tyrant, found at low altitudes, often picking insects off large mammals or walking on the ground. Below a picture of a Cattle Tyrant scouring the beach for food in Santa Catarina. More
cattle tyrant at rio piranha, pantanal, brazil - close view of cattle tyrant, very curious bird * * Add Video To Your Social Bookmarks Bookmark and Share Add comment - More
Cattle Tyrant (Machetornis rixosa) Range: LA (range map) more info Photo by Tom Friedel Puerto Iguazu, Argentina Sizes: Request 2658x2376 This not so sharp photo would be nicer if the Cattle Tyrant were actually sitting on a cattle. Ok, the photo referred to in the past sentence was replaced by this sharper more boring photo. I (the editor) have a preference for sharp photos rather than interesting photos. More
Nature reserve for sale Cattle Tyrant (Machetornis rixosa) 09/10/2005; Fazenda Cana More
Cattle Tyrant (Machetornis rixosa) = Cattle Tyrant (Machetornis rixosa) by mountainpath2001.Photographed by Celso Paris in Brazil. It feeds on insects often those disturbed by grazing animals such as cattle or capybara and sometimes hitches a lift on the back of these animals to use as a base for hunting its insect prey. To take full advantage of Flickr, you should use a JavaScript-enabled browser and install the latest version of the Macromedia Flash Player. More
Cattle Tyrant Machetornis rixosus = Aguas de S More
Cattle Tyrant - Machetornis rixosa Moucherolle querelleur = Moucherolle querelleur The Birds of South America: The Suboscine Passerines Gallery : © Philippe Wolfer Site web : Oiseaux d'Argentine Order : Passériformes Family : Tyrannidae Species : Cattle Tyrant Reference: phvo63951 Other pictures Date taken : 2009 Feb Geographic data Country : Argentina (ar) Region : More
Cattle Tyrant, Margarita I, Dunes Hotel 29 Jan 2006 © David Ferguson A pair were present in the hotel - possibly the 1st for the island. More
Cattle Tyrant, Machetornis rixosus Tyrannidae (TYRANT FLYCATCHERS) Cattle Tyrant, Machetornis rixosus This photo was taken in: Brazil The photo was taken by: Trevor Feltham , Birdwatching trip reports from around the world Brazil reports Birdwatching trip reports from Brazil Identification Notes: Submit Identification notes for this photo here More