Patagonian Negrito
The Patagonian Negrito or Austral Negrito is a species of bird in the Tyrannidae family. It breeds in Argentina and Chile, migrating north as far as Bolivia, southern Brazil, Paraguay and Uruguay. It is a vagrant to the Falkland Islands. Its natural habitats are freshwater lakes and saline marshes.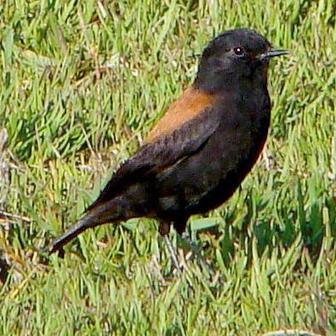 Picture of the Patagonian Negrito has been licensed under a Creative Commons
Attribution-Share Alike
.
Original source
: Lessonia_rufa_male_2.jpg
Author
: Lessonia_rufa_male_2.jpg: Cláudio Dias Timm from Rio Grande do Sul
The Patagonian Negrito is classified as Least Concern. Does not qualify for a more at risk category. Widespread and abundant taxa are included in this category.

The Patagonian Negrito or Austral Negrito (Lessonia rufa) is a species of bird in the Tyrannidae family. It breeds in Argentina and Chile, migrating north as far as Bolivia, southern Brazil, Paraguay and Uruguay. It is a vagrant to the Falkland Islands. Its natural habitats are freshwater lakes and saline marshes. References - * BirdLife International 2004. Lessonia rufa. 2006 IUCN Red List of Threatened Species. Downloaded on 26 July 2007. More
The Patagonian negrito breeds in central Chile and Argentina, south to Tierra del Fuego, but during the winter migrates north into northern Chile and Argentina, southern and eastern Bolivia, Paraguay, Uruguay and extreme south-eastern Brazil (2) (4). - Usually found in open areas with short grass or bare soil, near marshes and coastal lagoons and beaches. More
Patagonian negrito remains widespread and fairly abundant through much of southern South America (2) (4). The male Patagonian negrito is mostly all black with the exception of a highly distinctive patch of rufous-chestnut on its back. In contrast, the female has a brownish-grey head and neck, dull rufous-brown back, mostly black wings, and dull ashy grey underparts (2) (4). Juveniles are very similar to the female, but have more rufous on the back (2). More
Patagonian Negrito The Patagonian Negrito (Lessonia rufa) is a species of bird in the Tyrannidae family. It is found in Argentina, Bolivia, Brazil, Chile, Falkland Islands, Paraguay, South Georgia and the South Sandwich Islands, and Uruguay. Its natural habitats are freshwater lakes and saline marshes. See more at Wikipedia.org... More