Blue-billed Black Tyrant
The Blue-billed Black-tyrant is a species of bird in the Tyrannidae family. It is found in Argentina, Bolivia, Brazil, Paraguay, and Uruguay. Its natural habitats are temperate forests, subtropical or tropical moist montanes, subtropical or tropical high-altitude shrubland, and heavily degraded former forest.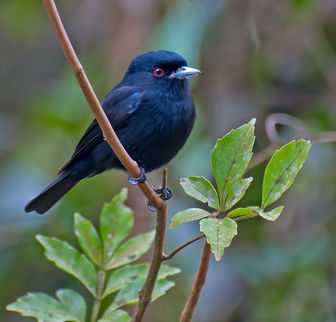 Picture of the Blue-billed Black Tyrant has been licensed under a Creative Commons
Attribution-Share Alike
.
Original source
: MARIA-PRETA-DE-BICO-AZULADO ( Knipolegus cyanirostris )Uploaded by Snowmanradio
Author
: Dario Sanches from São Paulo, Brazil
The Blue-billed Black Tyrant is classified as Least Concern. Does not qualify for a more at risk category. Widespread and abundant taxa are included in this category.

* Blue-billed Black Tyrant, Knipolegus cyanirostris * Rufous-tailed Tyrant, Knipolegus poecilurus * Riverside Tyrant, Knipolegus orenocensis * White-winged Black Tyrant, Knipolegus aterrimus * Caatinga Black Tyrant, Knipolegus franciscanus * Velvety Black Tyrant, Knipolegus nigerrimus * Crested Black Tyrant, Knipolegus lophotes More
Magnificent) Magnificent Hummingbird (Costa Rica) Violet Sabrewing (Costa Rica) Blue-chested Hummingbird (Costa Rica) Scintillant Hummingbird, female (Costa Rica) Magenta-throated Woodstar (Costa Rica) Purple-throated Woodstar (NW Ecuador) Violet-tailed Sylph (NW Ecuador) Streamertail (Jamaica) Jamaican Mango Rufous-tailed Jacamar (Minas Gerais, Brazil) Jamaican Woodpecker Chestnut-colored Woodpecker (Costa Rica) Jamaican Tody American Pygmy Kingfisher (Belize) Amazon Kingfisher (Costa Rica) Green Kingfisher (Costa Rica) Ringed Kingfisher (Costa Rica) Broad-billed Motmot (Costa Rica) Blue-crowned Motmot (Costa Rica) Rufous Motmot (Costa Rica) Turqoise-browed Motmot (Costa Rica) Toucan Barbet (NW Ecuador) Orange-fronted Barbet (Amazonian Ecuador) White-necked Puffbird (Costa Rica) Lettered Aracari (Amazonian Ecuador) Fiery-billed Aracari (Costa Rica) Black-necked Aracari (Costa Rica) Chestnut-mandibled Toucan (Costa Rica) Masked Trogon (NW Ecuador) Black-headed Trogon (Belize) Black-throated Trogon (Costa Rica) Collared Trogon (Costa Rica) Violaceous Trogon (Costa Rica) Slaty-tailed Trogon (Costa Rica) Green Jay (Belize) White-throated Magpie-Jay (Costa Rica) Dusky Antbird (Belize) Chestnut-backed Antbird (Costa Rica) Black-faced Antthrush (Belize) Black-hooded Antshrike (female, Costa Rica) Streak-chested (=Spectacled) Antpitta (Costa Rica) Masked Tityra (Costa Rica) Rose-throated Becard, female (Costa Rica) Cinnamon Becard (Costa Rica) Olivaceous Woodcreeper (Belize) Tawny-winged Woodcreeper (Belize) Ivory-billed Woodcreeper (Belize) Strong-billed Woodcreeper (Belize) Wedge-billed Woodcreeper (Costa Rica) Spot-crowned Woodcreeper Plain Xenops (Belize) Ruddy Treerunner (Costa Rica) Buff-throated Foliage-gleaner (Costa Rica) White-collared Manakin (Belize (M), Costa Rica (F)) Red-capped Manakin (Costa Rica (m), Belize (f)) Orange-crowned Manakin (Belize) Tropical Kingbird (NW Ecuador) White-throated Spadebill (Belize) Yellow-olive Flycatcher (Belize) Yellowish Flycatcher (Costa Rica) Tufted Flycatcher (Costa Rica) Dusky-capped Flycatcher (Belize) Panama Flycatcher (Costa Rica) Social Flycatcher (Costa Rica) Gray-capped Flycatcher (Costa Rica) Great Kiskadee (Costa Rica) Sad Flycatcher (Jamaica) Stolid Flycatcher (Jamaica) Rufous-tailed Flycatcher (Jamaica) Fork-tailed Flycatcher (Belize) Cinnamon Flycatcher (NW Ecuador) Northern Royal Flycatcher (Costa Rica) Ochraceous Pewee (Costa Rica) Jamaican Elaenia (Jamaica) Yellow-bellied Elaenia (Costa Rica) Mountain Elaenia (Costa Rica) Common Tody-Flycatcher (Costa Rica) Yellow-browed Tody-Flycatcher (Amazonian Ecuador) Bright-rumped Atilla (Costa Rica) Rufous Mourner (Costa Rica) Blue-billed Black Tyrant (Minas Gerais, Brazil) Streamer-tailed Tyrant (Minas Gerais, Brazil) Torrent Tyrranulet (Costa Rica) Orangequit (Jamaica) Bananaquit (Jamaica) Rufous-bellied Thrush (Minas Gerais, Brazil) White-eyed Thrush (Jamaica) White-chinned Thrush (Jamaica) Ruddy-capped Nightingale Thrush (Costa Rica) Rufous-throated Solitaire (Jamaica) Hood Mockingbird (Galapagos) Black-faced Solitaire (Costa Rica) Long-billed Gnatwren (Belize) Spot-breasted Wren (Belize) Banded-backed Wren (Costa Rica) Rufous-and-white Wren (Costa Rica) White-breasted Wood-Wren (Belize) Jamaican White-eyed Vireo (Jamaica) Blue Mountain Vireo (Jamaica) Yellow-winged Vireo (Costa Rica) Arrow-headed Warbler (Jamaica) Flame-throated Warbler (Costa Rica) Collared Redstart (Costa Rica) Green Honeycreeper (Costa Rica) Shining Honeycreeper (Costa Rica) Flame-faced Tanag More