Buff-breasted flycatcher
Adults have olive gray upperparts, and darker coloration on the wings and tail; they have a conspicuous white eye ring, white wing bars, a small bill and a short tail. The breast of this species is very distinctive, washed with a strong orange buff color.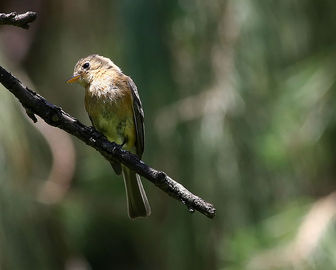 Picture of the Buff-breasted flycatcher has been licensed under a
GFDL
Original source
: Pablo Lèautaud.
Author
: Pablo Lèautaud.
Permission
: GNU Free Documentation License
The Buff-breasted flycatcher is classified as Least Concern. Does not qualify for a more at risk category. Widespread and abundant taxa are included in this category.

The Buff-breasted Flycatcher, Empidonax fulvifrons is a small insect-eating bird. It is the smallest Empidonax flycatcher, with typical size ranging from 11.5-13 cm. Adults have olive gray upperparts, and darker coloration on the wings and tail; they have a conspicuous white eye ring, white wing bars, a small bill and a short tail. The breast of this species is very distinctive, washed with a strong orange buff color. Buff-breasted Flycatchers preferred breeding habitat is scrub and open woodlands. More
The Buff-breasted Flycatcher is found from southeasternmost Arizona in the United States through Mexico to southern Honduras. These birds are partial migrants, retreating from northernmost breeding areas in the United States and northern Mexico for the winter. They wait on an open perch of a shrub or low branch of a tree and fly out to catch insects in flight, also sometimes picking insects from foliage while hovering. The song is an alternating versed PIdew, piDEW. More
The Buff-breasted Flycatcher is generally considered a Mexican species. Its range barely enters the U.S. in southeastern Arizona and extreme southwestern New Mexico where it is a rare and local breeder in several locations. The Buff-breasted Flycatcher is olive above with rich buffy underparts, lighter on throat and belly; white eye ring and wing bars. The Buff-breasted Flycatcher characteristically hunts from a low perch, often launching its pursuit from the top of a weed. More
The Buff-breasted Flycatcher is the smallest and most readily identifiable member of the genus Empidonax in the United States; it is by far the rarest. Its bright cinnamon breast and brown back provide a striking contrast to the other more drably plumaged members of its genus, particularly after fall molt. Although most U.S. birders know this flycatcher as a rare "southeastern Arizona specialty," it actually occurs quite widely south of the United States in Mexico and Central America. More
This Buff-breasted Flycatcher was photographed in May, 2000 at the Nature Conservancy's Davis Mountains' Preserve near Fort Davis, Texas. Photo taken with a Nikkor 300mm EDAF f4.0 lens on Kodachrome 200 film. More
Buff-breasted Flycatcher (Latin Name), Mt Lemmon - Willow Canyon Rd, Pima County This Buff-breasted Flycatcher was discovered by Barbara Bickel near her cabin on 10 May 2009 and it was photographed by Andrew Core on 04 June 2009. Prior to 1920 Buff-breasted Flycatcher was found much further north than it is today, as far north as Prescott and Fort Apache. More
This Buff-breasted Flycatcher (Empidonax fulvifrons) was at the start of Wolfden Canyon in the Nature Conservency's Davis Mountains Preserve in Jeff Davis County, Texas on May 28, 2005: More
Buff-breasted Flycatcher, a link to a number of photos of Buff-breasted Flycatcher. Black Phoebe, Patagonia-Sonoita Creek Preserve, Arizona, 10 November 2008. Eastern Phoebe, a link to a number of photos of Eastern Phoebe. Say's Phoebe, a link to a number of photos of Say's Phoebe. Vermilion Flycatcher, a link to a number of photos of Vermilion Flycatcher. Ash-throated Flycatcher, Dave Jasper's yard, Portal, Arizona, 27 June 2007. More