Caribbean Elaenia
The Caribbean Elaenia is a species of bird in the Tyrannidae family. It is found in Anguilla, Antigua and Barbuda, Aruba, Barbados, Belize, Cayman Islands, Colombia , Dominica, Grenada, Guadeloupe, Martinique, Mexico , Montserrat, Netherlands Antilles, Puerto Rico, Saint Kitts and Nevis, Saint Lucia, Saint Vincent and the Grenadines, the British Virgin Islands, and the US.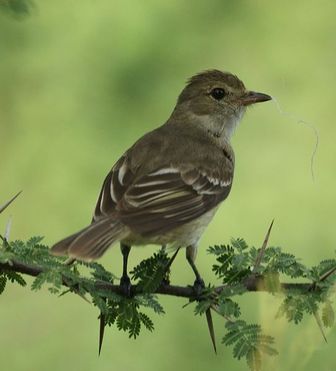 Picture of the Caribbean Elaenia has been licensed under a Creative Commons
Attribution-Share Alike
.
Original source
: New Jersey BirdsCamera location
Author
: New Jersey BirdsCamera location
The Caribbean Elaenia is classified as Least Concern. Does not qualify for a more at risk category. Widespread and abundant taxa are included in this category.

The Caribbean Elaenia (Elaenia martinica) is a species of bird in the Tyrannidae family. It is found in Anguilla, Antigua and Barbuda, Aruba, Barbados, Belize, Cayman Islands, Colombia (San Andrés and Providencia), Dominica, Grenada, Guadeloupe, Martinique, Mexico (Yucatán Peninsula), Montserrat, Netherlands Antilles, Puerto Rico, Saint Kitts and Nevis, Saint Lucia, Saint Vincent and the Grenadines, the British Virgin Islands, and the U.S. Virgin Islands. There is a report from Florida in the USA. More
The Caribbean Elaenia (Elaenia martinica) is a resident of tropical lowland forest of most of the Caribbean Islands and parts of the Yucatan Peninsula of Mexico. The single shot here was taken near Guanica, Puerto Rico, in July, 1998, with a Canon T-90 and EF 500mm F/4.5 lens on Fuji Sensia film. 305 Loganberry Ct. More
I've only seen Caribbean Elaenia once, but this person's photos shows that they can be pretty cresty. www.flickr.com/photos/erlukis/4388541532/ Posted 2 months ago. ( permalink ) view profile dermoidhome Pro User says: I also think the primary extension (very short) fits Yellow-bellied better. Posted 2 months ago. ( permalink ) view profile Langooney Pro User says: Yeah, I think you're right about that. Posted 2 months ago. More
Caribbean Elaenia: The Caribbean Elaenia (Elaenia martinica) is a species of bird in the Tyrannidae family. Elaenia: Elaenia is a genus of passerine birds in the tyrant flycatcher family which occur in Central and South America. Except by voice, specific identification is often difficult since many species are very similar. Foothill Elaenia: The Foothill Elaenia (Myiopagis olallai) is a species of bird in the Tyrannidae family. More