Lesser antillean pewee
It is found in Dominica, Guadeloupe, Martinique, Puerto Rico, and Saint Lucia with records from Saint Kitts. Birds on Puerto Rico are sometimes considered to be a separate species as are those on Saint Lucia .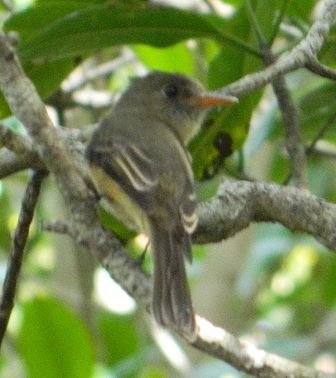 Picture of the Lesser antillean pewee has been licensed under a Creative Commons
Attribution-Share Alike
.
Original source
: Joshua Stone
Author
: Joshua Stone
The Lesser antillean pewee is classified as Least Concern. Does not qualify for a more at risk category. Widespread and abundant taxa are included in this category.

The Lesser Antillean Pewee (Contopus latirostris) is a species of bird in the Tyrannidae family. It is found in Dominica, Guadeloupe, Martinique, Puerto Rico, and Saint Lucia with records from Saint Kitts. Birds on Puerto Rico are sometimes considered to be a separate species (Puerto Rican Pewee, C. portoricensis) as are those on Saint Lucia (Saint Lucia Pewee, C. oberi). More
Lesser Antillean Pewee Contopus latirostris = Described by: Verreaux, J. (1866) Alternate common name(s): None known by website authors Old scientific name(s): None known by website authors Photographs Guadeloupe - Mar, 2004 More
* Lesser Antillean Pewee, Contopus latirostris * Puerto Rican Pewee, Contopus (latirostris) portoricensis * Saint Lucia Pewee, Contopus (latirostris) oberi * White-throated Pewee, Contopus albogularis This entry is from Wikipedia, the leading user-contributed encyclopedia. More
Lesser Antillean Pewee Contopus latirostris IUCN Red List history Year Category 2009 Least Concern 2008 Least Concern 2004 Least Concern 2000 Lower Risk/Least Concern 1994 Lower Risk/Least Concern 1988 Lower Risk/Least Concern Range Estimate More
The Lesser Antillean Pewee (Contopus latirostris) is a small flycatcher of the West Indies. While the new book, A Guide to the Birds of the West Indies by Raffaele et al., splits the Puerto Rican population of this species into the endemic Puerto Rican Pewee (C. portoricenis), the A.O.U. has not yet made this change. This individual was photographed at the Maricao State Forest, Puerto Rico, in July, 1998. A Canon T90 & FD400mm F4.5 lens and Fuji Sensia 100 was used. More
Lesser Antillean Pewee Contopus latirostris = Guadeloupe - Mar, 2004 More
Lesser Antillean Pewee by Martin Birch Roseau Harbour-front and Botanical Gardens Magnificent Frigatebird, Cattle Egret, Green-backed Heron, Yellow-crowned Night Heron, Broad-winged Hawk, American Kestrel, Greater Yellowlegs, Killdeer, Spotted Sandpiper, Pomarine Skua, Royal Tern, Xenaida Dove, Scaly Ground-dove, Mangrove Cuckoo, Smooth-billed Ani, Green-throated Carib, Purple-throated Carib, Antillean-crested Hummingbird, Ringed Kingfisher, Caribbean Elania, Lesser Antillean Pewee, Gray Kingbird, Barn Swallow, Sand Martin, House Wren, Scaly-breasted Thrasher, Tropical Mockingbird, Yellow Warbler, Parula Warbler, Cape May Warbler, More
Lesser Antillean Pewee Contopus latirostris A pair seen on both dates we visited the Syndicate Trail just a few yards along the trail from the parking area. While very attractive, this species is noticeably duller on the underparts than the St. Lucia Pewee. St Lucia Pewee Contopus oberi We only saw this species in the Quillesse Forest where we had about six birds in three hours. More
XC9449 :: Lesser Antillean Pewee (Contopus latirostris latirostris) = Recording data Recordist Allen T. Chartier Date 25-04-1994 Time ? Country Lesser Antilles Location Quilesse Forest Reserve, west of Micoud, St. Lucia Longitude W60.57'58" Latitude N13. More