Island Thrush
The Island Thrush is a member of the cosmopolitan genus Turdus , one of the most widely distributed bird genera in the world. The taxonomy of the Island Thrush is complex, and has defied attempts to split the group based on the four suspected morphological types. The subspecies Turdus poliocephalus niveiceps from Taiwan represents the most distinct taxon and may be a separate species. This subspecies lives at the northerly range of the species, and is the only one in which the males and females differ in colour. There are also thought to be at least two further subspecies not yet described scientifically, both from the Indonesian island of Sulawesi.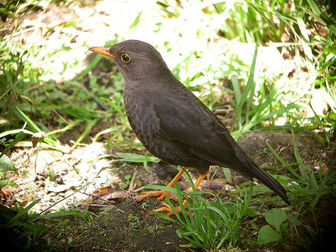 Picture of the Island Thrush has been licensed under a Creative Commons
Attribution-Share Alike
.
Original source
: Island Thrush
Author
: markaharper1
The Island Thrush is classified as Least Concern. Does not qualify for a more at risk category. Widespread and abundant taxa are included in this category.

The Island Thrush, (Turdus poliocephalus) is a common forest bird in the thrush family. Almost 50 subspecies have been described from Taiwan, through South East Asia and Melanesia, to Samoa, exhibiting great differences in plumage. Several subspecies are threatened and three have already become extinct. Contents - * 1 Taxonomy * 1. More
The Norfolk Island Thrush was mainly dark brown in colour, with a pale grey-brown head and upper breast. It was about 21 cm in length, with a wingspan of 34 cm and a weight of 55 g. It had a yellow bill, orbital ring and legs. Males and females were similar in size and appearance. Habitat - The Norfolk Island Thrush used to be common in forest and was often seen in gardens adjacent to rainforest remnants. More
The 49 subspecies of Island Thrush vary dramatically in appearance, but all resemble a typical Turdus thrush and have a yellow bill, eye-ring and legs. The Samoan subspecies, T. p. samoensis, is identical in appearance to the Blackbird of Europe, whereas the T. p. seebohmi of northern Borneo is dark above with a red breast and resembles and American Robin. Some subspecies, including the male (but not female) T. p. niveiceps have entirely white heads, but the Kadavu form T. p. ruficeps has an entirely orange head. More
The Island Thrush is a highly variable species with many distinct subspecies found throughout the islands of Malaysia, Indonesia, the Philippines and the archipelagos of Melanesia and Polynesia. The Taiwan race niveiceps is the most northerly occurring subspecies, and the one with the greatest distinction between the sexes. It is considered a good candidate for future reclassification as a distinct species. The Island Thrush feeds on worms, snails, slugs, insects and spiders, and also on small fruits, berries and seeds. More
Christmas Island Island Thrush - Nomination as an endangered sub-species - - - More
The Island Thrush (Christmas Island) is a medium-sized bird that is brown-grey above and plain pale grey to whitish below with orange sides to the lower belly. It has a yellow bill and a distinctive song. The Island Thrush lives in most habitats on Christmas Island, apart from very dense regrowth, post-mining clearings or Pandanus thickets. It has a varied diet of fruit and litter invertebrates and normally feeds on or near the ground. 3. More
The Island Thrush is widely but patchily distributed across its range. It is present on islands in Samoa, Fiji, Vanuatu, New Caledonia, the Solomon Islands, New Guinea and surrounding islands, many Indonesian islands, the Philippines and Taiwan. However, it is restricted to areas with bird communities of less than 25-35 species. On the larger islands (like Borneo or New Guinea) this means that it is only found at high altitudes, above 2750m. More
The Island Thrush is a member of the cosmopolitan genus Turdus (Linnaeus, 1758), one of the most widely distributed bird genera in the world. The taxonomy of the Island Thrush is a great deal more complex, and has defied attempts to split the group based on the four suspected morphological types. One subspecies, Turdus poliocephalus niveiceps, from Taiwan, represents the most distinct taxa and may be a separate species. More