Common Blackbird
The male of the nominate subspecies, which is found throughout most of Europe, is all black except for a yellow eye-ring and bill and has a rich melodious song; the adult female and juvenile have mainly dark brown plumage. This species breeds in woods and gardens, building a neat, mud-lined, cup-shaped nest. It is omnivorous, eating a wide range of insects, earthworms, berries, and fruits.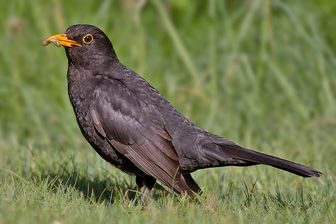 Picture of the Common Blackbird has been licensed under a Creative Commons
Attribution-Share Alike
.
Original source
: Own work
Author
: Andreas TreptePermission(Reusing this file)This photo was taken by Andreas Trepte.Please credit this photo Andreas Trepte, www.photo-natur.de.
The Common Blackbird is classified as Least Concern. Does not qualify for a more at risk category. Widespread and abundant taxa are included in this category.

The Common Blackbird, Turdus merula, is a species of true thrush. It is also called Eurasian Blackbird (especially in North America, to distinguish it from the unrelated New World blackbirds), or simply Blackbird (in areas where it is the only blackbird-like species). It breeds in Europe, Asia, and North Africa, and has been introduced to Australia and New Zealand. It has a number of subspecies across its large range; a few of the Asian subspecies are sometimes considered to be full species. More
The Common Blackbird was described by Linnaeus in his Systema Naturae in 1758 as Turdus merula (characterised as T. ater, rostro palpebrisque fulvis). The binomial name derives from two Latin words, turdus, "thrush", and merula, "blackbird", the latter giving rise to the French name for this species, merle and also the Romanian name, mierlă. There are about 65 species of medium to large thrushes in the genus Turdus, characterised by rounded heads, longish pointed wings, and usually melodious songs. More
The Common Blackbird is common in cities and gardens, but it is always present in the countryside. It is sedentary in its habitat, and we are glad to see it all year round. Its wonderful fluty song accompanies dawn and dusk in spring, but sometimes, its repeated alarm calls are so hard to hear, even if we know that the goal is to warn the youngs against a predator. More
The Common Blackbird, Turdus merula, is a species of true thrush. It is also called Eurasian Blackbird. It breeds in Europe, Asia, and North Africa, and has been introduced to Australia and New Zealand. It has a number of subspecies across its large range; a few of the Asian subspecies are sometimes considered to be full species. Depending on latitude, the Common Blackbird may be resident, partially migratory or fully migratory. More
Common Blackbird - Common Blackbird information - Common Blackbird facts The common blackbird is spread practically all around Europe apart from northern parts of Scandinavia, then it is spread in Asia and north-western parts of Africa. The birds living in the eastern part of Europe and in Scandinavia tend to migrate in comparison to the other birds of this kind. These birds live in parks, woodland areas, cemeteries and are also very often seen in gardens. More
Common Blackbird in a tree. Common Blackbird in a tree. Photo: K Vang and W Dabrowka / Bird Explorers © K Vang and W Dabrowka / Bird Explorers Common Blackbird, male. Common Blackbird, male. Photo: Purnell Collection © Australian Museum Common Blackbird, female. Common Blackbird, female. More
* Common Blackbirds are often seen in orchards, vineyards, gardens, parks and along roadsides. Note: ClimateWatch is looking for any changes in the timing of these events so remember to keep a lookout from July! Where is it found? - * In urban, forest and woodland habitats, including orchards, vineyards, gardens, parks and along roadsides. More
Common blackbirdedit this page = Birds Wiki, the online field guide that you can edit A blackbird perched on a telephone line. The common blackbird, or Turdus merula, is a common sight in Europe and North Africa, whereas back in the 19th century they were a rare bird to see in gardens. More