White-collared Blackbird
It is found in Bangladesh, Bhutan, China, India, Myanmar, Nepal and Pakistan. Its natural habitats are subtropical or tropical moist montane forests and subtropical or tropical high-altitude shrubland.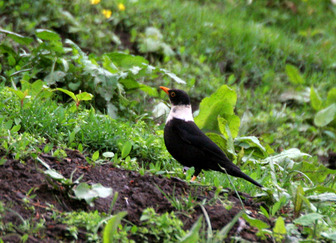 Picture of the White-collared Blackbird has been licensed under a
GFDL
Original source
: J.M.Garg
Author
: J.M.Garg
Permission
: GNU Free Documentation License
The White-collared Blackbird is classified as Least Concern. Does not qualify for a more at risk category. Widespread and abundant taxa are included in this category.

The White-collared Blackbird (Turdus albocinctus) is a species of bird in the Turdidae family. It is found in Bangladesh, Bhutan, China, India, Myanmar, Nepal and Pakistan. Its natural habitats are subtropical or tropical moist montane forests and subtropical or tropical high-altitude shrubland. References - * BirdLife International 2004. Turdus albocinctus. 2006 IUCN Red List of Threatened Species. Downloaded on 27 July 2007. More
White-collared Blackbird (Turdus albocinctus) is a resident in Himalayas and north-east India. More
The White-collared Blackbird ( Turdus albocinctus) is a species of bird in the Turdidae family. It is found in Bangladesh, Bhutan, China, India, Myanmar, Nepal and Pakistan. Its natural habitat s are subtropical * Scarlet-headed Blackbird The Scarlet-headed Blackbird, Amblyramphus holosericeus, is an icterid bird of southern South America n wetland s. More