Myophonus horsfieldii
The Malabar Whistling Thrush is a whistling thrush in the thrush family Turdidae. They are also known locally by the name of Whistling Schoolboy for the whistling calls that they make at dawn that have a very human quality. The species is a resident in the Western Ghats and associated hills of peninsular India including central India and parts of the Eastern Ghats.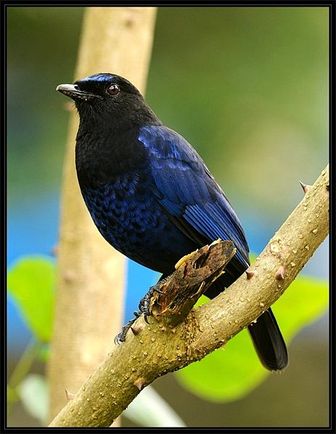 Picture of the Myophonus horsfieldii has been licensed under a Creative Commons
Attribution-Share Alike
.
Original source
: Own work
Author
: Chandru0072
The Myophonus horsfieldii is classified as Least Concern. Does not qualify for a more at risk category. Widespread and abundant taxa are included in this category.

The Malabar Whistling Thrush ( Myophonus horsfieldii) is a whistling thrush in the thrush family Turdidae. They are also known locally by the name of Whistling Schoolboy for the whistling calls that they make at dawn that have a very human quality. The species is a resident in the Western Ghats and associated hills of peninsular India including central India and parts of the Eastern Ghats. More
The bird, Myophonus horsfieldii Vigors, is called the Malabar Whistling - thrush and the Malabar Whistling Schoolboy due to its ability to produce melodious whistling notes. It is resident in the Western Ghats and associated hills in peninsular India. It is a medium sized bird. Adults are 25cm long, dark blue in colour with a blacker head and back. They are usually found in dark undergrowth and dense riverine forests. It is omnivorous, eating a wide range of frogs, insects, earthworms and berries . More