Black-faced Solitaire
This is a bird of dense undergrowth and bamboo clumps in wet mountain forest, normally from 750 to 3000 m altitude. It disperse as low as 400 m in the wet season, when it may form loose flocks. It builds a cup nest of mosses and liverworts in a tree crevice, hole in a mossy bank, or concealed amongst mosses and epiphytes in a tree fork up to 3.5 m above the ground. The female lays 2-3 rufous-brown marked white or pinkish eggs between April and June. The fledging period is 15-16 days.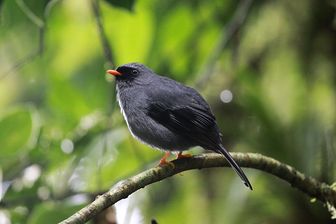 Picture of the Black-faced Solitaire has been licensed under a
GFDL
Original source
: BasarCamera location
Author
: BasarCamera location
Permission
: GNU Free Documentation License
The Black-faced Solitaire is classified as Least Concern. Does not qualify for a more at risk category. Widespread and abundant taxa are included in this category.

The Black-faced Solitaire, (Myadestes melanops) is a bird in the thrush family endemic to highlands in Costa Rica, Honduras and western Panama. This is a bird of dense undergrowth and bamboo clumps in wet mountain forest, normally from 750 to 3000 m altitude. It disperse as low as 400 m in the wet season, when it may form loose flocks. More
* Black-faced Solitaire by Scott Olmstead A dorsal view of a perched bird. Monteverde Cloud Forest Preserve, Monteverde, Costa Rica Scott Olmstead 20 February 2010 11 weeks ago 4 * perched on a branch Sendero Los Quetzales, Volcan Baru National Park, Panama ben lascelles 13 July 2008 23 weeks ago 3. More
The Black-faced Solitaire usually forages low in vegetation, mainly for berries, but also insects. It will ascend into the canopy or emerge into trees in pasture in its search for food. The call is a nasal ghank or liquid quirt, and the song is a beautiful fluty whistle. teedleedlee…tleedleeee…lee-dah…lee-dah given mainly in the evening from a shady canopy perch. More
The Black-faced Solitaire is a slim thrush, 16-18.5 cm long, and weighing 33 g on average. The adult is slate grey with a black face and chin which contrast with the broad orange bill. The wings and tail are slate-edged black, and the underwing coverts are silvery-white, a feature which shows well in flight. The legs are orange. The juvenile has buff streaks on the head and upperparts, and buff and brown mottling on the underparts. More
Black-faced solitaire (Myadestes melanops) in Monteverde Cloud Forest Reserve Black-faced Solitaire Black-faced Solitaire-6716 Locations for recordings with GPS coordinates page 1 Black-faced Solitaire song Myadestes melanops (0:18) Robin Carter XC1083 16-05-1998, Costa Rica Black-faced Solitaire song Myadestes melanops (0:29) David Bradley XC3235 20-3-2005, Panama Black-faced Solitaire More
The black-faced solitaire has an orangeish beak, which stands out strongly against its black mask. The rest of its body is slate grey. Its feet and eye ring are orange. Reproduction They builds their nests 1 to 5 metres above the ground. The female lays two or three white or pale pink eggs, with brown spots, and incubates the eggs for 12 to 14 days. Diet These birds eat fruit and insects. More